Tanya's Arc In The White Lotus Season 2 Was Inspired By Jennifer Coolidge's Personal Quirks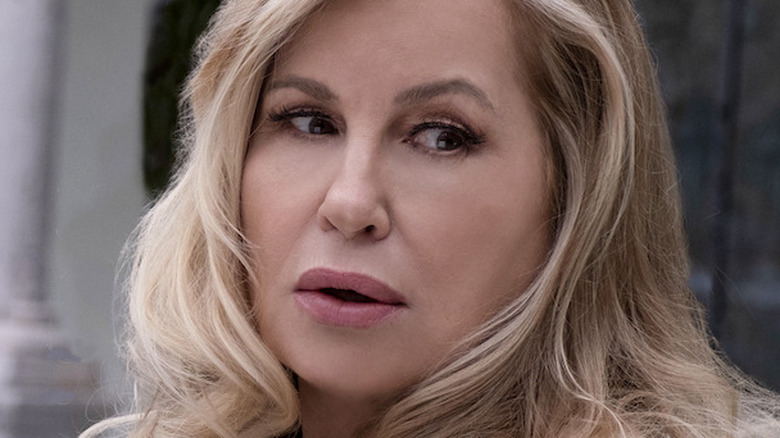 Fabio Lovino/HBO
Warning: This article contains spoilers for "The White Lotus" Season 2 finale.
It's easy to write off "The White Lotus" as a quirky hotel murder mystery, but the series is much more than that. Having recently concluded its second season, the HBO hit has firmly cemented itself as a project with an ever-present eye on what lies beneath the surface. All of this satisfyingly fulfills the promise set out in an early synopsis. "As darker dynamics emerge with each passing day, this biting six-episode series gradually reveals the complex truths of the seemingly picture-perfect travelers, cheerful hotel employees and idyllic locale itself,​" HBO wrote before the series premiere (via Cosmopolitan).
The only person to participate in both seasons' mysteries was Tanya McQuoid; Season 1 saw the character — played by the always marvelous Jennifer Coolidge — deal with the loss of her mother. Her return in Season 2 came with the title Tanya McQuoid-Hunt, signaling her marriage to Greg Hunt (Jon Gries). And with Season 2 — as well as Tanya's arc — coming to a shocking conclusion, Coolidge has revealed some of the aspects that informed her character on the show.
Coolidge didn't want to say goodbye to Tanya
HBO
Tanya's had a memorable journey throughout the series; unfortunately, that all came to an end with Season 2's finale. While it might have come as a shock to most viewers, Jennifer Coolidge knew about it long before the camera rolled. According to a Variety interview with the actress, creator Mike White told her of the death but didn't have the actual ending finalized. As this was not exactly what she wanted to hear at the time, Coolidge had to trust White would bring the story to a satisfying conclusion.
On "The White Lotus," Tanya meets her demise not at the hands of a killer but due to a rather subtle instrument. Coolidge, however, was quick to point out her character didn't see that fateful ladder, and that Tanya's ending was inspired by Coolidge's tendency to miss smaller details that could actually be important in a broader sense. "Mike White thinks it's very funny that I can handle big things, but a little thing will be my demise," the actress told Variety. "These small things throw me off. It was so in line with who I am — I even heard Mike say that to somebody. Not noticing something that could save my life."
Season 3 of "The White Lotus" is sure to carry on the mysteries around the famed chain of hotels. White has already hinted at a possible location for the next set of weary travelers (via People). Still, it leaves Coolidge wondering what she'll do when the series resumes filming with a new cast; "I'll just have to go on some different adventures this year and maybe go visit Mike when they're filming [Season 3]," she quipped.