Fans Told Looper Which One Chicago Winter Premiere They're Most Looking Forward To In 2023 - Exclusive Survey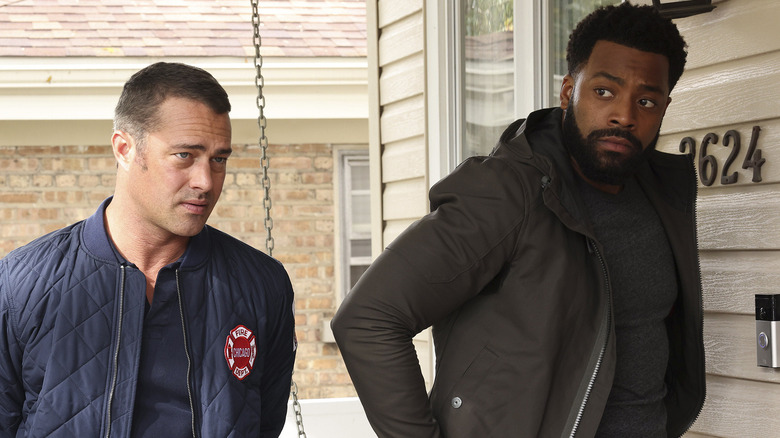 NBC
The midseason finales of "Chicago Med," "Chicago Fire," and "Chicago P.D." (each of which is connected to the overarching storyline of the "One Chicago" franchise as a whole) are finally here, bringing with them some heartfelt goodbyes and gut-wrenching cliffhangers. Most notably, the midseason finale for "Chicago Med" includes a big send-off for fan-favorite Dr. Ethan Choi (Brian Tee), which coincides with his long overdue wedding to April Sexton (Yaya DeCosta).
On the other side of the city, the midseason finale of "Chicago Fire" included a shocking cliffhanger in which Stella Kidd (Miranda Rae Mayo) and Sam Carver (Jake Lockett) rush into a building to save Detective Seth Pryma (Troy Winbush) — only for the house to violently explode with all three officers still inside. The midseason finale for "Chicago P.D." wasn't much easier to watch, as fans were greeted with the bloody arrest of child trafficker Sean O'Neal (Jefferson White), a grueling ordeal which tested the morality of Detective Hailey Upton (Tracy Spiridakos).
There's no question that this year's "One Chicago" midseason finale was one of the most climactic in the franchises' history, and as such there will be plenty of fans clamoring to see what happens when these series return in 2023. In fact, a recent survey from Looper has revealed that there's one particular winter premiere which fans are looking forward to more than any other show in the "One Chicago" franchise.
50% of fans say they are most excited for Chicago P.D. to return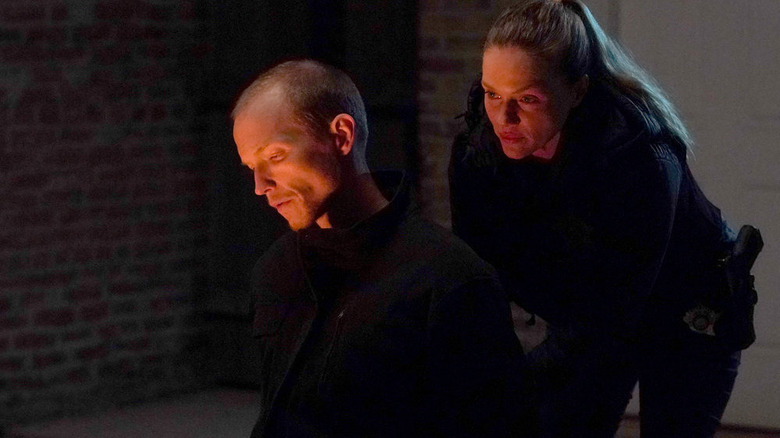 Lori Allen/NBC
In a recent survey conducted by Looper, 4,000 "One Chicago" fans were asked which winter premiere they were most excited for after these explosive midseason finales, and the answer is actually pretty surprising. Earning an astounding 50% of the vote was "Chicago P.D.," making it clear that fans desperately want to see what happens in the wake of Hailey Upton's horrific experiences working on the case of Sean O'Neal.
Although it might surprise some to hear that "Chicago P.D." won out over the intense cliffhanger from "Chicago Fire," it makes sense that many fans would want to see how Upton deals with the wake of this traumatic case. As showrunner Gwen Sigan explained, "Her husband's gone, her partners gone. She's living in the house they shared together. [...] There are all of these things she has to deal with now, and there's nothing to distract her from it. So that's really the path for her moving forward. Can she look it in the eye?" (via TV Line). The end of this case marks a major turning point in Upton's life, and as such it's no wonder why fans can't wait to see where her story goes from here.
That said, it's clear that "One Chicago" fans are also itching to see what happens in the wake of that shocking explosion, as 32% of fans said that they are most looking forward to the winter premiere of "Chicago P.D." Meanwhile, "Chicago Med" rounded out the survey with just 17% of the vote, and although neither received the staggering amount of votes that "Chicago P.D." received, it's clear that fans are extremely excited for the next chapter of the "One Chicago" franchise as a whole.