Whatever Happened To Charlotte From Lucifer?
In the vein of many supernatural dramas before it, "Lucifer" has been host to a collection of inventive and ultimately entertaining villains. Taking on the time-honored tradition of past series like "Buffy the Vampire Slayer," "Lucifer" implements season-long antagonists that push its characters to understand something about themselves. And when it comes to everyone's favorite Devil (Tom Ellis), no villain had more to teach him than his mother, The Goddess (Tricia Helfer). After millennia of being locked away in Hell, The Goddess returns and takes over the body of defense attorney Charlotte Richards. Through her shenanigans, Lucifer overcomes his abandonment issues and eventually finds a way to release her. But the casting of the character is even more brilliant than making the Devil himself struggle with his Freudian issues.
For the past two decades, Helfer has made a name for herself in genre television. Her first big break was when she joined the "Battlestar Galactica" cast as the enigmatic Cylon known as Six. There she got a taste for portraying many different characters in one series and brought those skills to playing both Charlotte and The Goddess in "Lucifer." And while she did not survive the entirety of the Netflix series, she went on to play equally as fascinating characters.
Helfer returned to SyFy as an iconic villain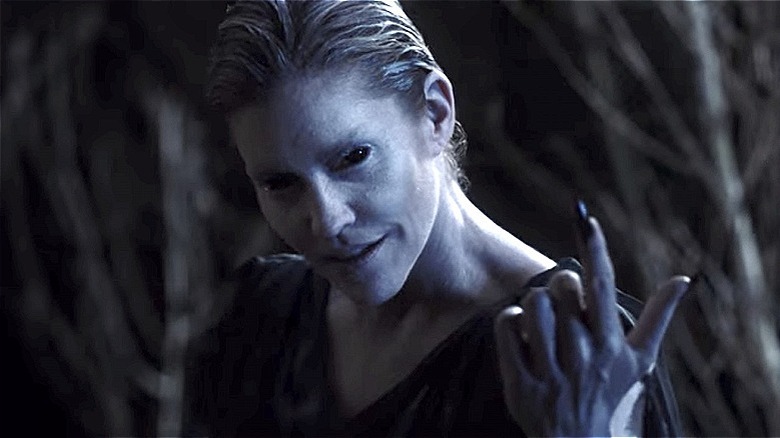 SyFy
After Tricia Helfer became well-practiced at portraying a variety of humanoid robots with varying personalities in "Battlestar Galactica," she continued to utilize these skills in future projects. In "Lucifer," the actor played Lucifer's mother, as well as a lawyer looking for redemption. But her work in her following project, "Van Helsing," was far darker. The series follows Vanessa (Kelly Overton), the descendant of the famous vampire hunter, in her fight against the vampiric scourge. It takes four seasons, but Vanessa finally finds herself face-to-face with her ancestor's foe. Dracula — also known as "The Dark One" — varies from the classic character made famous by film star Bela Lugosi. Instead, Helfer takes over the role of the bloodthirsty vampire master in a different form. 
Helfer pulls double duty as Dracula and their human vessel in flashbacks. Dracula's delight in sadism contrasts human Olivia's love for her husband. Helfer showcases her talent at playing both roles with vigor and — as she told CBR in an exclusive interview — delight.
"I didn't know when I signed on to play Dracula, I didn't know that we were going to be doing this backstory," Helfer revealed. "So when I was told that it was going to happen and looking at it ... we filmed the first three episodes as just one big movie. So it was all intermingled, and it was so much fun. I think it just brings so much heart to the character."
Helfer continues to work consistently in film and television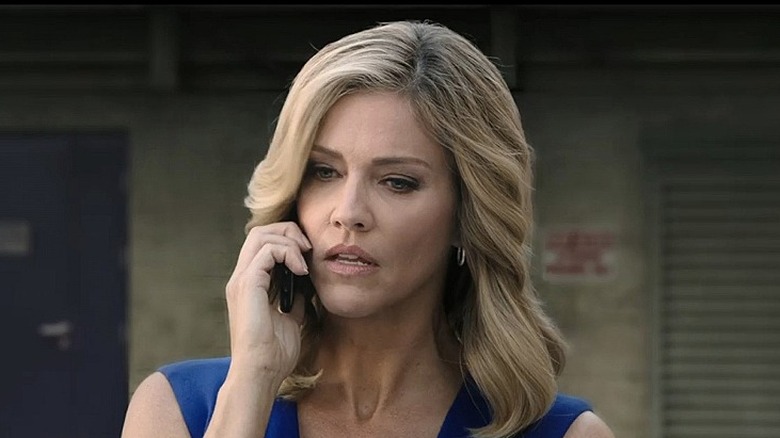 Lionsgate
Since bursting onto the scene in the early 2000s, Tricia Helfer has never had a lack of work. She has appeared in film and television alike, including the ripped-from-the-headlines film "Bombshell." Depicting the allegations of sexual harassment against Fox News, the film follows Megyn Kelly (Charlize Theron) and Gretchen Carlson (Nicole Kidman) in their respective issues with the network.
Though "Bombshell" did not get everything right about the true story, it did leave the viewers with an accurate understanding of the workplace conditions. Kayla Pospisil (Margot Robbie) was a fictional character created for the film but was inspired by many women who came forward. The film also features women who may have brief scenes but are just as important. Helfer portrays former Fox News host Alisyn Camerota whose Vanity Fair editorial shed further light on the situation. Helfer told LRM in an exclusive interview that all of these women were significant to the story coming to light.
"[T]here were a lot of other women there," Helfer noted. "There's a bunch of us that come in a play minimal roles. But, it's [integral] to build and show the story. It's the stories that we will know very well." Helfer continues to work in entertainment and has had steady roles since her role in "Lucifer" ended. She appeared in familiar television series such as "The Rookie" and "S.W.A.T," while her most recent film role was in 2022's "Spin Me Round" (via IMDb).