How One Tree Hill's Hilarie Burton Morgan And Sophia Bush Think Brooke And Peyton Met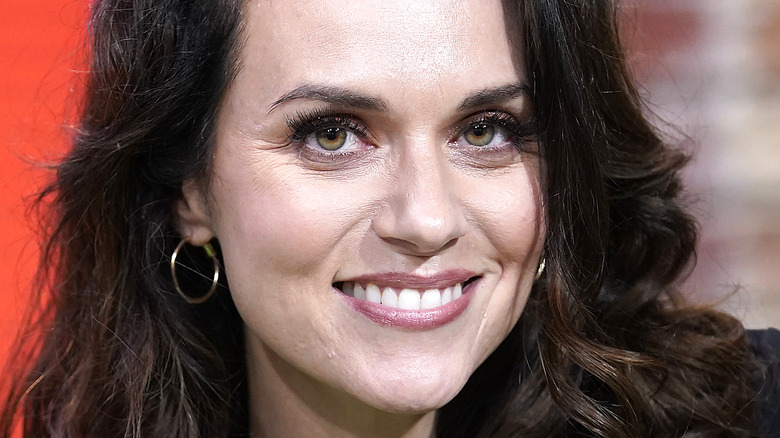 John Lamparski/Getty Images
Teenage dramas dominated the scene in the early 2000s, with shows like "Dawson's Creek" and "The O.C." all hitting their peaks during that time. Another competitor not to be forgotten was "One Tree Hill." It's kind of hard not to be iconic when every episode opens up with "I Don't Want to Be" by Gavin DeGraw. The show focused on the drama-filled fictional town of Tree Hill, North Carolina. The biggest source of family rivalry comes from the Scotts, where two half-brothers, Lucas (Chad Michael Murray) and Nathan (James Lafferty), learn to live together despite the rough-water relationship between their parents. As with any teen drama, the problems of high school and relationships plague all the residents of Tree Hill. Nathan (James Lafferty) is dating Peyton (Hilarie Burton Morgan), but Lucas (Chad Michael Murray) likes his half-brother's girlfriend. Peyton's friend Brooke (Sophia Bush) likes Lucas, and Nathan shoots his shot with his brother's best friend Haley (Bethany Joy Lenz). It's all needlessly complicated and dramatic but in the best ways possible.
Years after "One Tree Hill" concluded, stars Burton Morgan, Bush, and Lenz reunited to make the podcast "Drama Queens." Twice a week, the trio sit down to rewatch episodes of the series, giving fans fun behind-the-scenes stories along the way. The actors have found great success with their podcast, which saw them go on a multi-city live tour recently. On the newest episode, Burton Morgan and Bush discussed how they think their characters, Peyton and Brooke, initially met.
Peyton and Brooke have known each other since their younger days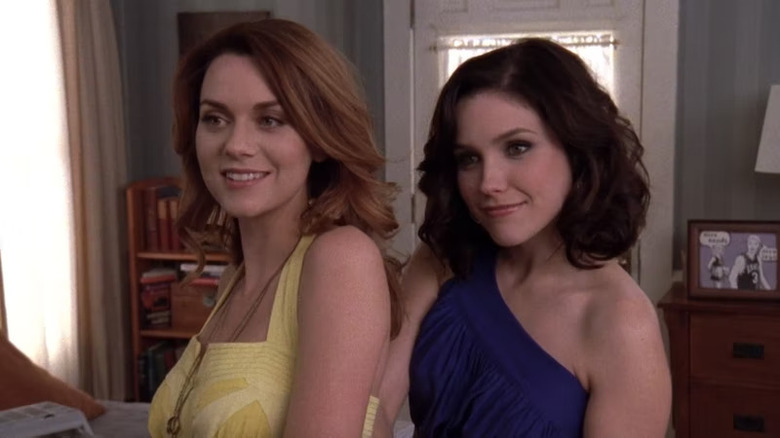 The CW
"One Tree Hill" never exactly explains how Peyton and Brooke met, only mentioning they've known each other since childhood. While the show never addresses it, actors Hilarie Burton Morgan and Sophia Bush created their own headcanon for their characters' backstories. On the most recent episode of "Drama Queens," "Look Me in the Eyeliner," they give fans a glimpse of what they were thinking. The series explains that the duo's bond grew stronger when Peyton's mom died when she was about eight years old, so they must have known each other before them. "I mean, eight or nine is like third, fourth grade, " Burton Morgan said. "So if they were already best friends before that, these are preschool buddies. I can totally see them as, like, the two alpha chicks in the preschool classroom because personalities are strong at that age."
Once Burton brought up the idea of the two girls being best friends in preschool, the podcast ran with it, laughing at what that would look like. They imagined Peyton and Brooke's early relationship and how Brooke would have been able to walk all over Peyton as a kid. Burton said Brooke would grab some markers and tell Peyton she was going to do her makeup, while Peyton would just accept it.
Maybe a "One Tree Hill" reboot could explore the origins of Peyton and Brooke's friendship, bringing Burton and Bush's ideas to reality. Fellow "Drama Queens" host Bethany Joy Lenz recently told MovieWeb she is absolutely down for a revival of the show, citing the podcast as a significant reason for her willingness to return.