First-Look Images Released For Christopher Nolan's Oppenheimer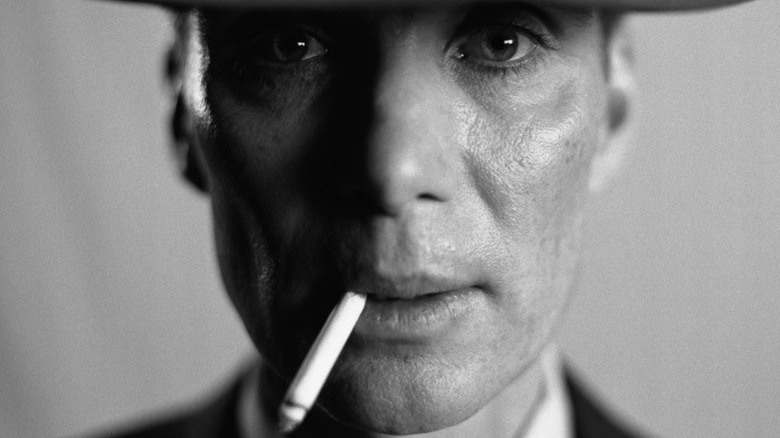 Universal Pictures
Christopher Nolan's upcoming historical epic "Oppenheimer" finally released a slate of behind-the-scenes images and stills, providing a closer look at the highly-anticipated film (via Total Film and GamesRadar). Starring Cillian Murphy in the title role, "Oppenheimer" will follow the life and controversies of the theoretical physicist that developed the atomic bomb.
It has been long since debated whether or not Oppenheimer regretted the weapon's invention, his role in its development, or its use in World War II, with his name often ambiguously attached to the Hindu quote, "I am become death, the destroyer of worlds" (per History). Oppenheimer would go on to oppose the development of the hydrogen bomb, which — in tandem with his alleged ties to the Communist Party — ultimately led to his scientific ostracization.
Nolan's film features a cast of stars too lengthy to list, including Emily Blunt, Kenneth Branagh, Matt Damon, Robert Downey Jr., Rami Malek, Gary Oldman, and Florence Pugh. It is based on the Pulitzer Prize-winning book "American Prometheus," which was written by Kai Bird and Martin J. Sherwin. Until now, "Oppenheimer" has only released a single, intentionally vague trailer. From these new images, however, perhaps some hints about the plot can be gleaned. 
Oppenheimer under fire
The first image shows Cillian Murphy as J. Robert Oppenheimer in the midst of what appears to be his fateful security hearing. Conducted in 1954 by the United States Atomic Energy Commission (AEC), this hearing ultimately led to the revocation of Oppenheimer's security clearance, after the scientist was accused of affiliating with the Communist Party.
Next is a tender moment between Oppenheimer and his wife, Katherine "Kitty" Oppenheimer (Emily Blunt). She appears to be comforting Murphy's protagonist in a desert locale, likely Los Alamos, New Mexico, where Oppenheimer ran the Manhattan Project. Another still — depicting Oppenheimer, dressed in a suit, and sporting a military I.D. badge — appears to be from the same location. The final still released shows an unfamiliar side of Robert Downey Jr., portraying AEC Chairman Lewis Strauss. Gone are the stylish quaff and iconic bristles of Tony Stark, instead replaced by a direly receding, grey hairline over a stern, clean-shaven face.
The final two photos are official behind-the-scenes snapshots. The first depicts Murphy shooting a scene wherein Oppenheimer appears to be walking through a studio audience. This could be the set of "See It Now," a CBS talk show Oppenheimer appeared on in 1955 (via Famous Trials). The final image, almost certainly from the desert of Los Alamos, shows Murphy working directly with director Christopher Nolan.