Christopher Nolan's Oppenheimer - Everything You Need To Know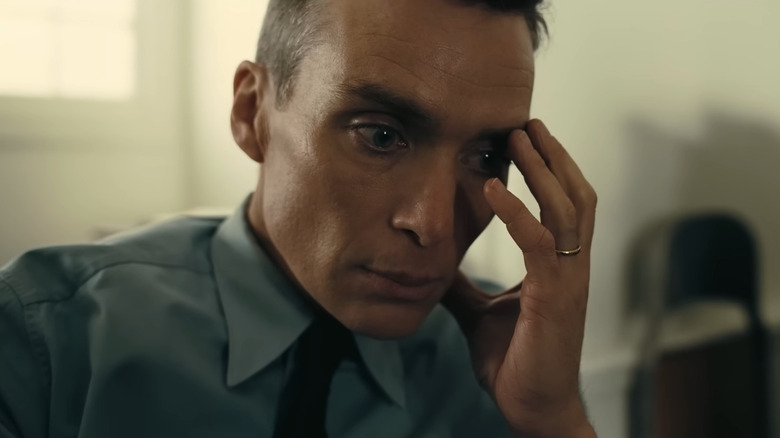 Universal
On July 16, 1945, the U.S. government detonated the first atomic bomb in New Mexico's Jornada del Muerto desert. This event — known as the Trinity test — changed the world forever. Soon after, the U.S. dropped two atomic weapons on Japan, which ended World War II in the most destructive way possible. It also gave way to a Cold War arms race and created a world run by nuclear superpowers. And while there were many people involved in the Manhattan Project, the American effort that gave way to the Trinity test, there was one man who truly bore responsibility for the creation of the atomic bomb — J. Robert Oppenheimer.
Upon witnessing the first test of history's deadliest weapon, Oppenheimer's mind famously went to a scripture from the Bhagavad-Gita: "Now I am become Death, the destroyer of worlds." Since then, Oppenheimer's life and legacy have been haunted by this incredibly controversial invention, and it's a bit shocking that no one has made a biopic about such a fascinating, impactful man ... until now. Nearly 80 years after atomic bombs changed the course of human history, the physicist will have his story told on the big screen, courtesy of filmmaker Christopher Nolan, in a picture that promises to be one of the best movies of 2023. If you've got questions about this upcoming epic, read on for everything we know so far about "Oppenheimer."
When will Oppenheimer be released?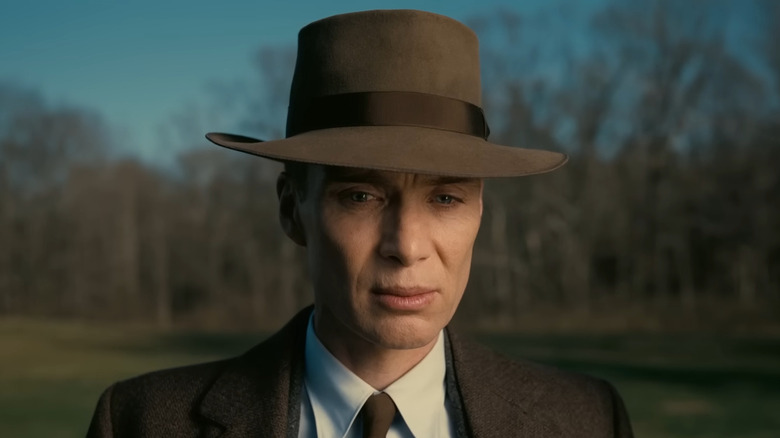 Universal
For the longest time, Warner Bros. and Christopher Nolan worked hand in hand. Think of a Nolan movie — "The Dark Knight," "Inception," "Interstellar" — and it's associated with the Warner Bros. logo. However, "Oppenheimer" marks a huge rift between the studio and the filmmaker, one that crystallized after Warner Bros. decided to release their entire 2021 slate on HBO Max. Infuriated by this decision, Nolan left Warner Bros. behind and joined forces with Universal for his 12th film, which also promises to be the longest of his career.
Speaking with Variety, "Oppenheimer" actor Matt Damon revealed the biopic runs about 3 hours long, although he assured everyone there's no fat on the film, saying, "It goes so fast, it's great." So when should we expect to see the film light up the silver screen? "Oppenheimer" will be released on July 21, 2023, which promises to be a huge day for cinephiles. In a strange twist of fate — or perhaps a 100% intentional move — "Oppenheimer" will find itself facing one of the most anticipated movies of the year: "Barbie," which hails from, yep, Warner Bros. In the battle between Mattel and the Manhattan Project, will "Oppenheimer" nuke the competition, or will it bomb big time?
Well, as it's a Christopher Nolan movie, we have no doubt that his dedicated fan base will turn out strong for "Oppenheimer," although we'll be interested to see how this cinematic showdown plays out.
What is the plot of Oppenheimer?
Universal
"Oppenheimer" will be drawing inspiration from a Pulitzer Prize-winning book, "American Prometheus: The Triumph and Tragedy of J. Robert Oppenheimer" by Kai Bird and Martin J. Sherwin. In his review of the book for The Guardian, James Buchan wrote, "Amid the pinewoods and plywood barracks and gimcrack laboratories of Los Alamos, Oppenheimer turned out to be an inspiring leader. ...Yet Oppenheimer was haunted by Hiroshima and came to believe that the Japanese were already 'essentially defeated.' He despised the science at Los Alamos. As director of the Institute of Advanced Study at Princeton and as chief scientific adviser of the new Atomic Energy Commission, Oppenheimer campaigned to push the atomic genie, if not back into the bottle, at least into international control."
We're assuming that's how the movie will examine Oppenheimer — as a brilliant scientist filled with regret. Lead actor Cillian Murphy gave credence to this theory when speaking with The Guardian in February 2022, saying, "I'm interested in the man and what [inventing the atomic bomb] does to the individual. The mechanics of it, that's not really for me — I don't have the intellectual capacity to understand them, but these contradictory characters are fascinating. ... People identify with that because we all walk around with these contradictory ideas coexisting in our heads." With such a complicated person, we can't wait to see how the movie examines Oppenheimer's story, especially with an actor of Murphy's caliber bringing this historical figure to life.
Who is starring in Oppenheimer?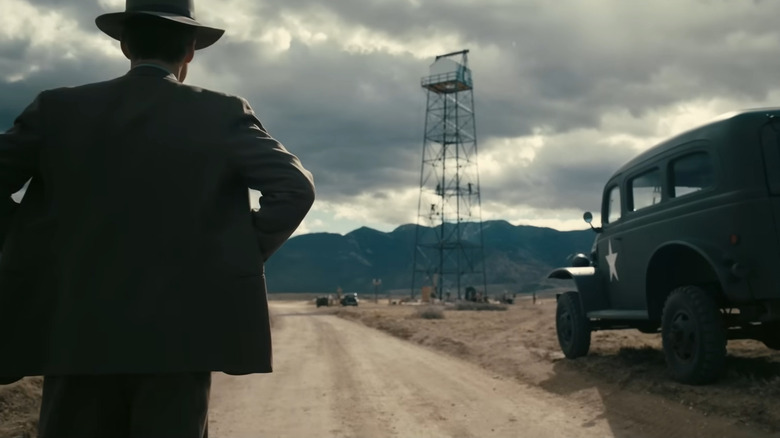 Universal
"Oppenheimer" has one of the most stacked casts of any movie ever. In the title role is Cillian Murphy, who's been a long-time collaborator of Christopher Nolan's, showing up in films like "Dunkirk" and "Inception." "Oppenheimer" will also mark a reunion between Murphy and his "Quiet Place Part II" co-star, Emily Blunt, who will star as the scientist's wife, Kitty Oppenheimer.
Next up, we've got Florence Pugh of "Midsommar," "Black Widow," and general awesomeness fame, playing Communist Party member Jean Tatlock, who has an affair with Oppenheimer. Matt Damon stars as Leslie Groves, the military figure who served as the director of the Manhattan Project, while Iron Man himself, Robert Downey Jr., will reportedly play Lewis Strauss, a key player when it came to developing nuclear weaponry.
Think we're done yet? Not even close. Director Benny Safdie ("Uncut Gems," "Good Time") will portray the father of the hydrogen bomb, Edward Teller, while the Oscar-winning Rami Malek will also play a scientist involved with the Manhattan Project. David Dastmalchian — whose career took off after his super creepy turn in "The Dark Knight" — is reuniting here with Christopher Nolan, and he'll be joined by the likes of Josh Hartnett ("Pearl Harbor"), Jack Quaid ("The Boys"), Josh Peck ("Drake & Josh"), and Oscar winner Gary Oldman. Based on set photos, it even seems like Casey Affleck is going to show up in this thing.
Let's see ... we've also got Alden Ehrenreich of "Cocaine Bear," Matthew Modine of "Stranger Things," Alex Wolff of "Hereditary," Dane DeHaan of "The Amazing Spider-Man 2," and Kenneth Branagh of "Murder on the Orient Express." Give us a second to rest before moving forward — okay, we're good. You can also expect to see Olivia Thirlby of "Dredd," Jason Clarke of "Winning Time," James D'Arcy of "Agent Carter," Michael Angarano of "Sky High," Matthias Schweighöfer of "Army of the Dead," and more. Yes, more.
In other words, "Oppenheimer" is shaping up to be Nolan's most stacked film when it comes to acting talent.
Who is directing Oppenheimer?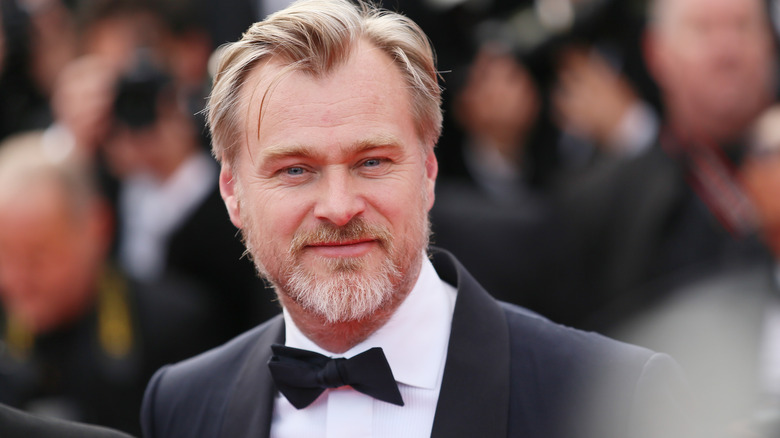 Denis Makarenko/Shutterstock
Christopher Nolan is always pushing the boundaries of his filmmaking further and further. He played with non-linear narratives in "Memento" and "Dunkirk." He grounded superhero movies with "Batman Begins" and elevated them with "The Dark Knight." And he's always looking for ways to promote practical effects, from the hallway fight in "Inception" to many of the incredible space effects of "Interstellar."
Needless to say, Nolan isn't slowing down with "Oppenheimer." From a practical effects perspective, it might be his most ambitious movie to date. Speaking with Total Film (via Variety), the director elaborated a bit on a wild decision he made for the movie, saying, "I think recreating the Trinity test without the use of computer graphics was a huge challenge to take on. Andrew Jackson — my visual effects supervisor ... was looking at how we could do a lot of the visual elements of the film practically, from representing quantum dynamics and quantum physics to the Trinity test itself, to recreating, with my team, Los Alamos up on a mesa in New Mexico in extraordinary weather, a lot of which was needed for the film, in terms of the very harsh conditions out there — there were huge practical challenges."
Wow — how do you practically recreate the Trinity test without an actual atomic bomb? We can't wait to see how that looks. Speaking of looks, the cinematography for "Oppenheimer" is definitely going to be spectacular, and we're interested to see the portions of the film that were shot in black and white. To achieve this look, Nolan and cinematographer Hoyte van Hoytema actually had a new kind of IMAX film created, so "Oppenheimer" will mark the first time anyone has ever shot IMAX film in black and white. Nolan is always changing the game, and with these innovations, we think this brooding biopic could be something pretty special.
Is there a trailer for Oppenheimer?
The first trailer for "Oppenheimer" was incredibly mysterious, alternating between black-and-white imagery and walls of flaming nuclear energy. The trailer also served as a countdown timer, marking off the months, days, hours, and seconds until the film hit theaters. In fact, it's counting down as we speak — preparing us for the moment that "Oppenheimer" explodes onto the big screen. Talk about generating hype.
The second — and more traditional — trailer takes us deeper into the titular scientist's troubled mind. "We imagine a future," he gravely intones, "and our imaginings horrify us." It shows us the assembly of the atomic bomb, with scientists worryingly putting the pieces together and preparing themselves to witness never-before-seen destruction, all as horrific images of fire play out on the screen. "I don't know if we can be trusted with such a weapon," Cillian Murphy's Oppenheimer states. "But we have no choice."
The third trailer was released on May 8th after first appearing at publicity screenings for Marvel Studios' "Guardians of the Galaxy Vol. 3." The new trailer expands on the work of Oppenheimer and Matt Damon's Major General Leslie Groves to recruit other scientists to the Manhattan Project, hoping to end World War II. Further emphasizing the world-changing nature of the scientist's self-described miracle, the final countdown echoes the ticking from Nolan's "Dunkirk," only with greater consequences. "You are the man who gave them the power to destroy themselves," Kenneth Branagh's character eerily tells Oppenheimer. "And the world is not prepared."
What is Oppenheimer rated?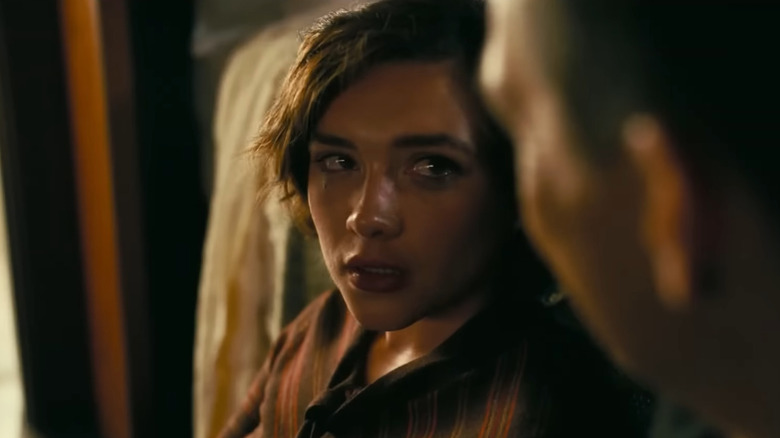 Universal Pictures
For the longest time, Christopher Nolan has trafficked in PG-13 fare. Starting with "Batman Begins," Nolan's films have all received this blockbuster friendly rating ... until now.
"Oppenheimer" will be the director's first R-rated movie in over 20 years, with the last one being the police thriller "Insomnia." According to a teaser for the movie, "Oppenheimer" is rated R for "some sexuality, nudity, and language," with the former two factors possibly thanks to the titular character's relationship with his wife and mistress, played by Emily Blunt and Florence Pugh, respectively.
This is kind of a surprising move for a Nolan movie, which will occasionally feature a hinted-at romance but rarely ever sex. (Hey, when your wife is dead, it makes things difficult.) But we'll be interested to see Nolan's take on the material, especially considering perhaps the only notable nudity in any of his films was featured during a criminal investigation in "Insomnia."
Who is composing the score for Oppenheimer?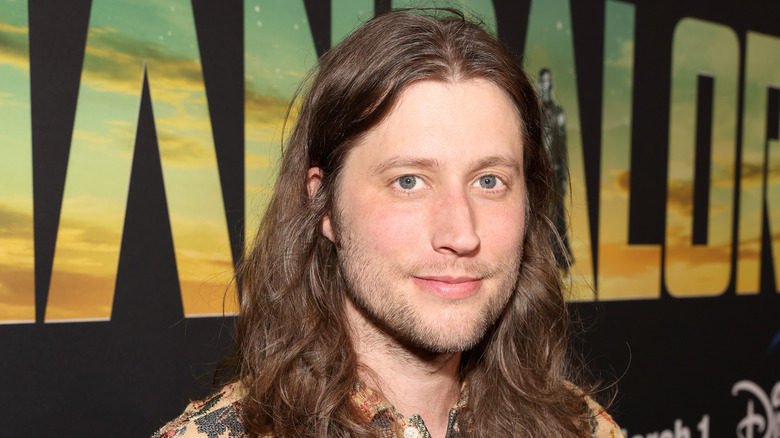 Jesse Grant/Getty Images
It's no secret that director Christopher Nolan loves to collaborate with creatives he's worked with before. One of the most frequent is composer Hans Zimmer, who has scored seven of his feature films, from "Batman Begins" to "Dunkirk." But for Nolan's 2020 spy thriller "Tenet," the filmmaker chose Ludwig Göransson to replace Zimmer after the latter opted to work on Denis Villeneuve's first "Dune" film instead. As it turned out, Göransson was the right choice, lending his musical talents to Nolan's action thriller to create melodies that sounded the same whether they were played forward or backward, highlighting Nolan's time-warping themes. Needless to say, we're excited about whatever Göransson has cooked up for "Oppenheimer."
Aside from his work with Nolan, Göransson composed the scores for 2018's "Venom," the first two "Creed" films, and both of Marvel Studios' "Black Panther" movies. Features aside, Göransson first made a name for himself on television after working on "Community," "New Girl," and "The Mandalorian." (That's right, he's the genius behind that Western-inspired "Star Wars" score that gets stuck in your head.) In fact, Göransson's "Mandalorian" work earned him two Primetime Emmys for the show's first two seasons. Sadly, he didn't return for Season 3. Göransson also worked on the original music numbers for 2020's "Trolls World Tour" and composed the score for Disney/Pixar's "Turning Red" in 2022.
Where was Oppenheimer filmed?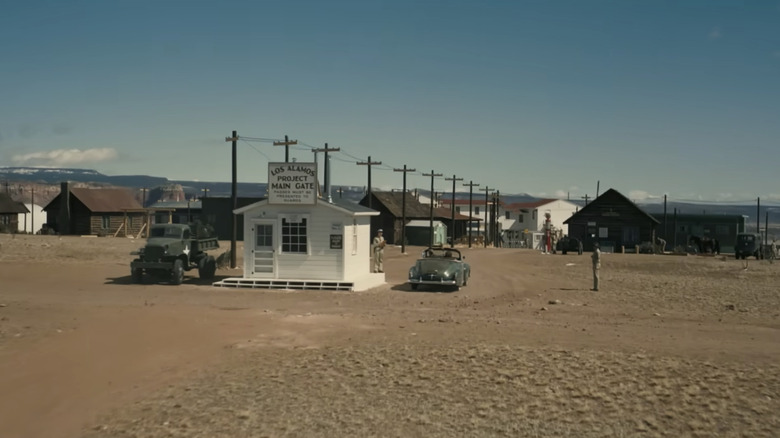 Universal Pictures
Before production on "Oppenheimer" even began, director Christopher Nolan hosted a two-day casting call in Sante Fe and Los Alamos in January 2022 — the real-life location of the development of the atomic bomb — which boasted hundreds of attendees hoping to make their mark on Nolan's latest picture. It wasn't long before production officially began in New Mexico, filming in the Los Alamos locations that the actual Oppenheimer and Manhattan Project utilized back in the 1940s. According to the Los Alamos County website, locations such as the Historic Fuller Lodge, Oppenheimer's own home, and other still-standing buildings such as the women's dorms and the United Church were used during the production.
After their time in the desert, the "Oppenheimer" cast and crew reportedly traveled to the East Coast for a change of scenery, but this was no vacation. In April 2022, the production set up shop at Princeton — specifically the Institute for Advanced Study – though they didn't stay there long. Additional photography also took place back on the West Coast in California, most notably at the University of California, Berkeley. By May 2022, "Oppenheimer" had wrapped production after four months of intensive shoots. Between the standard challenges of period filmmaking and Nolan's added vision of recreating the effects of an atomic bomb practically, "Oppenheimer" looks to be one of the most ambitious films of 2023.
How was Oppenheimer filmed?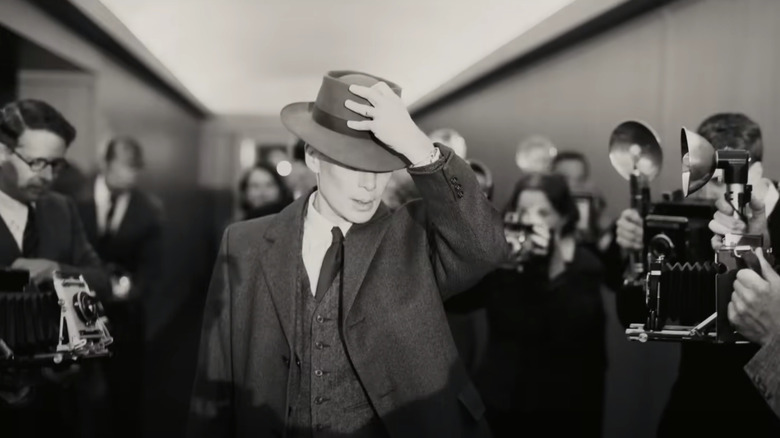 Universal Pictures
In 2008's "The Dark Knight," director Christopher Nolan used 70mm IMAX cameras to give his pictures a distinct look and feel. Though the second installment of his "The Dark Knight Trilogy" was the first major motion picture to utilize high-resolution IMAX cameras, it wouldn't be his last. No matter if it's Wally Pfister or Hoyte van Hoytema — who has shot every Nolan picture from "Interstellar" onwards — behind the camera, the auteur filmmaker has kept his signature cinematic look ever since, despite being known to accidentally destroy his prized cameras. No wonder he has been tasked with helping design the next set of IMAX cameras (via The Hollywood Reporter). 
Unsurprisingly, "Oppenheimer" follows Nolan's M.O., shooting on a combination of IMAX's 65mm and 65mm large-format cameras. In addition to using multiple IMAX bodies this time around, Nolan's latest feature also utilized IMAX's first attempt at black-and-white photography. "We challenged the people at Kodak and Fotokem to make this work for us," the director told Total Film. "For the first time ever, we were able to shoot IMAX film in black-and-white. And the results were thrilling and extraordinary. As soon as Hoyte and I saw the first tests come in, we just knew that this was a format that we were immediately in love with." Of course, Nolan is no stranger to black-and-white, having shot his 2000 feature film "Memento" on 35mm and his 1998 directorial debut "Following" on 16mm — though black-and-white in IMAX is another beast entirely.
How accurate will Oppenheimer be?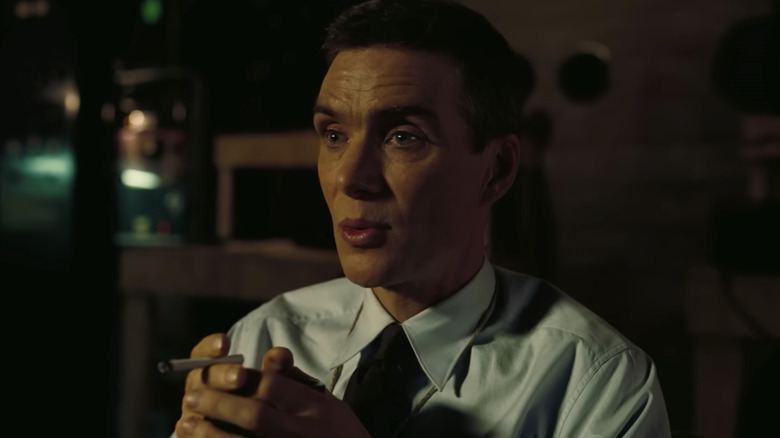 Universal Pictures
Though writer/director Christopher Nolan reportedly used "American Prometheus" as the basis for his latest picture, some wonder how accurate "Oppenheimer" will actually be. Of course, this isn't the first time that Nolan has retold historical events in a dramatic fashion, particularly those surrounding the Second World War. With his 2017 feature "Dunkirk," Nolan worked hard to stay true to the historical narrative, including the small details — though even that film strayed from history on more than one occasion. With "Oppenheimer," our hopes are high that it'll accurately articulate the events of the Manhattan Project, and the inner turmoil of the man behind the atomic bomb. After all, he has a pretty wild story.
"That's certainly true to the historical record," Brent Lang of Variety wrote upon the initial "first look" image of Cillian Murphy's Oppenheimer, sporting a cigarette in his mouth. In reality, the theoretical physicist was a chain smoker who died due to complications regarding throat cancer. Additionally, the inclusion of Florence Pugh's Jean Tatlock — a former girlfriend and mistress of Oppenheimer's — only complicates things further, a perfect representation of the scientist's personal life. "It's a story of immense scope and scale," Nolan told Total Film in December 2022. "And one of the most challenging projects I've ever taken on in terms of the scale of it, and in terms of encountering the breadth of Oppenheimer's story." Here's hoping Nolan can deliver.
What is the Manhattan Project?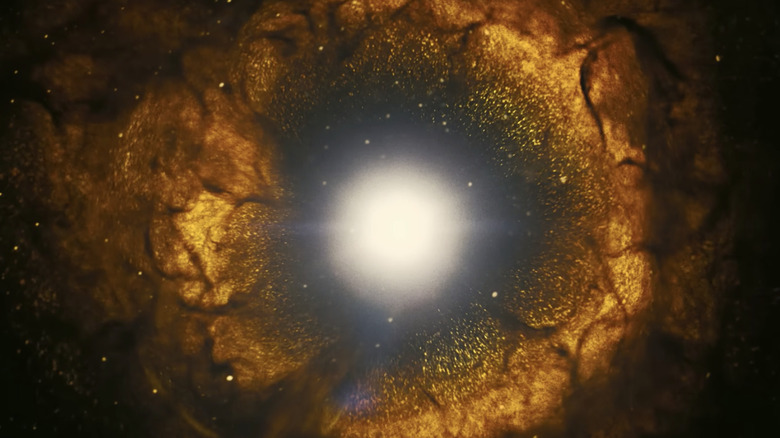 Universal Pictures
The Manhattan Project was a top-secret project led by the United States during World War II which led to the invention of the atomic bomb. Along with support from the United Kingdom and Canada, the project — directed by Major General Leslie Groves, played by Matt Damon in the film — ran from 1942 until 1946, just after the end of the war. Officially codenamed the "Development of Substitute Materials," the project's first headquarters in Manhattan gave it its famous nickname, which eventually became its official designation. In fact, the Manhattan Project had access to a dozen different "project sites," including one at Berkeley, California, and the most famous in Los Alamos, New Mexico, where much of "Oppenheimer" takes place.
Known as "Project Y," the Los Alamos location was home to J. Robert Oppenheimer himself, who held the title of "director" of the laboratory from 1943 until October 1945, just months after the bombs were dropped on Japan. This site was home to the infamous "Trinity" test, where Oppenheimer and his crew tested the "Fat Man" bomb in the middle of the desert, a type of nuclear warhead that was eventually dropped on Nagasaki. In 1954, Oppenheimer was stripped of his clearance due to apparent ties to the Communist Party, a "black mark" he was cleared of nearly 70 years later by U.S. Secretary of Energy Jennifer Granholm.
Why isn't Warner Bros. involved with Oppenheimer?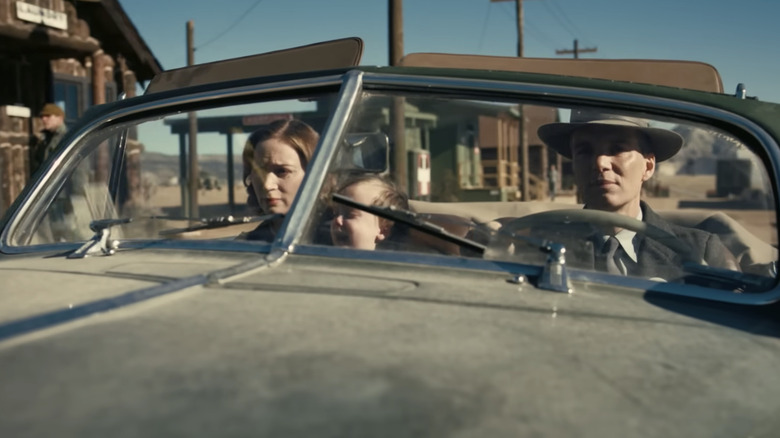 Universal Pictures
After up-and-coming indie film director Christopher Nolan achieved success with his 2000 picture "Memento," he was thrown into the running to direct Warner Bros.'s next crime thriller, "Insomnia." Afterward, Nolan fought to prove his worth to the studio, directing "The Prestige" and reviving the Batman franchise with "Batman Begins" and its follow-up "The Dark Knight." From 2002 onward, Nolan formed a recurring partnership with Warner Bros., who co-produced and distributed nine of the director's twelve feature films. Even after Legendary Pictures — another one of Nolan's collaborators — left Warner Bros. in favor of Universal Pictures, the filmmaker stuck by the studio. That is, until fundamental disagreements about the film industry changed that.
In 2020, Nolan fought for a theatrical release for his spy thriller "Tenet," which he was granted along with a 10th-anniversary re-release of "Inception." This made "Tenet" one of the only feature films released in theaters during the height of the COVID-19 pandemic. So imagine the filmmaker's surprise when Warner Bros. announced that their 2021 slate would be released simultaneously to theaters and on their HBO Max streaming service. "There's such controversy around it, because they didn't tell anyone," Nolan revealed to ET Online in December 2020. "It's not the way to do business and it's not the best thing for the health of our industry." By September 2021, Nolan opted to partner with Universal Pictures in making "Oppenheimer," unceremoniously ending his nearly 20-year partnership with Warner Bros.
Which recurring Nolan collaborators are set to appear?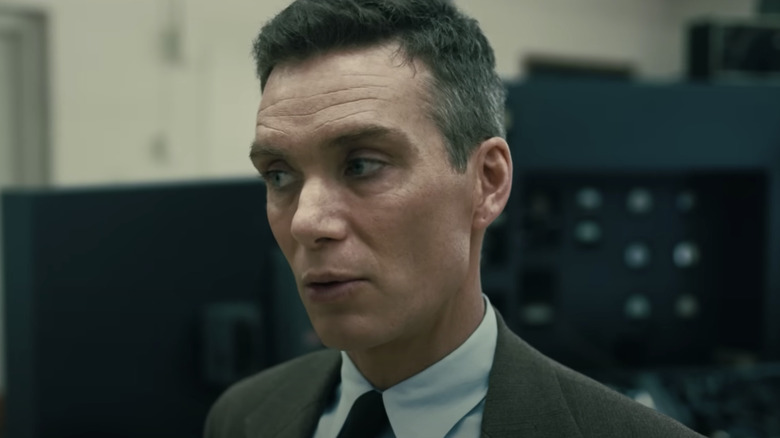 Universal Pictures
Like any good director, Christopher Nolan knows exactly who he wants to work with. After choosing Universal Pictures over Warner Bros. to direct his upcoming feature, Nolan coopted frequent collaborator Cillian Murphy to join his cast. After six feature films together — including all three parts of the famed "The Dark Knight Trilogy," "Inception," and "Dunkirk" — Nolan finally found the perfect part for Murphy, casting him in the titular role. "It was one of the best days of my life," the actor revealed to Entertainment Weekly, speaking of Nolan's call. "I'll always turn up for Chris, no matter what the part is, but, secretly, it's a dream to play a lead part." After 18 years of working together, it's about time.
While frequent Nolan collaborators Sir Michael Caine, Christian Bale, and Tom Hardy are all seemingly absent from the cast list of "Oppenheimer," the director has brought back a few other familiar faces, including Gary Oldman, who played Commissioner Jim Gordon in the three "Batman" features. This time around, Oldman is playing Harry S. Truman, the 33rd President of the United States, marking their fourth collaboration together. Kenneth Branagh, who starred in Nolan's last WWII epic "Dunkirk," also reunites with Nolan, as do "The Dark Knight Trilogy" actors Tom Conti and David Dastmalchian.
How will Oppenheimer compare to previous Nolan entries?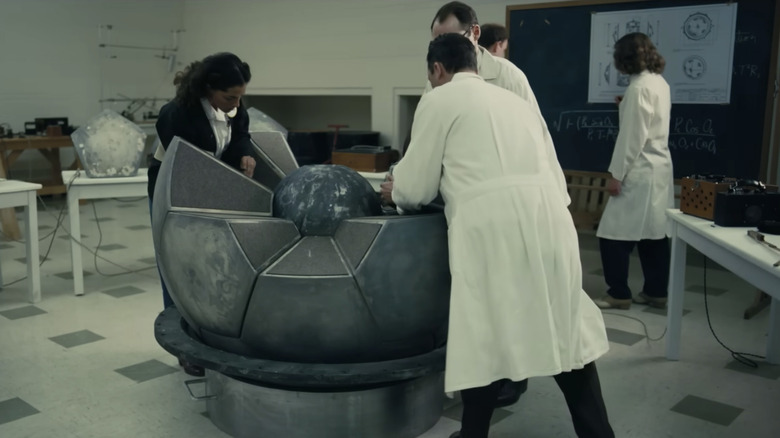 Universal Pictures
It's no secret that Christopher Nolan has an exceptional filmography. From strong indie projects and short films to big-budget blockbusters and superhero trilogies, there's a reason why Nolan is one of the most sought-after filmmakers in the business. With success after success, both critically and financially, Nolan has yet to direct a dud. While many of Nolan's pictures feature a fair amount of action, especially movies like the superhero origin "Batman Begins" or the spy thriller "Tenet," don't expect any high-octane fighting sequences here. Though "Oppenheimer" is set during World War II, we're unlikely to see any battle sequences as we did in "Dunkirk." Rather, more like "The Prestige," his newest picture is likely to be more dramatic in nature.
As Nolan has referred to this film as his most challenging to date, it's a wonder what that means for someone who has previously tackled the likes of rebooting Batman, directing a scientifically accurate space drama, and constructing a time-bending spy flick. Interestingly, this isn't the first time Nolan has highlighted nuclear warfare. In 2012's "The Dark Knight Rises," Bane (Tom Hardy) threatens Gotham with a nuclear warhead he's hidden in the city. Once Batman (Christian Bale) finds the weapon, he successfully flies it across the city out into the Atlantic Ocean, where it detonates safely overseas. Perhaps unsurprisingly, the bomb in question looks similar to the one we see constructed in the "Oppenheimer" trailer, right down to its round, multi-part design.
What's next for Christopher Nolan?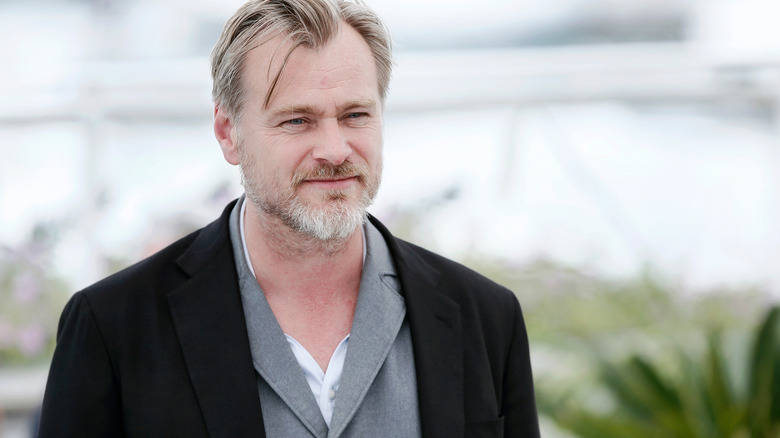 Andrea Raffin/Shutterstock
Having transitioned from Warner Bros. to Universal Pictures and directed a new feature with the largest cast he's undertaken to date, whatever Christopher Nolan does next will have to be big. Having previously helmed superhero movies, spy thrillers, sci-fi mind-benders, and now multiple historical dramas, it's anyone's guess as to what genre the filmmaker might tackle next. Since 2014's "Interstellar," Nolan has released a new movie every three years; "Dunkirk" came out in 2017, followed by "Tenet" in 2020, and now "Oppenheimer" in 2023. While it's not an exact science — previously there were only two years apart between Nolan's features, his standard from 2006's "The Prestige" to 2012's "The Dark Knight Rises" – it's possible that Nolan will release his next film in 2026.
To date, we know nothing about what Nolan's next super-secret project might be, since nothing has been officially announced. But it's unlikely the filmmaker doesn't have any other ideas brewing. Back in 2015, it was announced that Nolan's "Memento" was getting the remake treatment, but there's been no word since. Regardless, Nolan was never officially involved other than having directed the original. Though he served as an executive producer on "Zack Snyder's Justice League," Nolan likely won't continue producing DC Comics adaptations either, especially after breaking up with Warner Bros. But whatever story Nolan decides to undertake next, we can rest assured that he'll put his own twist on the thrilling tale.