Christopher Nolan's Oppenheimer - What We Know So Far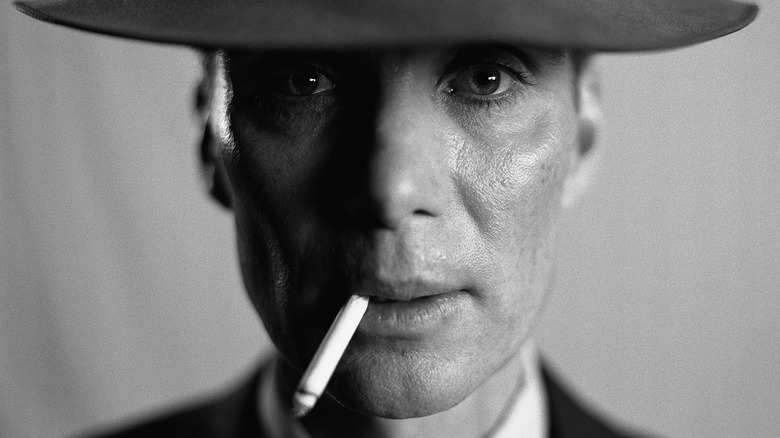 Universal
Correction 10/19/2022: A previous version of this article incorrectly stated that J. Robert Oppenheimer was the head of the Manhattan Project. While Oppenheimer was responsible for the research that led to the atomic bomb that was used as part of the project, the actual head of the Manhattan Project was General Leslie Groves.
Since Christopher Nolan caught the attention of indie audiences over two decades ago with "Memento," the director has released films every couple of years without fail. Father of many confusing movie endings, there is seemingly no subject that Nolan will not broach. His most recent film, "Tenet," tackled the complicated issue of time travel in 2020, and now it is time to see what the director has up his sleeve next.
Though not the first time that the "Batman Begins" director approached actual events, his newest film is the first attempt at a straight biopic. The upcoming film, titled "Oppenheimer," covers one of the most famous and devastating moments in history. Those who do not know the name will know the event for which the man was responsible. J. Robert Oppenheimer was a physicist who developed the original atomic bomb, a weapon that would be used as part of the Manhattan Project to bring destruction on Hiroshima and Nagasaki during World War II. Many of the details of the film have been kept secret ahead of release, but here is what we know so far.
What is the plot of Oppenheimer?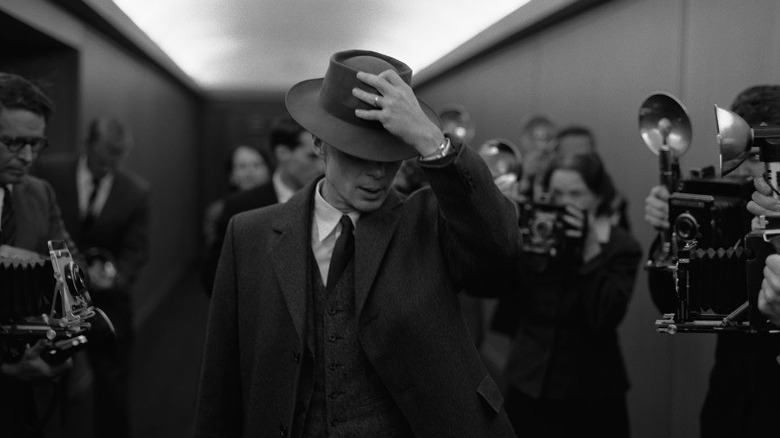 Universal
As with many films like "Memento," the details of Christopher Nolan's upcoming movie "Oppenheimer" are purposefully made mysterious. The official website for the film has a clock ticking down and only a couple of pictures of the title character in greyscale. But judging from the historical events that the film is based on, it needs no hypothesizing. Oppenheimer's contribution to the Manhattan Project was instrumental in ending World War II. After he saw the destruction that his creation caused, he famously recited from Bhagavad-Gita: "I am become Death, the destroyer of worlds" (via Wired). Though it ended the conflict, he was correct in saying that the world would never be the same.
There is no doubt that Nolan will cover the events of Oppenheimer's life in the eponymous biopic. Covering similarly devastating historical events in "Dunkirk," it can be expected that the director will use his ambitious visuals to tell a story that has not yet been told to this magnitude. As Oppenheimer himself noted the terrible power that his creation wrought, Nolan will most likely ask these same ethical questions present in history.
Who is starring in Oppenheimer?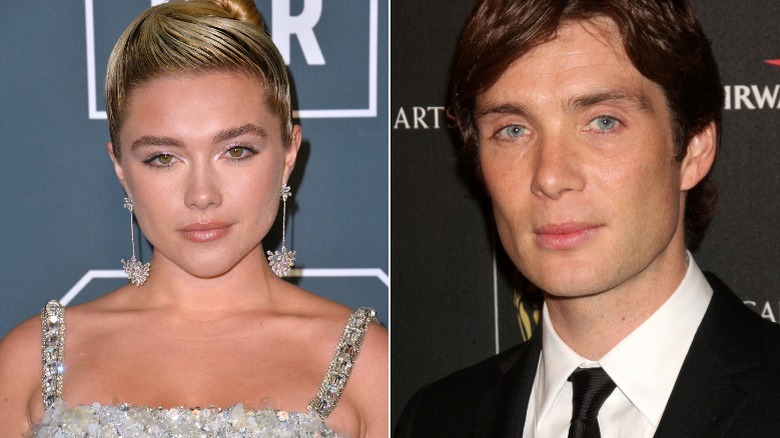 Kathy Hutchins & Featureflash Photo Agency/Shutterstock
Christopher Nolan tends to attract big-name actors to his films, and "Oppenheimer" is no different. Films such as "Interstellar" and "Inception" often read like a who's who of prominent actors of the time. "Oppenheimer" continues to add renowned actors such as Nolan veteran Cillian Murphy who previously appeared in "Inception" and "Dunkirk" and will be starring as the main character. His co-star from "A Quiet Place Part II," Emily Blunt, will appear as his wife, Kitty Oppenheimer.
Also on the docket is recent addition Florence Pugh whose star has been on a meteoric rise. The actor officially broke out in Ari Aster's 2019 horror film "Midsommar." Since then, she has gotten plenty of press for the controversial discourse surrounding "Don't Worry Darling," but that hasn't slowed her down. She is credited as portraying Jean Tarlock in "Oppenheimer" and is reported to be cast in "Dune Part 2" as Princess Irulan (per The Hollywood Reporter). Other actors of note to have joined Oppenheimer are Gary Oldman as Harry Truman, Robert Downey Jr. as Lewis Strauss, and Matt Damon as Leslie Groves Jr. (via IMDb). In unspecified roles, Kenneth Branagh, Jack Quaid, Rami Malek, and David Krumholtz have also been confirmed.
When will Oppenheimer be released?
A frequent and prolific director, Christopher Nolan doesn't waste too much time between films. Nolan's most recent film, "Tenet," was released in 2020 to mixed reviews from critics. The time travel film was another mind-bending endeavor with many confusing elements. The director's follow-up may even be more ambitious because it is based on a real person. And the promotional material is milking this for all that it's worth.
The only official statement for the film's release is accompanied by a dramatic ticking clock, counting down to the moment when "Oppenheimer" will premiere. For a more direct update on when to expect the film, fans can go to Universal Picture's website to see the titular character in an image surrounded by orange clouds accompanied by the official release. "Oppenheimer" will have an exclusive theatrical summer release on July 21, 2023. 
Who is directing Oppenheimer?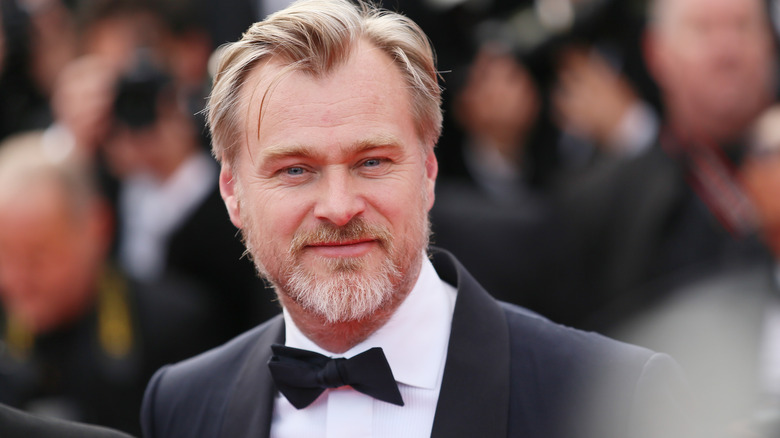 Denis Makarenko/Shutterstock
It should be no surprise who is the creative mind behind "Oppenheimer." The highly publicized director has been responsible for out-of-this-world pictures. Christopher Nolan is one of those imaginative directors that is impossible to miss. If you haven't seen his more inventive films, you have undoubtedly seen his gritty interpretation of Batman, starring Christian Bale.
In recent years, Nolan has built on his reputation for inventive storytelling. Following the non-linear structure of "Dunkirk" and the literal backward storytelling of "Tenet," the director is at it again. Though details of the film are being held close to the vest, it seems that "Oppenheimer" will differ from previous films in a prominent way. Based on the released images, Nolan implements black-and-white visuals that contrast with most of his filmography. But to discover what the director has up his sleeve, viewers must tune in when it premieres in theaters.
Is there a trailer for Oppenheimer?
Known for his grand visuals, Christopher Nolan's promotion for "Oppenheimer" has also made a splash. Many elements of the film are shrouded in mystery, with only a few images of the film's star Cillian Murphy. This trailer is just as vague, with ominous voiceovers speaking about Oppenheimer. The man himself never speaks, and the voiceover only narrates swirling orange colors over a black background, making it difficult to identify who is speaking. The rest of the trailer is in stark black and white, implying that to be the film's color scheme.
To heighten the drama further, the trailer has a radical approach and is constantly changing. Viewers can watch the trailer on a live feed that counts down to the film's release in real-time. With the exclusive theater release, Nolan may be purposefully keeping the film's events as mysterious as possible. The director, who is historically critical of movies going straight to streaming, must think the best way to get audiences to the theater is to keep things under wraps for as long as possible (via The Hollywood Reporter).
Where is Nolan's filmography available?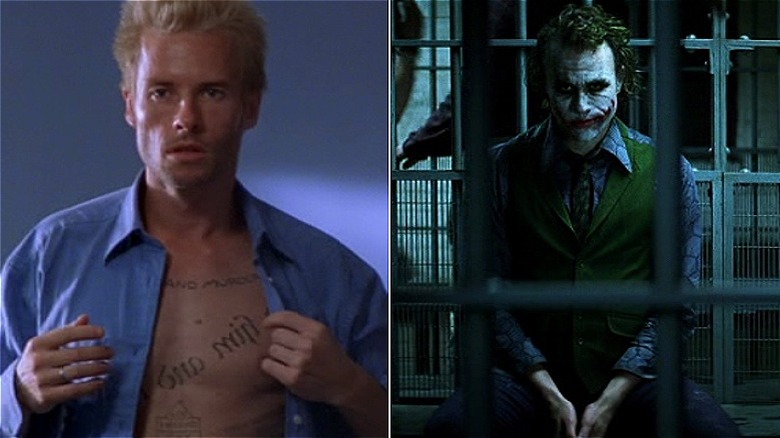 Newmarket/Warner Bros.
Those looking to refresh themselves on Christopher Nolan's big-budget epics are in luck. Many are available to stream on various platforms, most notably HBO Max. "Tenet" is interestingly absent from the platform, but previous movies "Dunkirk," "Inception," and "Memento" can be viewed for those with a subscription. These films are some of the most unique, with impressive visuals and unconventional structures. Fans of his most famous collection of movies don't have to worry either. Every film in the Christian Bale era of the caped crusader is available to view. "Batman Begins," "The Dark Knight," and "The Dark Knight Rises" can all be found on HBO Max.
His other pictures may need some scouring of the internet to find. "Tenet" and "The Prestige" can be found On Demand and for rental and purchase through various sources. Nolan's space epic "Interstellar" remains the outlier. The film starring Matthew McConaughey scouring the stars for a new planet can be streamed on Paramount+ with a subscription. Viewers will be rich with Nolan content until the release of "Oppenheimer."