The White Lotus Season 2 Episode 7 Recap: Come On In, The Water's Fine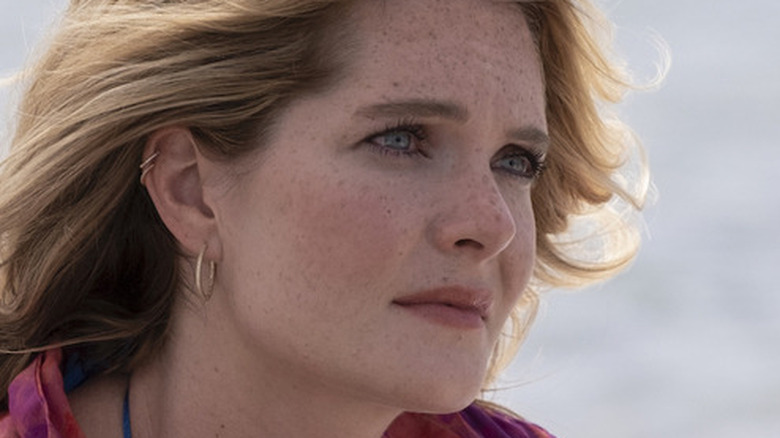 Fabio Lovino/HBO
Contains spoilers for "The White Lotus" Season 2, Episode 7 — "Arrivederci"
After seven weeks of tense close-ups, intrigue, and fans rabidly theorizing, "The White Lotus" Season 2 finally comes to an end, and we say "Arrivederci" to a confounding group of people who have loved, fought, and — in many ways — lost. The bodies in the water announced at the start of Episode 1 are finally identified, but that still leaves many remaining queries unanswered. Do people really change? And more importantly, should we root for the people that don't?
In the first season of "The White Lotus," creator, director, and writer Mike White explored how money can corrupt people; certainly, the second season is about the rich and powerful as well, but it puts a larger focus on just how sex, power, and money are inextricably linked. Not a single person staying at this Sicilian resort is without their faults, to say the very least, and by the end of "Arrivederci," plenty of prices are paid, so to speak. Here's everything you need to know about the season finale of season two of "The White Lotus."
And the bodies are...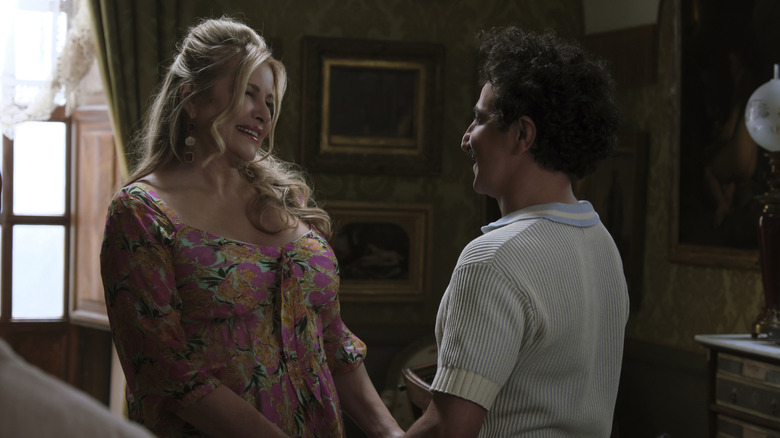 Fabio Lovino/HBO
This season's murder mystery has finally been solved, and unfortunately, audiences were hit with a hard truth: Jennifer Coolidge may be an icon, but Tanya is dead and is not coming back. That said, it's not like White didn't give us plenty of clues; all of the preceding episodes warned us that this would not be a happy ending. Trapped on Quentin's (Tom Hollander) yacht, Tanya's suspicions about Quentin and her husband Greg (Jon Gries) seem to be all but confirmed when she realizes that Greg will only get her money if she dies. Besides Greg, though, Quentin has a stake in the situation too —  as we know, just because someone has a palazzo does not mean they are swimming in cash, and Quentin is destitute.
From there, it is a desperate race to see if Tanya can escape Quentin's boat and get back to the resort safely... but just like the titular character in "Madame Butterfly," Tanya was always meant to be a tragic character. Tanya steals mafioso Niccolò's (Stefano Giannino) bag, finding a gun, rope, and other serious ominous objects, and fully armed with the revolver, she guns her way through the boat and takes down every would-be assailaint. Ultimately, though, Tanya is a victim of her own ineptitude; ignoring the boat's stairs, she tries to jump into the dinghy and free herself, only to whack herself on the side of the boat and drown.
Two toxic couples end their vacation with a bang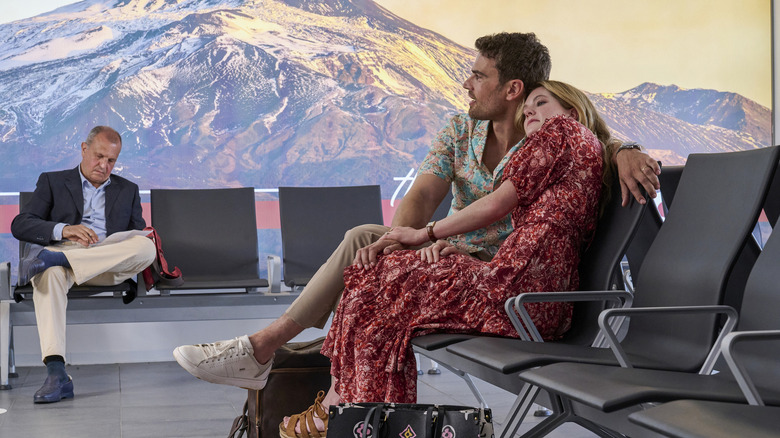 Fabio Lovino/HBO
The pointed shots of the infidelity-inspired Testa Di Moro statue in Harper and Ethan's room arrive at a point when it is literally smashed all over the floor. At first, Ethan continues to obsess over Harper (Aubrey Plaza) and Cam's (Theo James) ptential deception. Even though Harper insists that nothing happened, he doesn't buy it and pushes until Harper admits that she and Cam kissed, though that was the extent of it. Still not sure if he can believe his wife, Ethan marches down to the beach and confronts Cam to the point where both men try to drown each other in turn, though Ethan gets the upper hand with a well-placed punch to the face. 
After decking his friend, Ethan crosses paths with Daphne (Meghann Fahy), who breezily dismisses Ethan's suggestion that Cam and Harper might have hooked up before inviting him for a walk on a secluded part of the coastline. So, what happens then? We'll never know, but it's definitely suggested that perhaps Daphne and Ethan get their revenge on their spouses. Whether or not that happens, it at least gets Ethan... going, so to speak, and he and Harper finally reconnect when he gets back to their room.
As the episode draws to a close, both couples head home with their respective marriages seemingly intact. No one is saying that either one is particularly healthy — while Cam and Daphne seem well-matched, they will likely keep playing these games with each other forever, and Ethan and Harper sure have a lot to work on — but in this moment, all's well that ends well.
The Di Grassos are set in their ways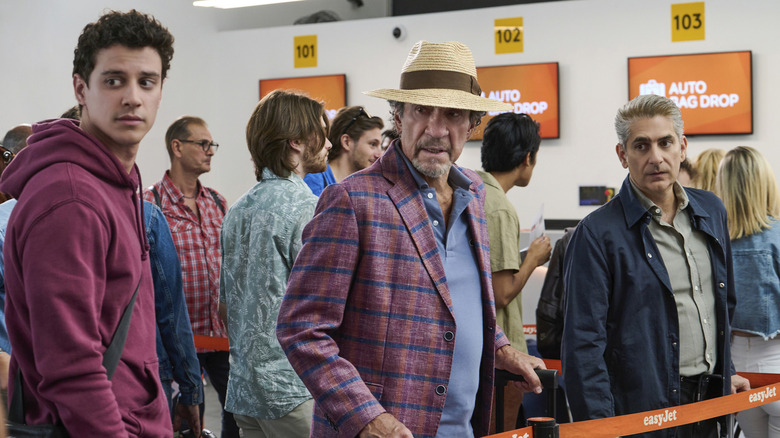 Fabio Lovino/HBO
Men never learn, do they? Throughout their attempt at family bonding and finding their roots, the dudes of the Di Grasso family remains unchanged. All three men are pretty cruddy to the women in their orbit, and their time at The White Lotus has only reinforced this bad behavior. Albie may act like he is all about altruism, but his big revealing moment is extorting his father; if Dominic (Michael Imperioli) agrees to wire Lucia (Simona Tabasco) €50,000, Albie agrees to talk to his mother and smooth things over for his dad. For the entire season, Albie has waxed poetic about how terribly his father has treated his mother, but when it comes down to what Albie wants, that ceases to matter. As for Dominic, only time will tell if he'll be able to keep any promises he makes to his wife (frustratingly not portrayed by Laura Dern in photos seen on-screen, even though the actress and frequent Mike White collaborator voices her a few times throughout the series). 
As the Di Grasso men leave Sicily, it's obvious that no one has learned anything. The most telling visual representation is when they are in line at the airport — Bert (F. Murray Abraham), Dominic, and Albie all turn to ogle an attractive woman walking past them. Sexism prevails, and the Di Grassos will keep on perpetuating that no matter where they are in the world; as Bert fittingly puts it during their final dinner together, "Our Achilles heel is an Achilles c**k."
Portia escapes with her life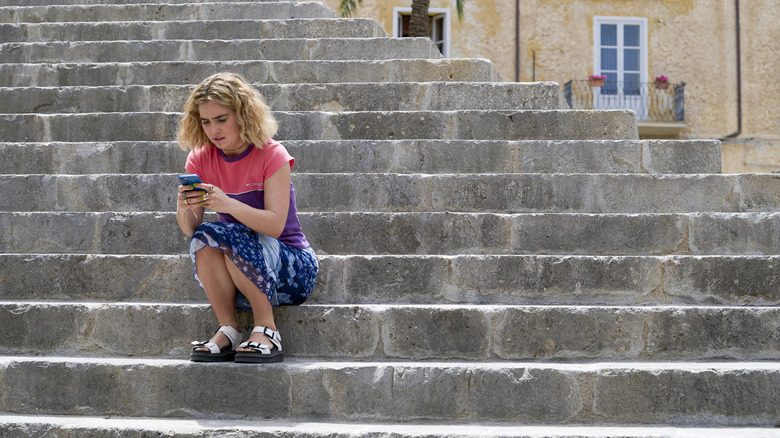 Fabio Lovino/HBO
Portia, throughout the season, definitely comes off as pretty beleaguered — Tanya doesn't seem to be the world's kindest employer — but there's also no question that she gets herself into bad situations. (Girl, never follow a himbo to a second location!) After Jack (Leo Wooddall) apparently steals her phone while she's sleeping, Portia, stranded in Cefalù, snatches his while he's not looking and frantically calls Tanya. For her part, Tanya figures out that Quentin is up to no good and that Greg's probably involved, and in the process, she finally clues Portia in, revealing she caught Jack and Quentin in a pretty compromising position. Portia, now terrified of what Jack might do with her, confronts him, but he simply asks her to let him do his "job."
Whatever that job was, it seems as if Jack ultimately can't go through with it. Instead of hurting Portia in any way, he drops her off in a weird abandoned spot and returns her phone, but not before telling her that she's in Catania and the airport is nearby. (Whether or not Portia somehow has her passport is, truly, anyone's guess.) Back at the airport with the rest of the gang, Portia reconnects with Albie, and the two exchange phone numbers, setting up a potential re-do of their short-lived romance.
The true (kind of) heroes of the story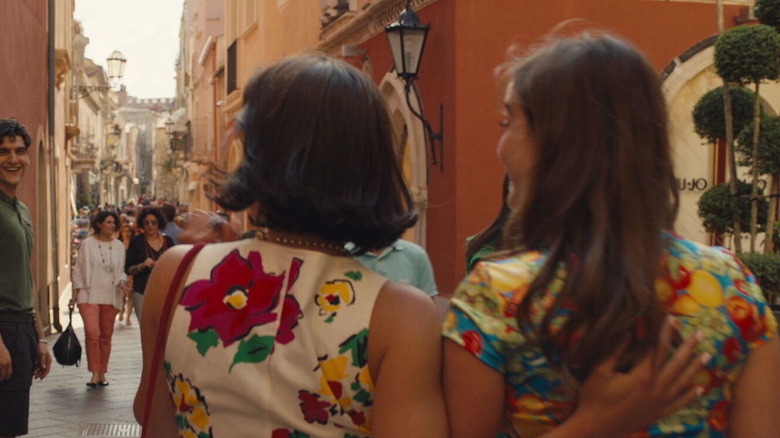 Fabio Lovino/HBO
If anyone deserved to end up on top, it was probably Mia (Beatrice Grannò) and Lucia. Introduced in the beginning moments of the season as two girls just looking to hustle, these friends have definitely achieved some pretty decent goals. After Lucia gets the money from the Di Grassos, she completely moves on, and good for her — she knows exactly what kind of person Albie is. Her alleged stalker was, in all likelihood, just a local friend of hers who was in on it from the beginning, and she successfully pulled the wool over Albie's eyes and has something pretty huge to show for it.
Mia's dreams are definitely smaller, but still, she does earn them. When Giuseppe (Federico Scribani) returns from recuperation to find that Mia has taken his job as the piano player, he is adamant she be removed immediately — but after Mia's dalliance with Valentina (Sabrina Impacciatore), that's a non-starter. Mia's connection with Valentina isn't exactly romantic, but it is definitely rooted in friendship, and Valentina even accepts Mia's offer to go clubbing with her and Lucia going forward. In the very last shots of the finale, Mia and Lucia walk arm in arm through Taormina, as perhaps the only characters who can truly say they got a happy ending.
What can we expect from season 3?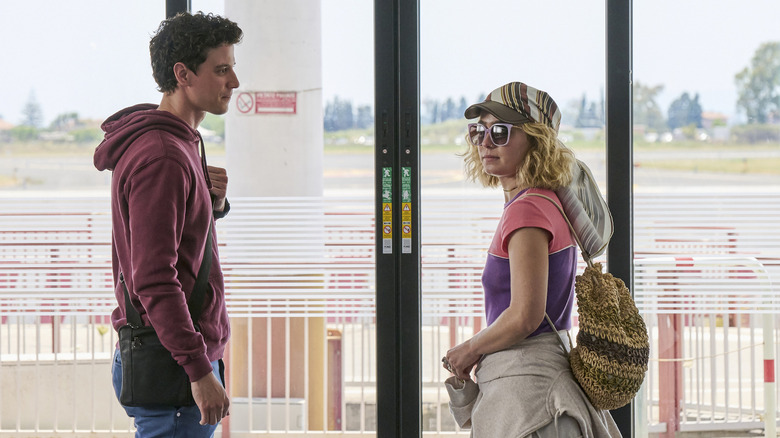 Fabio Lovino/HBO
So after all of this, what might happen in the show's third season, which has already been confirmed by both White and HBO? Speaking to Deadline, White didn't reveal much, but did say this: "The first season we highlighted money and then the second season is sex and I think the third season, it would be maybe a kind of satirical and funny look at death in Eastern religion and spirituality — it feels like it could be a rich tapestry to do another round at White Lotus."
As for who might come back, clearly Tanya is out of the running, but characters related to her feel like they'll have to return. For one, it seems impossible that we've seen the last of Greg; we still don't know who was on the other end of his ominous phone call earlier in the season, and he presumably just came into some pretty serious money considering that he has an air-tight alibi regarding Tanya's death. In fact, White mentioned Greg to Deadline as well, saying, "I think as far as what happens to Greg and the conspiracy of Tanya's death, it's possible that I think Portia is scared enough to just leave it alone, but the fact that all of those guys die on the boat, it feels like there's gotta be somebody who's gonna track it down to Greg. But maybe you'll have to wait to find out what happens." Season 1 star Connie Britton also previously told Deadline that she's hoping to return as well, but in the end, there's no question that White will, as he's done twice now, assemble a murderer's row of talented actors.