12 Period Crime Dramas Like 1923 That You Should Watch Next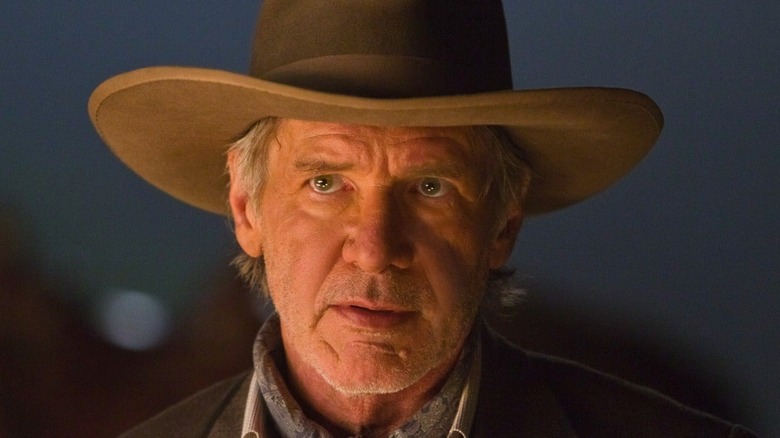 Paramount
Starring hollywood heavyweights Harrison Ford and Helen Mirren, "1923" is the latest prequel and spinoff of the hit crime drama "Yellowstone." Set in the titular year, it follows 40 years after the events of the Emmy-nominated "1883," and continues the story of the Dutton family amidst the problems plaguing the nation. That includes Prohibition — which has given rise to organized crime — a looming economic depression, and a long recovery from a deadly pandemic.
While it's no longer quite the Wild West, the Yellowstone-Dutton Ranch sits in the mountains of Montana, which in the 1920s were still far removed from modern city life. And with automobiles rare, connections to the big metropolises were few, meaning law and order was still more like the lawless frontier than the heavily patrolled streets of New York or San Francisco. Bloody feuds were still common, with rival immigrant gangs vying for control. When it comes to the Yellowstone, it's up to Jacob Dutton and his wife Cara to protect the family and the homestead from encroaching violence to ensure they don't wind up a victim of warring factions.
If you can't get enough of the crime, drama, and period turmoil of "1923," look no further, because we've found 12 more shows to enjoy.
Peaky Blinders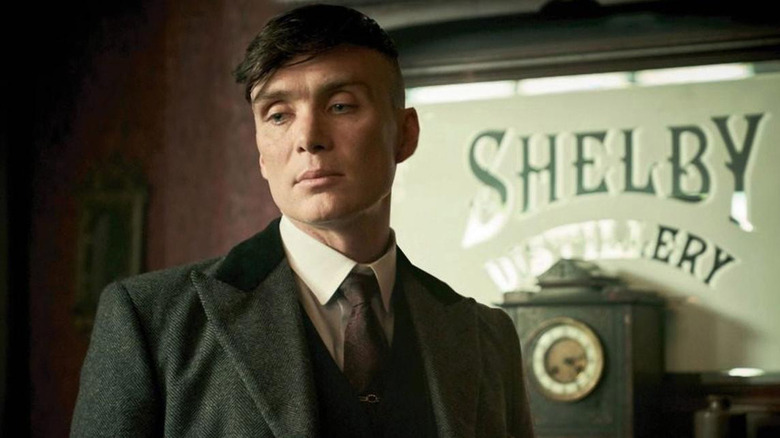 BBC
"Peaky Blinders" has been one of the biggest hits for BBC over the past decade, and it shares many hallmarks with "1923." Also headlined by a pair of big-screen stars — specifically Cillian Murphy ("Batman Begins") and Sam Neill ("Jurassic Park") — the series is set in Birmingham, England during a time of great upheaval as the nation recovers from World War I and the aftermath of its own pandemic. It's in the midst of this strife that we meet Tommy Shelby (Murphy), a war veteran-turned-gangster who runs a criminal outfit called the Peaky Blinders.
Formed out of the economic chaos of the 1910s, the Peaky Blinders are a street crew comprised of those from humbler means looking for a way out of extreme poverty. Led by Shelby, they became the preeminent gang in the region, and are pursued by Detective Chief Inspector Major Chester Campbell (Sam Neill) who is sent in to stop their violent crime spree by Prime Minister Winston Churchill (played by both Andy Nyman and Richard McCabe). As the series progresses, the Peaky Blinders spread their reach, and events carry through the 1920s.
Featuring an all-star cast that includes Tom Hardy, Adrien Brody, Alexander Siddig, Anya Taylor-Joy, and Kingsley Ben-Adir, "Peaky Blinders" has proven a smash with critics. More than just an award-winner, the series has been beloved by audiences too, praised for its gritty stories, nail-biting suspense, and top notch performances. With six seasons to watch, there's plenty of story to keep you busy after "1923."
Boardwalk Empire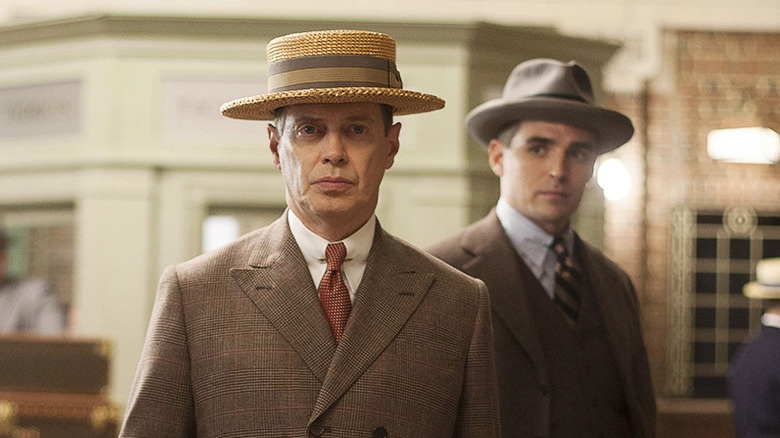 Warner Bros.
Moving back to the United States, "Boardwalk Empire" eschews the Western setting of "1923" and as with "Peaky Blinders" focuses on organized crime in an American metropolis. But it too features a pair of major Hollywood stars in the cast, this time Steve Buscemi and "Man of Steel" villain Michael Shannon playing a corrupt politician and a dedicated Prohibition agent. But what makes "Boardwalk Empire" is that it weaves in many real life figures who were prominent in the era, most notably infamous gangsters Al Capone, Meyer Lansky, Lucky Luciano, and Bugsy Siegel.
Also set in the 1920s, "Boardwalk Empire" takes its name from its locale, chronicling the gangland action along the New Jersey shore in Atlantic City. Buscemi stars as "Nucky" Thompson, an Irish-American who by day is the city's treasurer, a popular and prominent politician. But he also moonlights as a gangster who takes advantage of the situation that presents itself as Prohibition is enacted at the opening of the series. Striking deals with some of the nation's leading mobsters, Nucky builds a powerful empire, but draws the attention of Nelson Van Alden (Shannon), a law enforcement agent tasked with taking on bootleggers.
A mix of real-life history and powerful gangster drama, "Boardwalk Empire" features a pilot episode directed by the legendary Martin Scorsese and a cast that includes Kelly Macdonald, Michael K. Williams, Gretchen Mol, Jeffrey Wright, and Charlie Cox. With five seasons on HBO, it received 20 Primetime Emmys during its run.
Frontier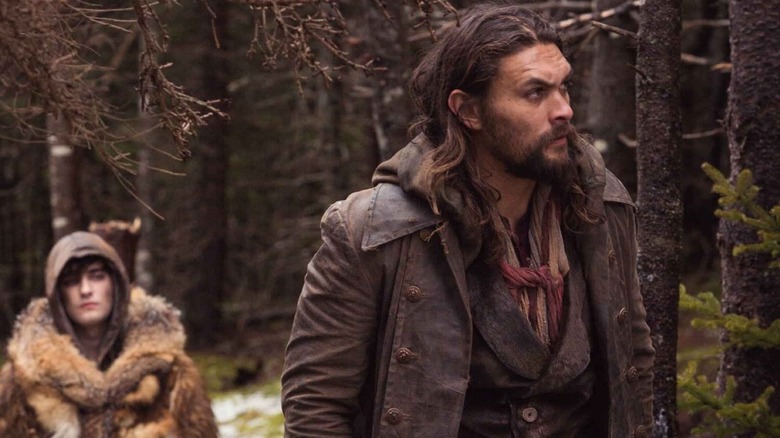 Netflix
Though set in the 20th century, "1923" still feels very much like an old Western thanks to its remote frontier location far from the progress of America's biggest cities. There, corruption and crime still run rampant, with law and order hard to come by. This gives "1923" plenty in common with "Frontier," a series fronted by "Aquaman" star Jason Momoa, despite being set some 200 years prior. Taking place in the wild woods of the Canadian wilderness, the series chronicles a renegade fur trapper's efforts to shake loose the Hudson Bay Company, who dominate the trade in the region.
At a time when American and Canadian shores were still considered "The New World," Declan Sharp (Momoa) has grown weary of the English, who continue to send armies of men to take their land and way of life. Sharp is a relentless and unforgiving half-Irish/half-Cree trapper with a penchant for violence who is ready to do whatever it takes to put an end to the Hudson Bay Company's monopoly. This brings him into frequent conflict with the company's ruthless leader, Lord Benton (Alun Armstrong), who wants nothing more than to crush Sharp and his people for good.
Putting a much-needed spotlight on a long-overlooked period in American and Canadian history, "Frontier" shines with a brutal and uncompromising story punctuated by a tour de force performance from Jason Momoa. Debuting in 2016, it concluded after three seasons and 18 episodes, and might be the most underrated series on this list.
Damnation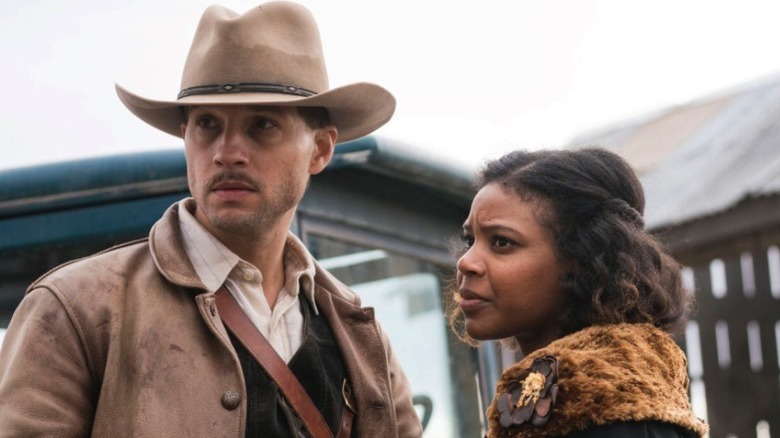 NBCUniversal Television Distribution
The 2017 series "Damnation" only ran for a single season, not unlike "Yellowstone" spinoff "1883." But like "1923," it's set in the midst of one of the nation's darkest hours: The Great Depression. And though it takes place a decade later at the outset of the 1930s, it retains a distinctive Western flavor, owed to its setting in the midwest. The series focuses not on organized crime or renegade outlaws, though, but on the labor wars that were being waged on America's farms as wealthy tycoons took advantage of poverty to exert power and control over the workforce.
"Ripper Street" star Killian Scott plays Seth Davenport, a local preacher in Holden County, Iowa. Opposing the efforts of ruthless industrialists, Davenport organizes a labor movement to push back against the corruption which has worked its way into every facet of town life, from the police force all the way to the press. But the establishment doesn't sit idly by, and enlists the help of Creeley Turner, a Pinkerton Detective Agent, to bust the emergent union efforts. But as the violence escalates, we quickly learn that there's more to both men than meets the eye, and their feud goes back further than their time in Holden.
Against the backdrop of a rural labor rights movement, "Damnation" tells a twisted tale of two men with a dark past. Part Western, part revenge thriller, part crime drama, it has all the ingredients to satisfy fans of "1923." 
Godless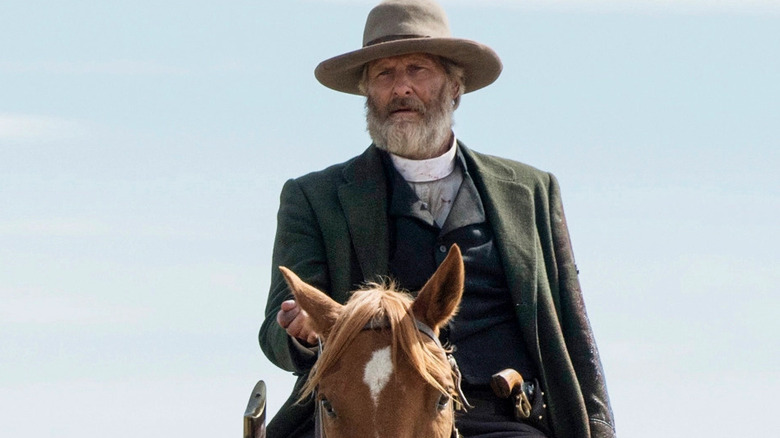 Netflix
A grim Western starring a big-screen legend? If that's what you're looking for, don't miss "Godless," a series from executive producer Steven Soderbergh and starring Jeff Daniels. A Western crime drama, it may match the setting of "1923" prequel "1883" better, but its tone and story are a closer match for the Harrison Ford series. It centers on an outlaw in 1884 named Roy Goode (Jack O'Connell), who was raised by a notorious one-armed killer named Griffin (Daniels) but has escaped his grasp and now finds himself on his own in an attempt to outrun his former mentor.
Goode eventually lands upon La Belle, New Mexico, a town that has been struck by tragedy. In a devastating mining accident nearly all of the town's men were killed, leaving a community to be run mostly by the surviving women. They still have Sheriff McNue (Scoot McNairy from "Argo") and his deputy Winn (Thomas Brodie-Sangster of "A Queen's Gambit"), but that may not be enough to protect them when Goode rides into La Belle looking for refuge, with the infamous Griffin and his bloodthirsty gang of outlaws hot on his tail. Goode quickly strikes up a friendship with rancher, mother, and widow Alice Fletcher (Michelle Dockery of "Downton Abbey"), but his presence puts everyone in danger.
A seven-episode Netflix miniseries, "Godless" provides a role for Jeff Daniels as a sinister and vile villain unlike anyone he's played before.
Walker: Independence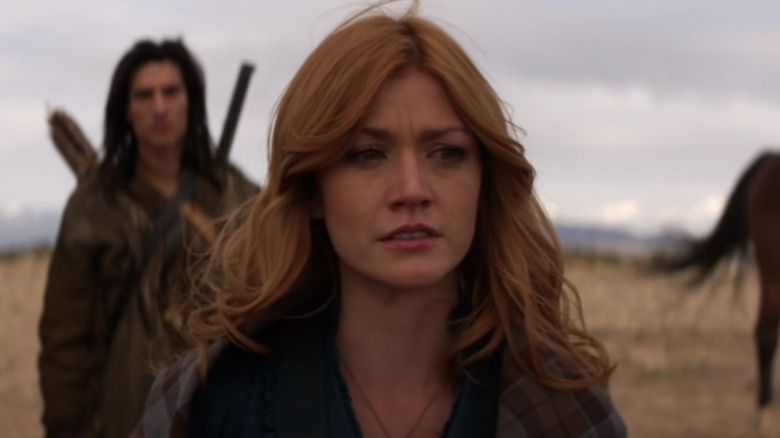 Paramount
Like "1923," the 2022 series "Walker: Independence" was an unexpected prequel, this time to the CW series "Walker," itself a reimagining of the 1990s "Walker: Texas Ranger." Executive produced by franchise creator Anna Fricke and "Walker" star Jared Padalecki, this surprising spinoff takes place some 150 years prior, in the Wild West of the late 1800s. It tells the story of Cordell Walker's ancestor Abby Walker, played by "Shadowhunters" star Katherine McNamara.
As the series opens, we meet Abby as a well-to-do married Boston woman who decides to take the long journey to settle out West. But just as her trek gets underway, her husband is murdered in cold blood and she's forced to start a new life on her own in Independence, Texas. She soon encounters Hoyt Rawlins (Matt Barr), the quintessential thief with the heart of gold, and before long they've become partners in the quest to find her husband's killer. 
A bit lighter in tone than the dark, overly violent stories of "1923," this one is instead a more adventurous tale of a woman striking out on her own in the West while seeking justice on the frontier. Could we soon see a "Walker: 1923" next? Considering the good reviews for "Walker: Independence," it's definitely a possibility.
The Son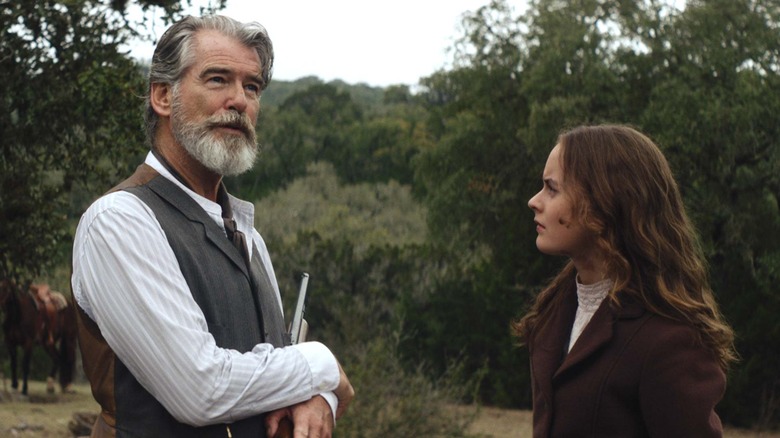 AMC Studios
Prestige Westerns seem to have a habit of recruiting some major big-screen talent, a trend continued in the 2017 series "The Son" on AMC. Though the lead role was originally intended for "Jurassic Park" star Sam Neill, it ultimately went to Pierce Brosnan. Here the former Bond actor trades in his Aston Martin and Walther P99 for a horse and a long rifle. 
Utilizing a unique split narrative, "The Son" alternates between two time periods as we explore the childhood and adult life of Eli McCullough, a former cattle baron who by 1915 has become a powerful oil tycoon in the rapidly growing industry. Once an innocent young boy full of wonder, McCullough is now a cold-hearted capitalist. But as his business faces many challenges, he turns to his sons to help save his livelihood so he can pass it on to the next generation. At the same time, his relationship with his two children is complicated, while one of them is harboring a dark secret.
Flashing back to the mid-1800s, we see the young McCullough and his terrifying journey as he's captured and raised by Comanche. Back and forth between the two time periods we begin to understand what shaped McCullough's dismal worldview, and the experiences that left a lasting imprint on his life. "The Son" was developed for television by Phillipp Meyer and was based on Meyer's own book, running for two stellar seasons and 20 episodes. 
The Porter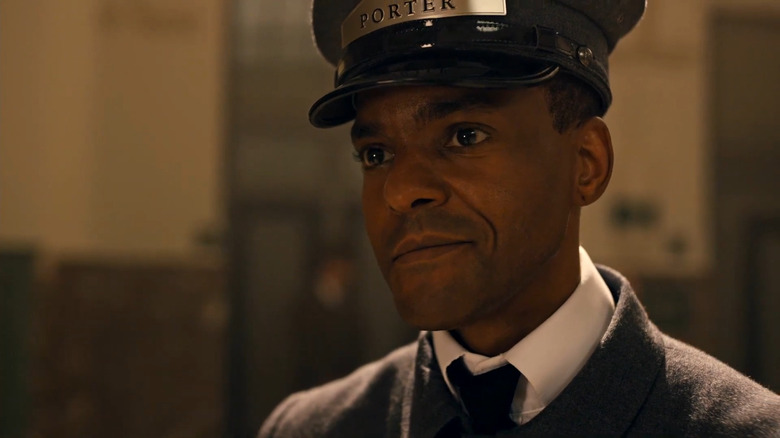 CBC Television
American and British TV may get all the attention for period dramas, but they're not the only place to find great stories set in the past. In Canada, for example, the 2022 series "The Porter" has impressed, depicting the under-chronicled history of Pullman porters in the 1920s, a group entirely made up of Black Canadians and Americans. Though its cast is mostly lesser-known names, it also includes Hollywood legend and three-time Emmy Award-winner Alfre Woodard ("St. Elsewhere").
Consisting of eight episodes, the series was created by two of the actors who star, Arnold Pinnock and Bruce Ramsay. It centers on Junior Massey (Aml Ameen) and Zeke Garrett (Ronnie Rowe Jr.), a pair of porters — railway workers who serve passengers in the same way as a modern-day flight attendant — who deal with more than just prejudice and racial injustice, but a burgeoning labor movement and organized crime. Their trains run between Montreal and Chicago, and see them encountering the seedier sides of the city — including brothels and bootleggers — as the two ambitious hustlers hope to find a better life for themselves.
Along the way they make plenty of new allies and enemies, including criminal kingpin Queenie (Oluniké Adeliyi), a singer named Lucy (Loren Lott), and vicious railroad tycoon William Edwards (Paul Essiembre). An engrossing and sorely underseen crime drama, "The Porter" illuminates a hidden world that is rarely talked about today, and does it with a singular style.
Perry Mason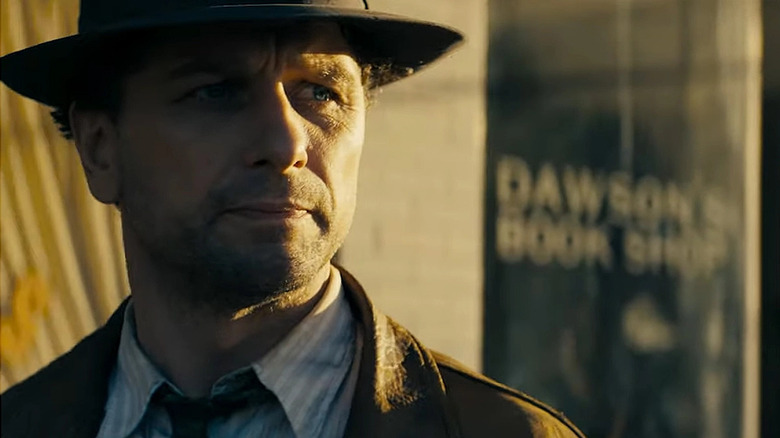 Warner Bros.
"Perry Mason" is a different kind of series as it's not at all a Western, and has a lone protagonist. But it does share the same rough time period as "1923," and deals with the same cultural issues of and struggles faced during the 1930s as the nation was reeling from the Great Depression. It's also a prequel, and one few saw coming, unfolding the story of famed TV lawyer Perry Mason (Matthew Rhys) — who had been seen for decades across multiple TV series and radio dramas since the 1940s. 
Here, Mason is not a lawyer, but instead a private detective, operating out of Los Angeles. His agency isn't a successful one, though, and he's still haunted by his experiences during the First World War when he's faced with a terrifying new case that's dropped in his lap. Brought in by his mentor, attorney Elias Birchard Jonathan (John Lithgow), Mason investigates a brutal child kidnapping and killing at the behest of industrialist Herman Baggerly (Robert Patrick), the boy's grandfather. But while dealing with his own personal struggles, Mason must get to the truth, and face off with a sinister rival detective named Ennis (Andrew Howard) whose motives are unclear.
Boasting a star-studded cast that includes Tatiana Maslany, Matt Fewer, Gretchen Mol, Andrew Divoff, and Andrew Stanford in addition to Rhys and Lithgow, "Mason" debuted to applause from critics and was renewed for a second season, airing in 2023.
The Pinkertons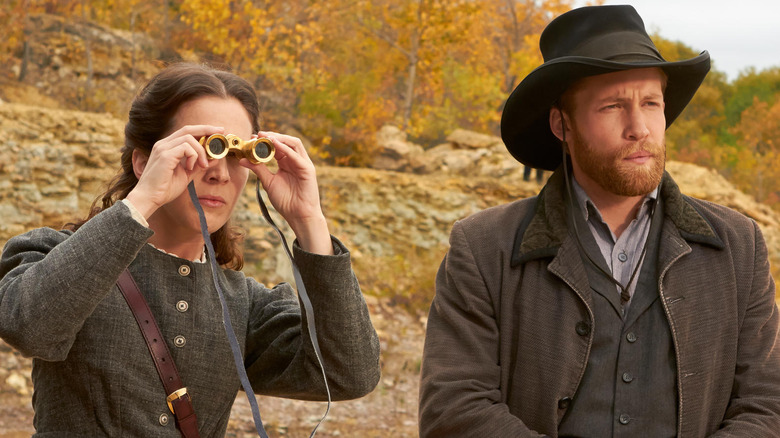 Rohrs Media Group
The only true procedural series on this list, "The Pinkertons" comes to us by way of Canada, and is officially licensed from the Pinkerton Detective Agency. The real-life security company that still exists today was founded by private lawman Allan Pinkerton in the 1850s, and gained notoriety for foiling a plot to assassinate President Lincoln in 1861. The series, a single-season adventure of 22 episodes, recounts a number of actual cases set during the agency's early days, with actor Angus Macfadyen ("Turn: Washington's Spies") as Allan Pinkerton.
Drawn from the real-life files of the Pinkerton Detective Agency, the series centers mostly on Allen's son William (Jacob Blair) and Martha MacIsaac as Kate Warne, his partner and America's first woman detective. In each episode, Pinkerton and Warne track down fugitives and investigate everything from missing persons to murders, train robberies, and assassination plots. 
What makes the series so special is its realism, as each case is based on a true story. Far from the darker, morose Westerns that litter the genre today, "The Pinkertons" is a throwback to classic Western stories, with plenty of rousing action, from fiery pistol-packing shootouts to bare-knuckle brawls and rough-riding horse chases, all complimented by good old-fashioned detective work. Airing in 2014, the series came and went with little notice, but deserves a second chance with viewers.
Barskins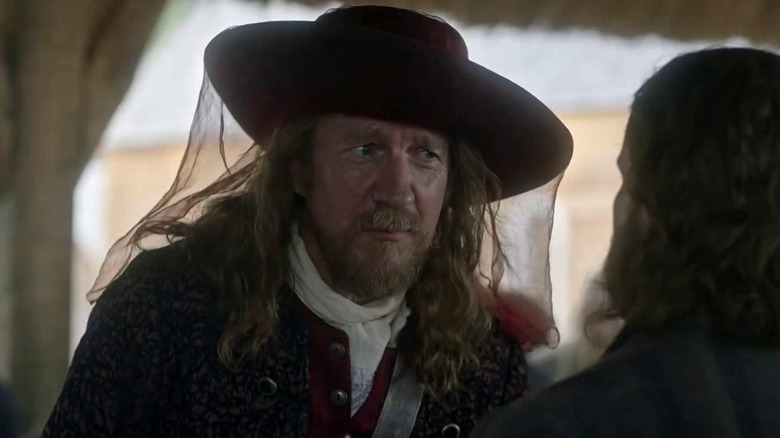 Disney-ABC Domestic Television
Based on the 2016 novel of the same name by Pulitzer-winning author Annie Proulx, "Barskins" is set hundreds of years before "1923" but shares its penchant for high drama on the frontier. It follows the travels of a group of immigrants who've arrived in the Americas (an area that we now call French-Colonial Canada) from England and France in the 1500s. They've all come with the hope of putting their pasts behind them and starting new lives, something uniquely possible in a time of rapid changes in the expanding New World. 
They've settled in Wobik, where a young man named Rene Sel (Christian Cook) has agreed to a three-year stint of indentured servitude, with dreams of parlaying his service into a bright future in this new, prosperous land. He's accompanied by Charles Duquet (James Bloor), whose ambitions are far more modest. Meanwhile, a pair of women, Melissande (Tallulah Haddon) and Delphine (Lily Sullivan), have arrived at the settlement in search of noble husbands, but in a time of unequal rights, they find it easier said than done.
An ambitious series with a lavish production, "Barskins" also starred David Thewlis, Marcia Gay Harden, Matthew Lilllard, and "Westworld" star Zahn McClarnon. It was sadly concluded after just a single season, but was loved by those who caught it in 2020 when it first released. Airing on National Geographic, a network not known as much for its high-quality dramatic TV, "Barskins" is another series that's sorely in need of recognition.
That Dirty Black Bag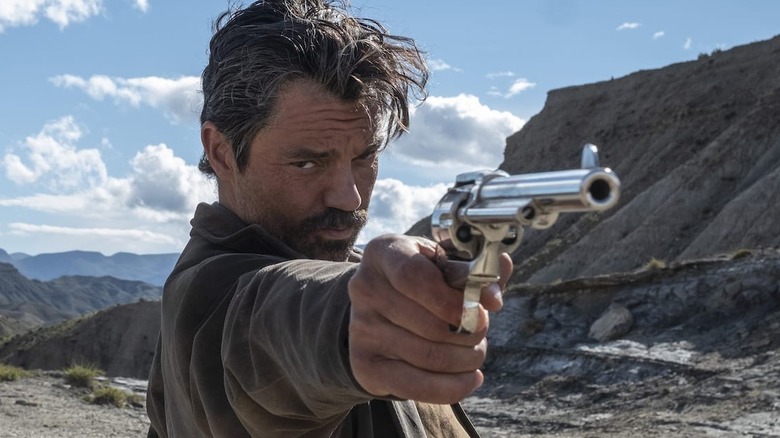 BRON Releasing
A true retro throwback, "That Dirty Black Bag" is more than an homage to Spaghetti Westerns — it's a true entry in the genre, as it was filmed in Italy, Spain, and Morocco. But the eight-episode miniseries doesn't just pay tribute to the films of Clint Eastwood and Sergio Leone; it reinvents them for the 21st century, a sly mix of fast-paced adventure, explosive gun fights, and even some shades of horror. With a debt to Quentin Tarantino, the series strides confidently and delivers a gut punch of furious Western drama.
The whole affair explores an eight-day conflict between Sheriff Arthur McCoy ("Preacher" star Dominic Cooper) and a famed gunslinger and bounty hunter named Red Bill (Douglas Booth). The notorious Red Bill has a penchant for decapitation, and he carries with him the titular dirty black bag, usually filled with the heads of his victims. In the godforsaken town of Greenvale, where a gold rush has come and gone and a drought has ravaged the landscape, the two men will have their final showdown. But that's hardly the only story at play, with a land baron (Paterson Joseph) in search of a secret vein of gold, and a ritualistic cannibal named Butler ("The Wire" star Aidan Gillen) on the prowl.
Dripping with atmosphere — not to mention plenty of blood — "That Dirty Black Bag" is also wickedly funny. It's a world where morals fly back and forth faster than a bullet, and fans of "1923" will find plenty to love.