Law & Order: SVU's Kelli Giddish Doesn't Rule Out A Future Return To The Show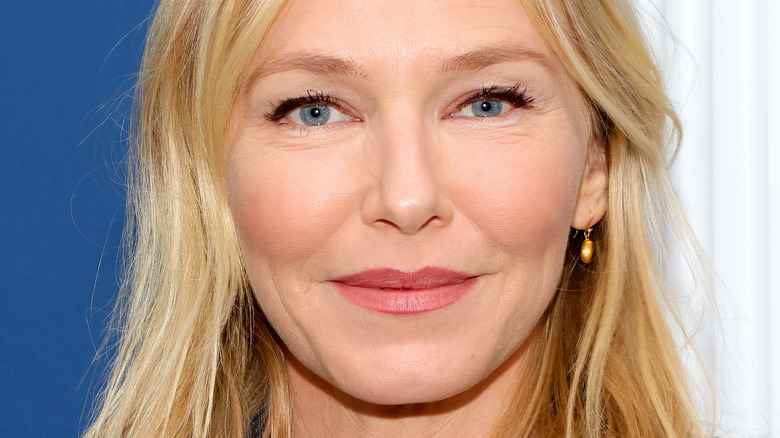 Dia Dipasupil/Getty Images
When a franchise runs strong for three decades, it will inevitably collect a handful of actors that have prolonged tenures. Dick Wolf's "Law & Order" has no shortage of characters that have engrained themselves in fans' minds over the 30-year run. Anita Van Buren (S. Epatha Merkerson) and John James 'Jack' McCoy (Sam Waterston) have nearly 400 episodes under their belt on "Law & Order." Olivia Benson (Mariska Hargitay) and Odafin 'Fin' Tutuola (Ice-T) have logged over 500 episodes on "Law & Order: Special Victims Unit." Of course, eventually, every character has to say goodbye at some point, and fans of "SVU" said farewell to one of their long-running favorites in an emotional send-off for Detective Amanda Rollins (Kelli Giddish).
After 12 years of playing the character, Giddish said goodbye to the detective during Season 24, Episode 9, "And a Trauma in a Pear Tree." As you can imagine, there were a lot of tears and emotional tributes on social media for the actor, including her own post on Instagram featuring a carousel of images with her co-stars and thanking all of them for supporting her and her character. Her long-running co-star, Mariska Hargitay, posted her own tribute to Giddish on her account, telling Giddish that she loved acting with her and called her performances "achingly beautiful."
One thing about goodbyes, though, especially in a TV series with as many spin-offs as "Law & Order," is that there are always possibilities and openings for returns. Giddish has now addressed whether or not she has shut the door to ever returning to the franchise.
Giddish says the door is 'un-shut'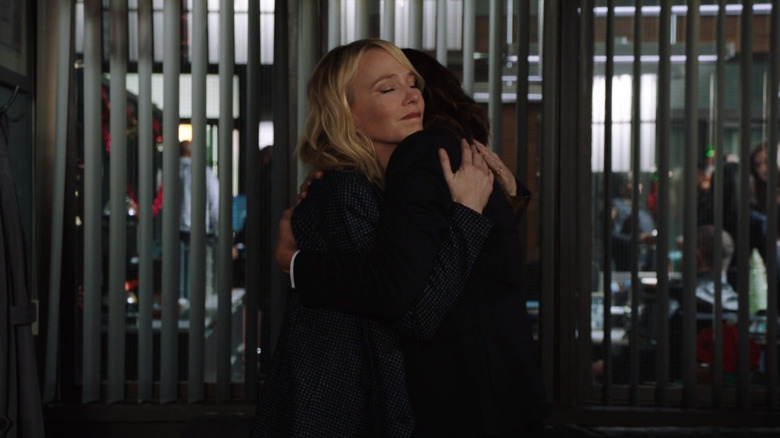 Courtesy of NBC
While Kelli Giddish spent the majority of her time on "Law & Order: SVU," she also appeared in other series in the franchise. Her time working alongside Olivia Benson spanned 253 episodes beginning in 2011. She appeared on the series three years earlier in a one-off episode before landing her recurring role. She also spent two episodes on "Law & Order: Organized Crime" and a single appearance on the original series, "Law & Order." Her time wasn't limited to New York, as she crossed over to Dick Wolf's "Chicago" franchise, appearing in two episodes of "Chicago P.D." and one episode of "Chicago Fire."
Following her exit from "SVU," Giddish sat down with Variety to discuss whether the door was shut on a return. "The door is un-shut. The world that Dick Wolf has created with all these shows now — I mean, the crossovers that happen, the people that come back. Chris Meloni was gone for 12 years, and then his character came back. S. Epatha is on 'Chicago Med.' These characters are so beloved and so well-defined because you get to see them day in and day out. We're in people's living rooms. So the audience loves these characters; they know us. Dick Wolf has got such a fertile universe that's going on that people can pop up in different places. That's really a cool thing that he's created."
Part of her exit centered around her character's surprise wedding to Rollins' love interest, Detective Sonny Carisi (Peter Scanavino). Rollins isn't going too far away, as she took a teaching position in New York, so the possibility of her returning isn't that far-fetched.
Confusion surrounded her exit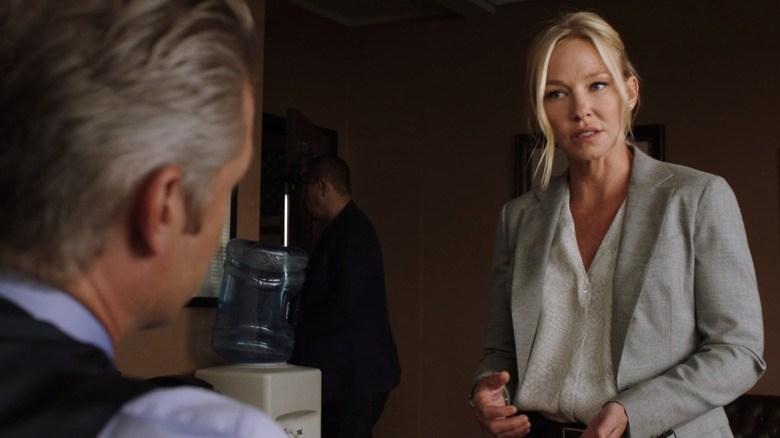 Courtesy of NBC
There were some unanswered questions surrounding Giddish's exit from the series, however. When it was revealed she was leaving the series, Variety reported that the exit wasn't her choice. And even with producers fighting to keep her, her fate was sealed, and she was destined to be ousted. The actor then came out and made the statement that her reasons for leaving came from her wanting to try new things and begin the next chapter of her career. Those two conflicting reports seem to have gotten a more confirmed answer from Giddish during her more recent interview with Variety.
"My side of things is just that it's time in the Rollins storyline," she said when asked for her account on the events leading to her exit. "I felt like where it was heading, and where it headed last night, just seemed the right place to leave it right now. I am so excited about things going on in my personal life and kind of the mirroring of what's going on in my personal life, and in Rollins', there's a lot of joy to be experienced." She went on to say that she had a hand in developing the culmination of her friendship with Benson and her marriage to Carisi, which suggests that the exit from the show was entirely amicable.
There was another facet surrounding her exit as the LA Times reported new showrunner David Graziano had been accused of bullying and misogyny. Giddish addressed the accusations with surprise, saying, "It was alarming to read. My experience has always been positive on the set for all 12 years that I was there." The good news is that her exit sounds unrelated to the negative accusations, leaving the door open for a return.