Hugh Rowland Initially Thought The Call About Ice Road Truckers Was A Prank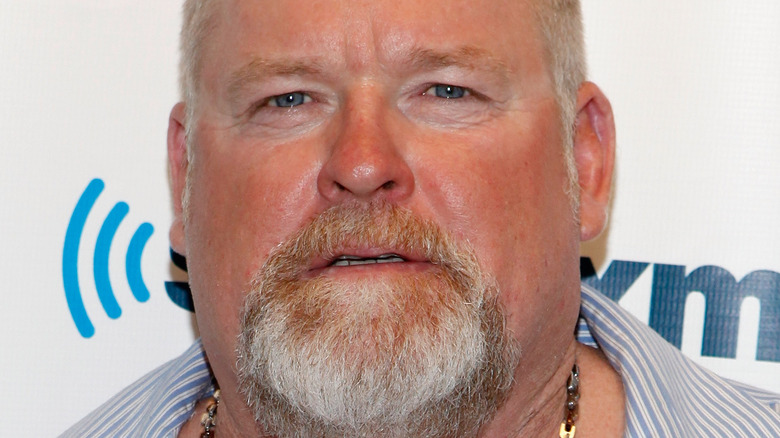 Cindy Ord/Getty Images
As reality television has exploded in popularity over the last couple of decades, some networks have discovered that they can make easy programming simply by filming aspects of people's lives like their relationships or their professions. This is absolutely the case with "Ice Road Truckers," History Channel's pulse-pounding show that follows the high-octane thrills of driving big rigs down some of the most dangerous roads in Canada and the United States.
On the basis of this simple premise alone, "Ice Road Truckers" had a fantastic run of 11 seasons and over 130 episodes on the History Channel. One of the truckers that viewers followed on the series was the gruff, no-nonsense transport driver Hugh "Polar Bear" Rowland. While the series might be over, that hasn't changed Rowland's status as a man's man and minor celebrity in the world of reality television. Still, Rowland's reaction to first getting the call to be a part of the series is a bit of a surprise.
Rowland though one of his friends was tricking him
As reported by Hollywood Soapbox, when Hugh "Polar Bear" Rowland first got the call from representatives of History Channel, he pretty much blew the whole thing off. This is because the trucker thought he was being pranked by a friend or co-worker, but it could have cost him the opportunity. Luckily for Rowland, though, that was not the case.
"They gave me a call and they said, 'We'd like to put some cameras in your trucks and follow you to Yellowknife,'" Rowland recalled. Yellowknife is the capital of the Northwest Territories in Canada. "I said, 'Well, ice roads are over. I just got home. You'll have to do it next year.' They said, 'That's what we mean.' I said, 'Well, then give me a call next year,'" he went on to explain. "I thought it was one of my buddies just making a prank joke. My God, next year they came right to my house and put some cameras in my trucks."
Considering how well-known Rowland has become from being in "Ice Road Truckers" and how much extra money he likely made for being a part of the series, it's a good thing that the representatives from History Channel weren't put off by his dismissive attitude. Though the Polar Bear has since retired from the world of transportation, he hasn't slowed down one bit, and is now running his own construction company (via Hot Cars).