Trevor Noah's Emotional Goodbye To The Daily Show Hit Us In The Feels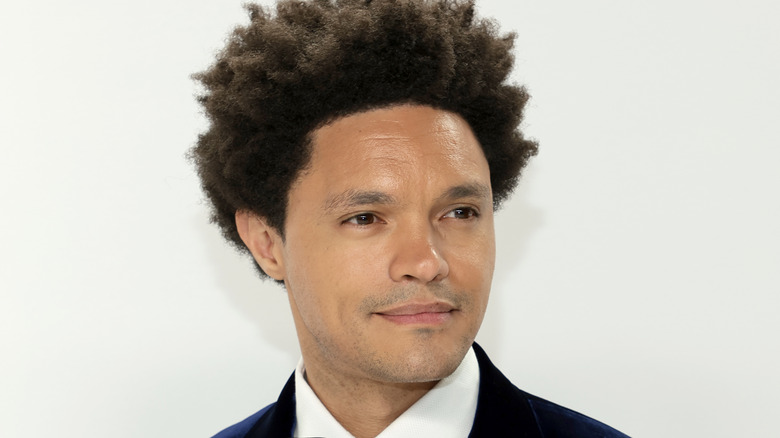 Dimitrios Kambouris/Getty Images
Given the unenviable task of replacing Jon Stewart as the host of "The Daily Show," Trevor Noah carried the Comedy Central flagship late-night news program through the next seven years with a quiet charm and deftly deployed gentle cynicism, giving the show both a new face and a slightly different direction and focus from its Stewart years. After an initial audience adjustment period and slight ratings dip, in recent seasons, "The Daily Show" has rebounded to Stewart-era numbers (via RatingGraph.com). 
While the network has still not named Noah's replacement as host of "The Daily Show," he sat behind the iconic desk for the final time Thursday night and bade an emotional farewell to the audience that at first largely rejected him but for the most part eventually came around in support and appreciation of his intelligence, insight, and sensitivity. In the opening segment, available on YouTube, he thanked the many Black women who have helped him learn and grow, particularly his mother, grandmother, and aunt, and added a message of gratitude for the audience members, even those "Who hate-watched, we still got the ratings." Noah went on to tell his audience that "If you truly want to understand America, talk to Black women [because] they can't afford to f*** around and find out."
Trevor Noah's run ended with a thank you from The Daily Show correspondents
Noah closed the show with a quick joke about having to leave the place clean so he could get his security deposit back, followed by a montage of the show's correspondents saying goodbye to Noah, along with some good-natured speculation about what his next work would be. Dulcé Sloan teased him about "leaving a good job" without having another lined up, while Desi Lydic good-naturedly lamented that "People abandon me all the time; I don't care, why would I care, Dad?" 
Noah then promised to write her a letter of recommendation for her next job before issuing some high praise for Lydic's comedic chops. After more well-wishes from Dulcé Sloan, Ronny Chieng, Roy Wood, Jr, and Jordan Klepper, Noah signed off for the final time by thanking the best fake news team ever. After one last sip from his giant show-branded coffee mug, the audience cheered Noah enthusiastically as the team of correspondents gathered behind their departing host for the last time.