Coco Jones Loves That Her Bel-Air Character Serves As An Outlet For Advice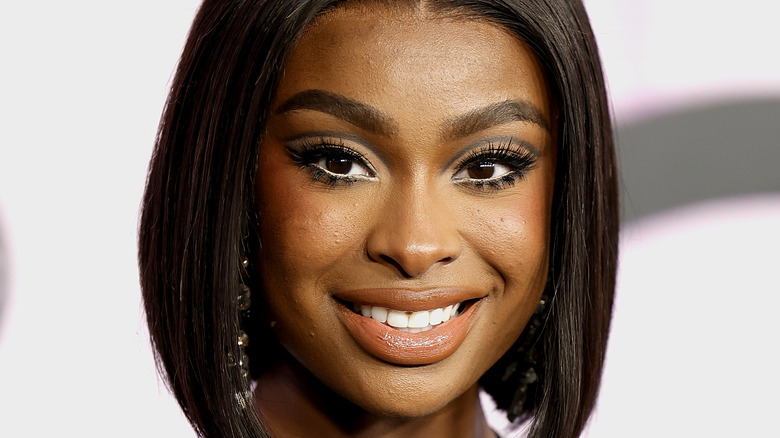 Frazer Harrison/Getty Images
Nostalgia is not safe today, with Hollywood willing to capitalize on any popular show and give it the reboot treatment. One of the latest properties to get modernized was "The Fresh Prince of Bel-Air," now a Peacock drama series simply titled "Bel-Air." The new show takes away the lighthearted tone of its predecessor, replacing it with a darker one rooted in realism. Critics and fans met "Bel-Air" with generally average reviews, seemingly agreeing that while the show doesn't tarnish the original, it doesn't do anything to set itself apart (via Rotten Tomatoes). 
There are many differences between "The Fresh Prince" and "Bel-Air," the most prominent one being this trip from West Philadelphia to Bel-Air is severely more dramatic. The darker tone is Peacock's way of modernizing the story, which now serves as more of a teen drama. Though different, the changes aren't that bad. The production level is way higher, and the longer episodes result in deeper character development. While the characters all share the same names as their '90s counterparts, they have different personalities for the most part. Carlton (Olly Sholotan) has transitioned from dweeb to the coolest guy in school, serving a more antagonistic role for Will (Jabari Banks). Vivian (Cassandra Freeman) is now an artist who gave up her career to be a stay-at-home mom, and Hilary (Coco Jones) is a social media influencer with impressive culinary skills. 
Jones' take on Hilary is much more defined in "Bel-Air" than she was in "Fresh Prince," and the actress loves the differences and similarities between the two.
Coco Jones plays a deeper version of Hilary Banks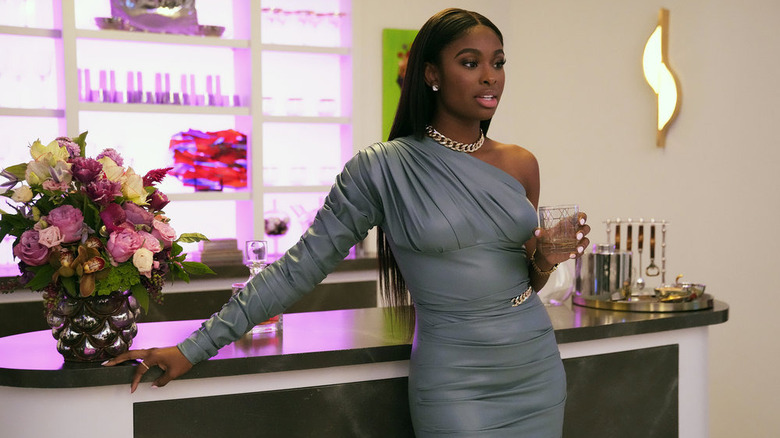 Greg Gayne/Peacock
While "Bel-Air" is drastically different from its '90s counterpart, some changes are for the better, including the deeper character development. Coco Jones' character Hilary Banks, previously played by Karyn Parsons, wasn't particularly explored in "The Fresh Prince" as much as she could have been. Peacock changed that in "Bel-Air," giving her a different role in the Banks household. "I love that they made Hilary someone you run to for advice — kind of the wise sibling in a way," Jones told Elle. "But because she's older, she's been in the Banks' house [longer] and knows how to finesse. And I think that [it] was so important to see Hilary's warmth and also her being a chef. A huge part of her [is] giving to her family, cooking for them and making these meals that bring everyone to the table. Of course the overall theme in Bel-Air is love and support regardless of whatever we go through. But I'm happy that Hilary got to be more giving in this show."
In "Bel-Air," Hilary and Will have a much stronger relationship than in "The Fresh Prince," with her quickly rallying behind him once he arrives in Los Angeles. He comes to her for advice throughout the show's first season, which fans can't say about the original versions of the two characters. Jones told Highsnobiety that the changes to Hilary's personality made her more goal-oriented and independent as she works towards creating her empire through her culinary skills. Her newfound independence comes from Jones's personal experiences in Hollywood, acting since she was a kid on Disney Channel. Of course, she loves Parsons's original portrayal of the character, keeping her headstrong and sure of herself, as Parsons made her.