The Michael Keaton Solo Batman Project That Was Reportedly Scrapped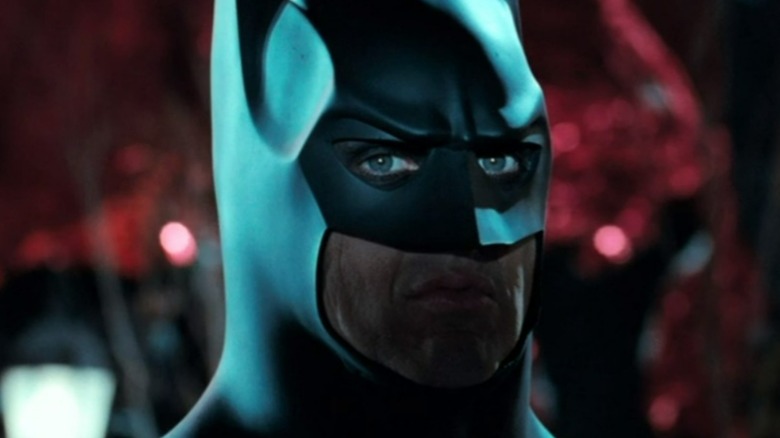 Warner Bros./HBO Max
The year was 1989, and Warner Bros. was more than ready to give Batman another trip to the movies. Unlike the previous incarnation, brought to life by the late great Adam West, this version would be much darker, serious, and mysterious. Michael Keaton was selected to portray the "Caped Crusader," going one-on-one against Jack Nicholson's Joker under the direction of Tim Burton. Simply titled "Batman," this feature would revolutionize the comic book movie genre, rake in mountains of cash for all involved, and prove that there was more to Keaton than comedy.
Due to the success of "Batman," Keaton got to don the hard rubber cowl once again in 1992 via "Batman Returns" — a controversial sequel that derailed Burton's time as a Batman director and served as Keaton's unexpected swan song. In the decades that followed, Keaton never shied away from reminding folks that he is and forever will be Batman, but it seemed unlikely he'd ever get to take on the role again. That is, until it came to light in the early years of the 2020s that he'd reprise his role in several DC features, such as "The Flash," "Aquaman and the Lost Kingdom," and the now-canceled "Batgirl."
As it turns out, these cameos weren't all Michael Keaton's rendition of Batman would have to sink his teeth into. He was also reportedly in line for a movie all his own that has been unceremoniously scrapped.
Keaton's Batman supposedly almost featured in a Batman Beyond adaptation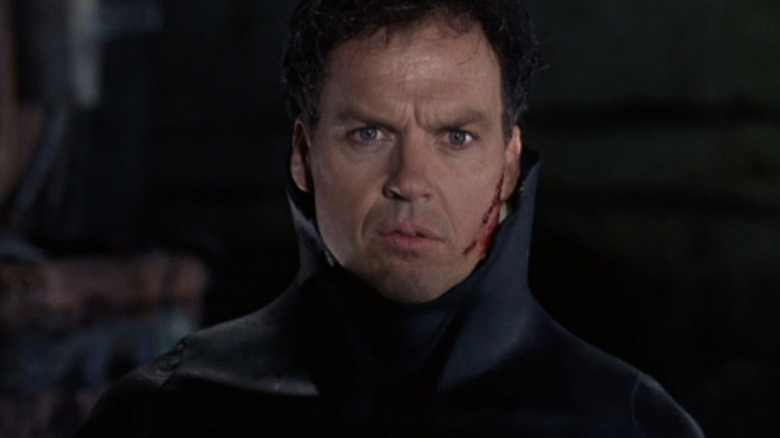 Warner Bros./HBO Max
On December 8, 2022, John Rocha and Jeff Sneider streamed an episode of their show, "The Hot Mic," where Sneider dropped an intriguing tidbit regarding the plan for Michael Keaton's Batman. According to his sources, plans were in place for him to get his own solo film, but the powers that be — DC Studios heads James Gunn and Peter Safran, President and CEO of Warner Bros. Discovery David Zaslav, or someone else entirely — elected to wipe it from the release slate. Sneider also claims that Christina Hodson was the one tasked with writing the project.
Other than these few morsels of information, Sneider didn't have anything else to offer regarding this production. Thankfully, it didn't take long for the plot to thicken elsewhere. Umberto Gonzalez of TheWrap took to Twitter to add another eyebrow-raising detail to this canceled Keaton Batman movie situation. "FYI @TheInSneider, the "solo" Michael Keaton Batman movie you're talking about that Christina Hodson was writing was, in fact, the BATMAN BEYOND movie," he wrote, claiming that we were due to see a live-action adaptation of the beloved DC animated series, which ran from 1999 to 2001.
Batman Beyond's bad luck at the movies seems to continue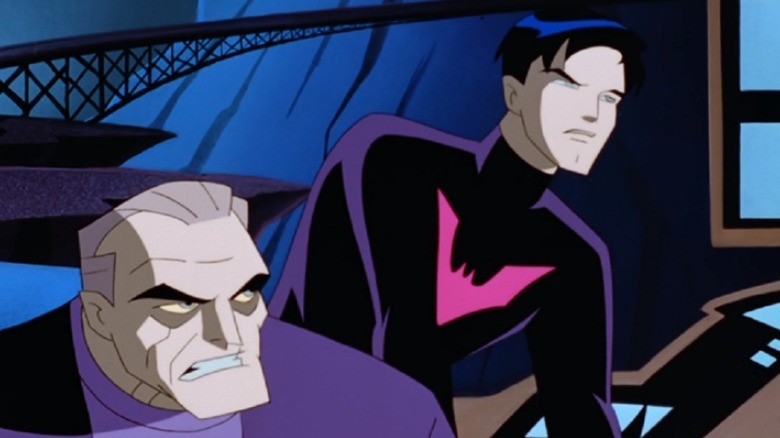 Warner Bros. Television
"Batman Beyond" has fans the world over who would surely love to see some of its biggest story beats replicated at the movies. Michael Keaton more than has what it takes to play the secluded, elderly version of Bruce Wayne we see on the show, as voiced by the irreplaceable Kevin Conroy. Sadly, if these reports are indeed true and DC Studios is no longer working on a "Batman Beyond" movie featuring Keaton, we'll likely never get to see him try. Oddly enough, this isn't the first time rumblings of such a film made the rounds only to end up in the bin in the end.
Way back in 2000, Boaz Yakin was selected to co-write and direct a live-action "Batman Beyond" movie. The minds behind the TV show, Paul Dini and Alan Burnett, signed on to write the screenplay, which they completed and submitted in 2001. Ultimately, as we now know, in 2022, Warner Bros. didn't give the film the green light to enter production, so it wound up trashed. It is worth noting that, for this feature, Keaton wasn't even considered to play the aged Bruce Wayne. Yakin actually wanted to see cinematic icon Clint Eastwood take on the part (via Los Angeles Times), adding his name to the pantheon of live-action Batman actors.
Not only is it disappointing that another supposed attempt at bringing "Batman Beyond" to the silver screen didn't pan out, but in this instance, we were apparently pretty close to seeing Michael Keaton's Bruce Wayne mentor Terry McGinnis. Maybe someday this endeavor or one like it will become a reality, but on DC Studios' current roadmap, the odds certainly aren't in its favor.