Stranger Things Fans Are Unanimous On Why Jonathan Is The MVP Of Season 4
Netflix
To an extent that very few shows nowadays can manage, it seems like every new set of episodes of "Stranger Things" is able to get the world talking about its intense twists and turns. Even by the Netflix series' considerably high standards, though, Season 4 was extraordinarily packed with incidents, surprises, and overlapping storylines. There was the introduction of Vecna (Jamie Campbell Bower), not just the scariest "Stranger Things" villain so far but one that might hold the key to all of the show's overarching mysteries. There was a slew of game-changing revelations about Eleven's (Millie Bobby Brown) past. There was Max's (Sadie Sink) confrontation with her history of trauma, which led to some of the most affecting character moments in the show's entire history and a new Billboard Hot 100 peak for Kate Bush. But one particular plot thread continues to hold a special place in the heart of many fans, and that is the story of Will Byers (Noah Schnapp).
Season 4 continues the tentative but increasingly prominent exploration of Will's sexuality, especially as it pertains to his feelings for Mike (Finn Wolfhard) and Mike's relationship with Eleven. The show has not shied away from the shame, insecurity, and self-doubt that Will is forced to contend with as he grows older, but it has also offered him respite in the form of his kinship with older brother Jonathan (Charlie Heaton). And, for that very reason, Jonathan has become a fan-favorite character as of the most recent season.
Jonathan had a crucial role to play in Season 4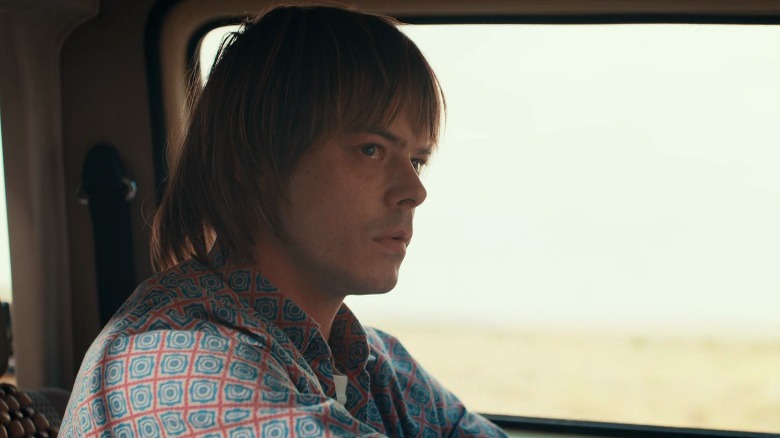 Netflix
Hints of Will's queerness have been present on "Stranger Things" from as early as Season 1, but that aspect of his character was never so plain to see as in the infamous scene during the first part of Volume 2, titled "Chapter Eight: Papa," in which he confesses his feelings for Mike under the guise of explaining Eleven's. There's nary a fan of the show who wasn't touched by its unexpectedly poignant depiction of unrequited queer love, and many such fans were quick to notice one crucial detail in that scene: As Will looks out the car window and does his best to stifle sobs, Jonathan watches him through the rearview mirror, quietly understanding what's going on. One episode later, Jonathan has a heart-to-heart with Will in which he makes it clear — without explicitly saying it, as they are still in the Reagan '80s — that he knows Will is gay, and that this will never take away from how much he loves and supports his little brother.
This show of fraternal support got to fans on a deep level — if the r/StrangerThings subreddit is anything to go by. In a massively popular July 1, 2022 post by u/dazaied titled "Can I exchange Mike for Will's happiness please ?," which lamented all Will had been through on the show, the most-liked comment was this one, by u/supercereality: "His monologue in the car hurt. And then seeing Jonathan look back and know exactly what he meant..."
Fans were moved by Jonathan's support for Will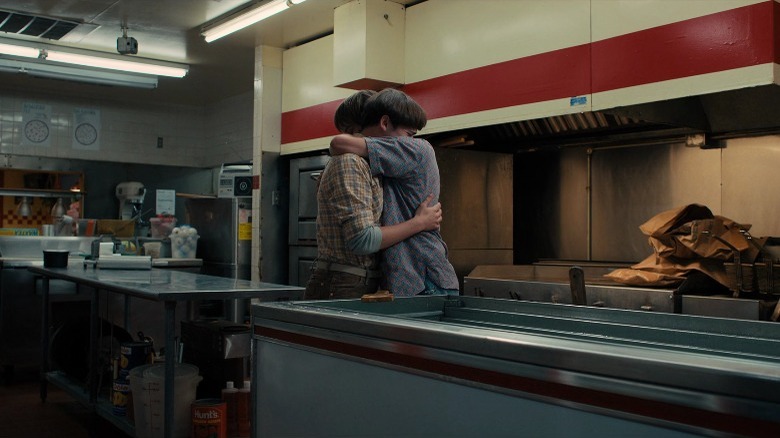 Netflix
The replies to that comment were filled with appreciation for Jonathan. u/abiron17771 wrote, "Jonathan is brother of the year with that 'Nothing on earth could make me stop loving you' conversation." u/BadMilk93 agreed, writing, "If someone from my family would have looked me in the eyes like Jonathan did with Will and said that before I was ready to come out, would have made things so much better." Incidentally, Will's reaction to Jonathan's reassuring words also touched fans; as u/myhairisreddit observed how relieved Will appeared after his older brother told him that he loved him unconditionally. 
u/BTYOR was impressed by the nuance of the pep talk scene, writing, "God it was so good. He definitely knows will is gay, but knows he it is his process and will come forward when he is ready and that whole conversation was basically saying I still love you and take your time." The user added that they were amazed by how Will understood Jonathan's sentiments without the latter actually mentioning anything about the former's sexuality.
In fact, that scene was strong enough to impress even Jonathan skeptics, as evidenced by u/cidvard's comment: "I'm not a big Jonathan fan in most contexts but I love his relationship with Will and their scenes together always bring that character up exponentially for me." For a character who didn't get that much to do in Season 4, Jonathan certainly managed to leave his mark in a special way.