Yellowstone Star Luke Grimes' First Celebrity Sighting Was Ironically Kevin Costner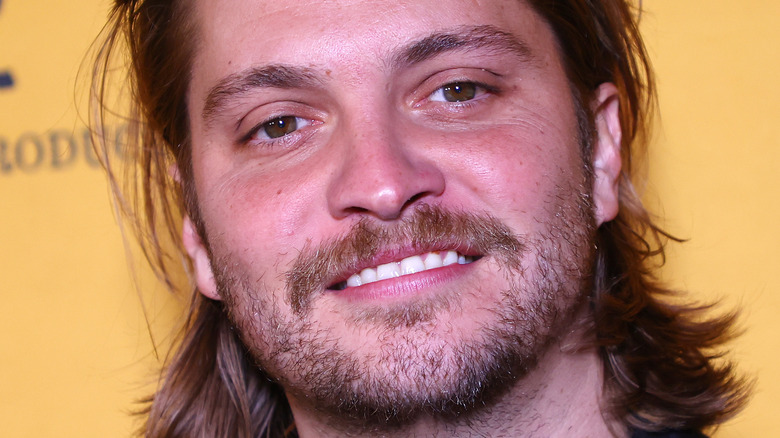 Richard Rodriguez/Getty Images
Since its 2018 premiere on Paramount Network, "Yellowstone" has defied seemingly all odds to become one of the most popular series in the cable TV realm. And somehow the neo-Western melodrama only seems to be getting more popular as the seasons pile up (per The Hollywood Reporter). That popularity undoubtedly owes much to the writing and vision of series co-creator Taylor Sheridan. Still, it's easy enough to argue the real coup of "Yellowstone" has always been in its casting.
And whether you like the series or not, "Yellowstone" continues to be one of the best-cast shows on the airwaves. Kevin Costner, of course, remains the centerpiece of Sheridan's saga. And well he should be, as the man is not only a legit Hollywood icon, he's arguably at the top of his game as irascible ranching magnate John Dutton. So too are Costner's castmates, many of whom are getting their first taste of legit stardom on the show. That includes Luke Grimes, who, after spending a few years on the fringes of Hollywood, has earned a breakout moment playing John Dutton's youngest son Kayce Dutton on the show.
Turns out, Grimes had a peculiar relationship with Costner prior to sharing scenes with him in "Yellowstone." During his recent appearance on Jimmy Kimmel Live, he even noted that Costner was the first celebrity he laid eyes on when he came to Hollywood.
Grimes laid eyes on Costner long before they were trading lines in Yellowstone
Grimes spoke candidly about Costner during that Jimmy Kimmel Live appearance, admitting he was legitimately star-struck by Costner long before starring alongside him in "Yellowstone." "I didn't know him [before the show]," Grimes said of his legendary co-star, adding "but he was my first ever celebrity sighting."
The irony of that situation is not lost on Luke Grimes, who then detailed how the sighting came about when he was just a teenager touring Los Angeles for the first time. "The first time I ever came out to LA, my sister bought me a plane ticket for my 17th birthday." Per Grimes, upon his arrival in LA, he made it his mission to get eyes on every famous face he could, even resorting to those infamous Maps to the Stars. Those ventures proved fruitless, but a twist of fate put Costner in Grimes' path when the aspiring young actor was scoping out a movie premiere. "Finally, we're walking down Sunset [Blvd] and they're having a movie premiere at the Director's Guild," Grimes states, "And Kevin Costner gets out of the car. It was the first famous person I'd ever seen."
The actor then hilariously adds, "And my mom short-circuited ... lost her mind. It was the first time I saw the power of Kevin Costner." The rest of that story is every bit as funny as you can imagine, though Grimes has apparently never recounted the tale to Costner himself. He has, however, since introduced Costner to his star-struck mother. And yes, that's a hilarious little story in its own right.