Spotty Service Is An Ongoing Challenge For Deadliest Catch's Camera Crew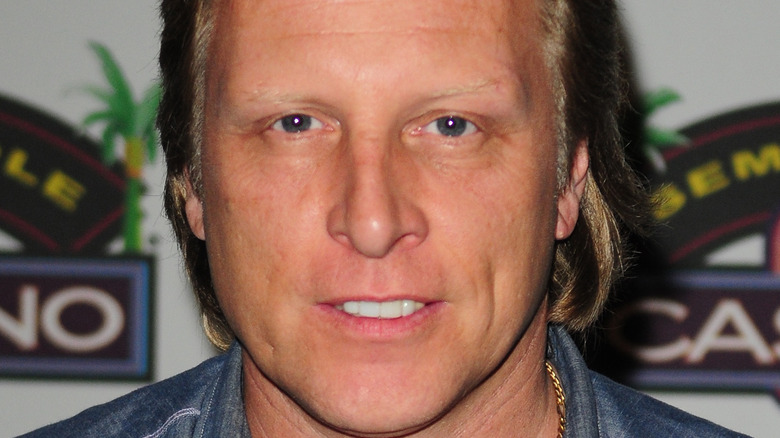 Vallery Jean/Getty Images
Filming on "Deadliest Catch" is far from smooth sailing. Since 2005, the hit Discovery Channel reality docuseries has given audiences worldwide an in-depth, unflinching glimpse into the rough and tough life of Alaskan king crab fishermen. While the rewards for enduring these hardships can be immense for ship captains especially (via Chron), the risks at hand can be equally, if not significantly more, overwhelming.
Commercial fishing is considered a dangerous profession, and Alaskan crab fishing is among the most hazardous careers out there. Some sources, such as a study from the Bureau of Labor Statistics, rank the job as even more dangerous than construction, piloting, or logging. It can undoubtedly be tough on the captains and crew members, but at the very least, they have some idea of what they're getting themselves in for.
When it comes to the camera crew responsible for documenting these unpredictable escapades, on the other hand — let's just say the trials of crab fishing aren't covered in film school. Along with being put through the same volatile weather conditions and heavy machinery danger that the rest of the crew must endure, the camera operators have their own set of dilemmas in capturing what is needed for the show. But with all the remarkable challenges they face at sea, some of their most creative problem solving has come about because of a seemingly much more mundane issue.
The Deadliest Catch crew found special ways to communicate
In a 2018 interview with The Nine Club, "Deadliest Catch" camera operator Tim Dowling delved into the how the camera crew keeps in touch with outside sources while out at sea. "You have a satellite phone ... there are like six to eight boats within the show," he explained. "You have a designated time every day to call in and talk about what's going on. And then those people, who are geniuses at their job, will say, 'Okay, go this way.'" The people that Dowling refers to are the show's story producers, who give the camera team the task of pulling out some kind of story from the hours of footage they capture on the ships. "They'll help guide it because when you're out there, it's totally documentary style," Dowling continued. "But you need to come back with stories." 
It's equally important for the crew of the many "Deadliest Catch" ships to keep in touch with business partners and family back on dry land. In order to do this, they utilize many satellite communication services, including the MSAT G2 and Globalstar satellite systems. For the latter, captain Keith Colburn of the F/V Wizard has only great things to say. "All of my communication is now simple, immediate and consistent," he reported in a Globalstar testimonial. "Connectivity and communication is right at my fingertips — keeping me in touch, improving the way I do business, and allowing me to stay closer to my kids."