Adam Sandler Says The Movie That Sums Him Up Perfectly Is A Drew Barrymore Team-Up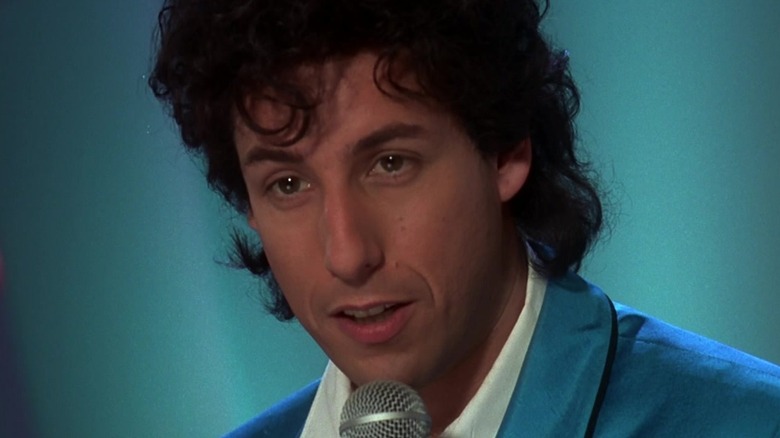 New Line Cinema
At the 2020 MTV Movie and TV Awards, Adam Sandler and Drew Barrymore won an award for best dynamic duo of all time, having starred opposite each other in three different rom-coms in their career: 1998's "The Wedding Singer," 2004's "50 First Dates," and 2014's "Blended." As the two accepted their award (remotely, due to the pandemic), they joked that since they put out one movie in each of the last three decades, they need to do another one together in the 2020s.
Critics might not agree. The duo's third outing together, "Blended," only has a 15% critics' score on Rotten Tomatoes, with one reviewer saying "Don't see it, don't Netflix it, don't rent it, even if it's free somewhere, no." Then again, the audience score for the movie is a much higher 64%, suggesting that the moviegoing public might not be as hostile to the idea of a fourth Sandler and Barrymore rom-com as critics are.
Barrymore hasn't been doing many movies lately, choosing instead to focus on her talk show "The Drew Barrymore Show," where her long career in show business and friendly demeanor make her a perfect person to interview celebrities like Sandler. He recently made an appearance on her show in honor of his recent cover for AARP Magazine, and the two got to catch up a bit. And when Barrymore asked her three-time co-star to name the movie that defined him the most, he made the sentimental choice by going with one of his and Barrymore's classics. 
Sandler says The Wedding Singer most closely defines him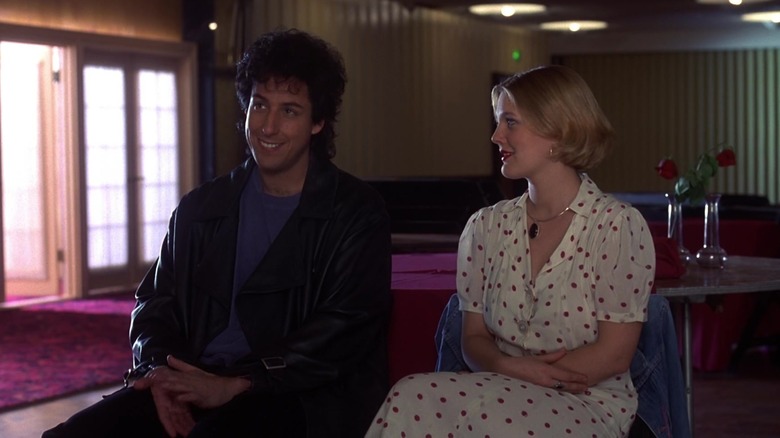 New Line Cinema
In Adam Sandler's recent appearance on "The Drew Barrymore Show," Drew Barrymore asked him which movie sums him up the most as a person, and he flattered his interviewer by naming the first movie the two of them did together. "I worked with this young lady one time. I met her at the Newsroom Cafe. She came in, she had stylish hair, a little pinkish. She came in, we jammed on a movie idea, we got together, we shot it, we had the best time together ... And we called it 'The Wedding Singer.'"
Many people seem to at least agree with Sandler that it's his best team-up with Barrymore, as, on Rotten Tomatoes, it does have both the highest critics score of the pair's three films and the highest audience score.
In fact, it's probably the Sandler film most fondly spoken about by fans. In a thread in the r/movies subreddit, u/riegspsych325 said of the film, "Perhaps my favorite Sandler comedy but ... also a surprisingly heartfelt one. He and Barrymore had such great chemistry in the film and it was great that both of their characters had their chances to be funny and sweet." Others responded positively, such as u/BjornBeetleBorg who called it Sandler's best movie and u/WoodmanCDub called it a better rom-com than "50 First Dates." So it would seem pretty easy to decide which of the three Sandler-Barrymore films is a fan favorite, as well.