Ready Player One's SXSW Premiere Gave Steven Spielberg An 'Anxiety Attack'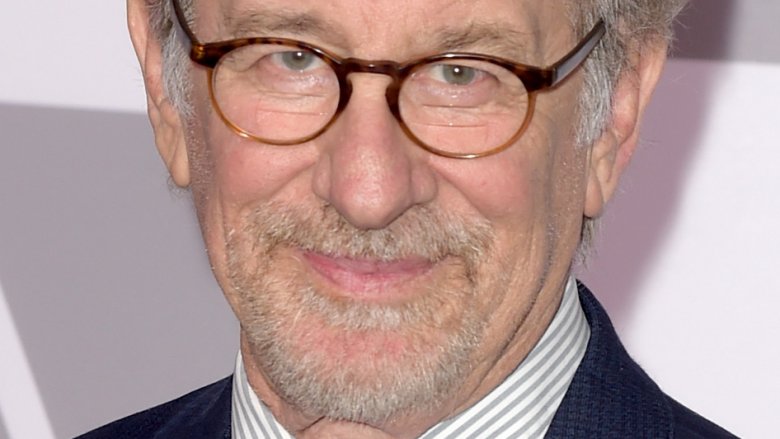 Getty Images
For Steven Spielberg, unveiling his latest movie in a coveted screening at one of the most popular film festivals in the world was beyond nerve-wracking.
Just after he premiered Ready Player One, his upcoming sci-fi action movie starring Tye Sheridan, at South by Southwest (SXSW) this weekend, Spielberg admitted that the whole ordeal was the "greatest anxiety attack" he's ever had (via Variety). Spielberg's own personal ties to Ready Player One's themes drew up the anxious feelings, as did his want for audiences to love the movie.
"I'm a gamer. I've been a gamer ever since 1974, [when] I played the first Pong game on Martha's Vineyard while filming Jaws," Spielberg began. "I really wanted to make this film with [novelist] Ernest Cline and my great screenwriter Zak Penn for people who don't play video games. This is not just a movie for gamers ... This is not a film we made. This is, I promise you, a movie. A movie that's got to be seen on the big screen."
He continued, "This has been the greatest anxiety attack I've ever had ... I made a whole bunch of historical films, which I directed behind-the-camera. I kind of am in control of that. When I decide to make a movie, sitting in the audience with you, I direct in the seat right next to you. And your reaction is everything."
Clearly, Spielberg and studio Warner Bros. have had their fingers (literal and figurative ones) crossed tightly in hopes that nearly everyone will enjoy Ready Player One. And apart from the technical glitch that caused the sound to cut out at an hour and 40 minutes into the flick, which probably didn't help Spielberg's frazzled nerves, the SXSW crowd did just that. Viewers rose to their feet and gave the film a standing ovation that likely made up for his prior anxiety attack.
Ready Player One stars Tye Sheridan as Wade Owen Watts/Parzival, Olivia Cooke as Samantha Evelyn Cook/Art3mis, Lena Waithe as Aech, Simon Pegg as Ogden Morrow/Og, Mark Rylance as Donovan Halliday/Anorak, T.J. Miller as i-R0k, Win Morisaki as Daito, Philip Zhao as Shoto, Ralph Ineson as Rick, and Letitia Wright as Reb. Hannah John-Kamen and McKenna Grace round out the cast. 
Here's what you should expect from film: "The film is set in 2045, with the world on the brink of chaos and collapse. But the people have found salvation in the OASIS, an expansive virtual reality universe created by the brilliant and eccentric James Halliday (Mark Rylance). When Halliday dies, he leaves his immense fortune to the first person to find a digital Easter egg he has hidden somewhere in the OASIS, sparking a contest that grips the entire world. When an unlikely young hero named Wade Watts (Tye Sheridan) decides to join the contest, he is hurled into a breakneck, reality-bending treasure hunt through a fantastical universe of mystery, discovery, and danger."
Enter the OASIS for yourself when Ready Player One is released on March 29.