Alexis Bledel's Gilmore Girls Spin-Off Never Happened Because It Didn't Feel Right Without Lauren Graham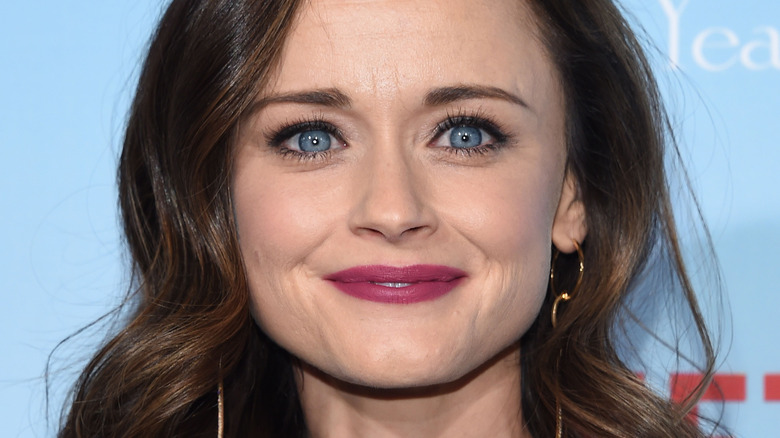 DFree/Shutterstock
"Gilmore Girls" is beloved by its fan base for a reason. After all, few series can bring to the table what Amy Sherman-Palladino's comedy-drama series did. Following three very different generations of the Gilmore family in the form of prim and proper matriarch Emily Gilmore (Kelly Bishop), her quirky, upbeat daughter Lorelai Gilmore (Lauren Graham) and Lorelai's bright and resourceful daughter Rory (Alexis Bledel), the show offered some fascinating looks at the lives of modern women in different age groups.
In fact, the series was so popular that it garnered itself a Netflix revival in the form of the limited series "Gilmore Girls: A Year in the Life." Though things have been relatively quiet with the franchise since then, some fans were holding out hope after the revival that we could be seeing more of the resident of Star's Hollow again. Ultimately, that hasn't been the case, but there definitely was chatter about other "Gilmore Girls" projects prior to the revival, according to Graham.
Lauren Graham said she and Bledel decided not to go forward
Lauren Graham joined TV Guide to talk about her time as Lorelai Gilmore on "Gilmore Girls" and it wasn't long before she spilled the beans on a proposed spin-off which would have focused primarily on Alexis Bledel's Rory Gilmore.
"If [Bledel] was in a place where she wanted, like, her own show or her own spin-off... They were trying to think of everything. There was a time when we thought maybe I would produce and not be on the show in the same capacity," Graham recalled. Ultimately, it sounds like talks fell apart about continuing the franchise at that time though. "I've been at this for a long time; I feel ready to move on. But they were trying to find a way to make it work. There were a lot of scenarios," Graham went on. Still, though they did entertain some of the ideas for a time, Graham asserted in the end that she and Bledel wanted to stick together.
"I did formally say at one point, 'I'm not coming back.' Then they thought, 'Well, can we do it with just Alexis?' I don't want to speak for her, but we both went back and forth. Ultimately, neither of us wanted to do it without the other one," Graham concluded. While there hasn't been any new "Gilmore Girls" projects since the Netflix revival, fans still have that limited series as well as 7 seasons in the acclaimed original series to look back upon fondly.