What Rotten Tomatoes Is Saying About Guillermo Del Toro's Pinocchio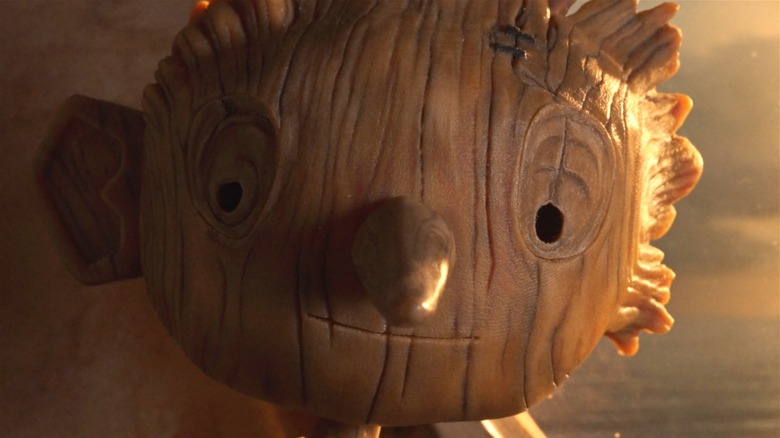 Netflix
The classic fairy tale of "Pinocchio" has been adapted several times and in several different formats. There have been both animated and live-action versions of the story, but the fulcrum of the tale is always firmly set upon the titular character, a wooden creation that gains sentience and wishes to be made of flesh and blood — just like a real boy. Of course one of the major caveats of the character is his inability to lie, mainly because whenever he does so, his nose grows a corresponding amount.
Guillermo del Toro is a legendary director with a penchant for creative special effects and a unique vision. Known for visual spectacles like "Blade 2," "Hellboy II: The Golden Army," "The Shape of Water," and "Pan's Labyrinth," del Toro has a very prolific and personal approach to filmmaking. His latest venture, Netflix's stop-motion "Pinocchio," has an absolutely stacked cast of voice actors like Ewan McGregor, Christoph Waltz, Tilda Swinton, Finn Wolfhard, Cate Blanchett, Ron Perlman, and many others.
Speaking with IndieWire, del Toro spoke about the chosen medium of "Pinocchio," and said, "If you go back to the birth of animation, whether it's the trickery of Méliès or Russian animation, it was birthed as an art medium. When it started to make a lot of money with repeat audiences that included kids in America, it became geared toward a more pasteurized, homogenized idea. That deprives not only the makers but audiences and studios from exploring its possibilities as spectacle, drama, as a profoundly human experience." So now that del Toro's "Pinocchio" is upon us, what are critics saying about this new film?
Critics are in love with del Toro's Pinocchio
Luckily for fans of Guillermo del Toro, it seems as if "Pinocchio" has been met with an overwhelmingly positive response. Over on Rotten Tomatoes as of the time of this writing, "Pinocchio" is sitting pretty with a dazzling 97% critic score. Richard Lawson of Vanity Fair said in their review of the film, "Fraught with danger and lilting with poignant melancholy ... an exercise in exploring the seams between life's pleasures and its terrible pains, a film that turns toward our grim era and wrestles some measure of hope and kindness out of it." Others also felt the same way, with Carlos Aguilar of RogerEbert giving the stop-motion movie a four out of four, and saying that "Pinocchio" looks and feels absolutely magical.
Richard Crouse is also a big fan of "Pinocchio," and stated that the movie is rich in detail and imagination and that it feels like a blend of dreams and nightmares that paints a fanciful and grounded story. Likewise, Gena Radcliffe of The Spool described "Pinocchio" as quirky and gentle, and that the movie ends on a profound emotional note that will get even the most stoic of viewers to hold back tears.
Although the vast majority of critics adore "Pinocchio," there is always a differing opinion, and Manohla Dargis of The New York Times said, "As weird as the story is, it's been made all the stranger by the decision to turn it into a metaphor about fascism, a conceit that is as politically incoherent as it is unfortunately timed." Still, the critical consensus about del Toro's "Pinocchio" is one of high praise, as reflected by its exceptional Rotten Tomatoes score.