Guillermo Del Toro's Pinocchio Puppets Cost More Than Your Car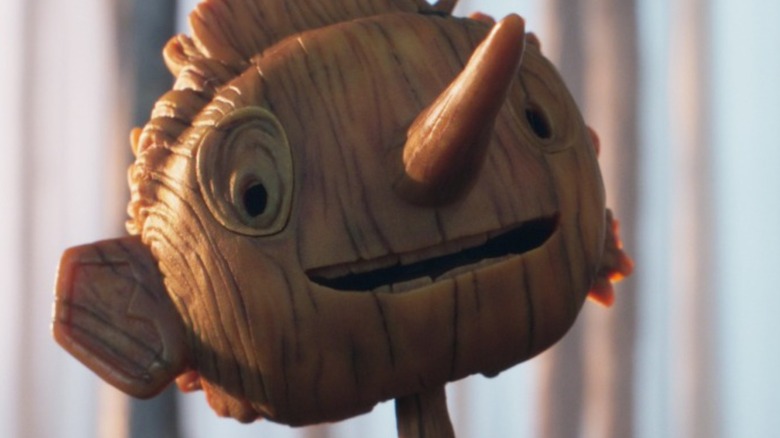 Netflix
This past year has seen a host of Disney adaptations and, in one confusing instance, two about the same character. Tom Hanks starred as Geppetto in Disney's live-action adaptation of "Pinocchio," a light-hearted film that remains close to its animated counterpart. However, Guillermo del Toro's adaptation is a drastically different experience. In a similar vein to the dark fairy tales from Hans Christian Andersen, del Toro stays true to his horror and gothic roots. The director behind "Pan's Labyrinth" is known for telling dark childhood stories, and his "Pinocchio" film fits the bill. Set in Italy during the Second World War, the story is told entirely through stop-motion.
According to Vanity Fair, Geppetto (David Bradley) isn't the kindly old man tinkering away at puppets as he is in the animated film, but a father wracked with grief. After his son dies in an air raid, Geppetto resorts to drinking to get through his pain until he finds a way to bring his surrogate wooden son to life. Though the film contains haunting elements such as Pinocchio being forced to endure Mussolini's youth army, "Pinocchio" is, at its heart, a puppet movie. And these handcrafted characters cost more than you would expect.
Guillermo Del Toro strikes gold once again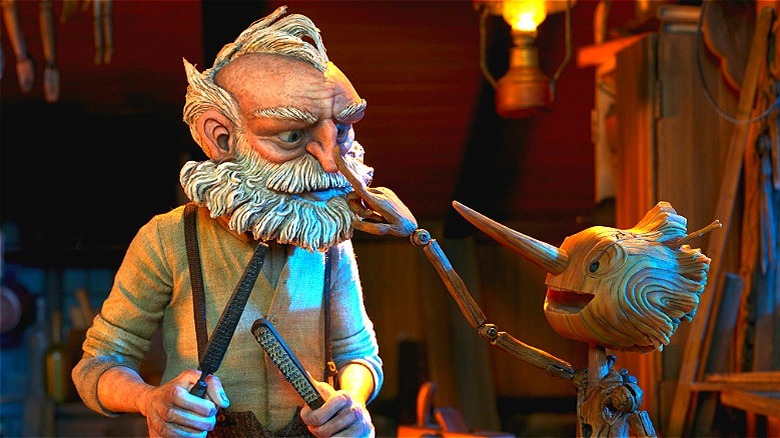 Netflix
With Guillermo del Toro at the helm of the new "Pinocchio," viewers can expect to be in for a ride. So accomplished was the film that on The Tonight Show, Jimmy Fallon admitted taking for granted that the puppets were stop-motion. Del Toro was ecstatic to hear it, responding: "The idea is for them to become actors. Each of these [puppets] is more expensive than a Hyundai."
It's easy to see where that money went. Del Toro was committed to making the puppets just like people. Used to working with actors, del Toro was interested in showing the puppets act so naturally that they would have facial quirks and stumble, all things that needed to be factored in when animating them. This is ironic considering the subject matter of the film. "Pinocchio" is the story of a puppet who just wants to be a real boy, and del Toro decided to tell this story through the use of puppets that only have the illusion of being real. But this strikes right at the heart of what the film is about, as well as del Toro's filmography at large. "Pinocchio" follows the theme of acceptance to its conclusion, and no one can say it better than the director himself.
"Geppetto learns to be a real father, as opposed to Pinocchio learning to be a real boy." Guillermo del Toro is over here making us all cry with his incomparable films over the past three decades.