How Shireen Baratheon Spoils The Plot Of House Of The Dragon In Game Of Thrones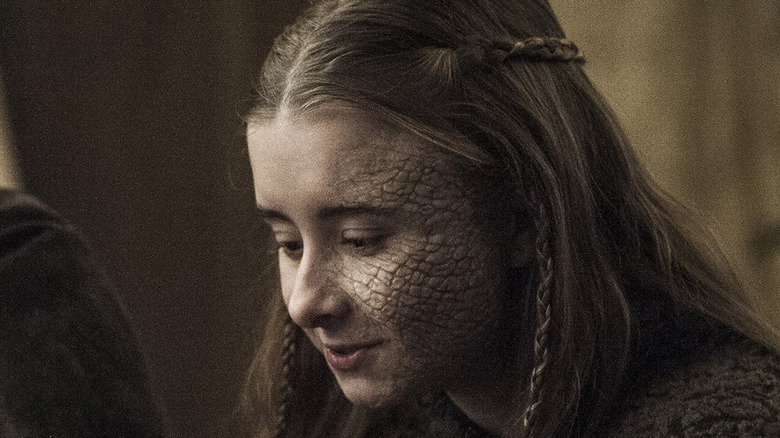 Helen Sloan/HBO
"Game of Thrones" is still the most popular show in HBO's stable even a few years after airing its final episode back in 2019 (via Variety). The series follows a growing group of double-dealing royals as they vie for power in the regions of Westeros and Essos, even as a supernatural threat seems poised to wipe them all from the face of the earth.
Of course, the success of "Game of Thrones" has paved the way for its first spin-off in the form of "House of the Dragon." The series, also based on the dark fantasy works of George R.R. Martin, follows a Targaryen civil war that begins roughly 200 years before the events of the previous series. While fans couldn't get enough of "House of the Dragon," even as it went toe-to-toe with Amazon's own fantasy series, "The Lord of the Rings: The Rings of Power," it looks like a character from "Game of Thrones" may had already spoiled key plot points of the series in a Season 5 episode.
Shireen explains the Targaryen civil war in Game of Thrones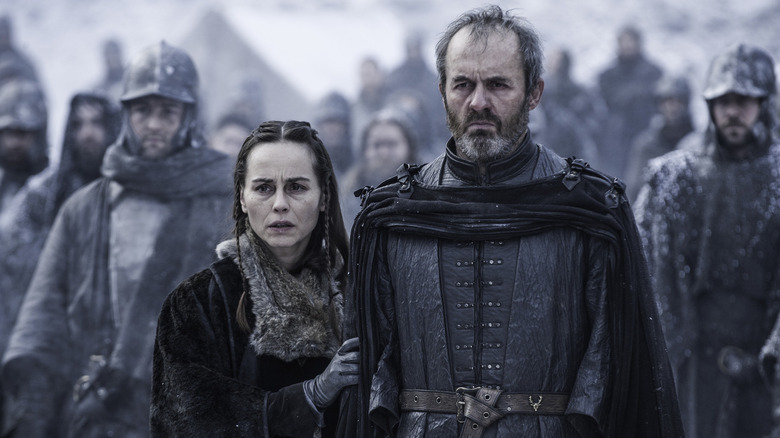 Helen Sloan/HBO
"Game of Thrones" fans will no doubt remember the sweet, summery presence of Shireen Baratheon (Kerry Ingram) in the series. The precocious child never met a book she didn't quickly peruse, and that made her the perfect person to teach Ser Davos Seaworth (Liam Cunningham) how to read after so many years. Unfortunately, her breadth of knowledge didn't save her from a tragic death.
Still, before Shireen was unceremoniously burned at the stake by her father, Stannis Baratheon (Stephen Dillane), in a bid for power and prophecy, she unfolded a brief synopsis of the plot of "House of the Dragon" from a book she was reading entitled The Dance of Dragons. As she explains to her father, the historical book details the Targaryen civil war at the heart of the prequel series.
As noted by Winter is Coming, Shireen pretty much lays it all out for Stannis in this scene. "It's the story of the fight between Rhaenyra Targaryen and her half-brother Aegon for control of the Seven Kingdoms," she tells him. "Both of them thought they belonged on the iron throne. Brothers fought brothers; dragons fought dragons," she goes on ominously.
While this scene clearly sets the stage for the story of "House of the Dragon," it also serves as a bit of foreboding for Shireen herself. Shortly after that, she is burned alive as her father and mother look on coldly. Sadly, for all of her brilliance, it seems that Stannis never truly appreciated his daughter for who she was, caring only about his rise to power in the end.