Geo Bustamante Left Survivor With A Message Of Hope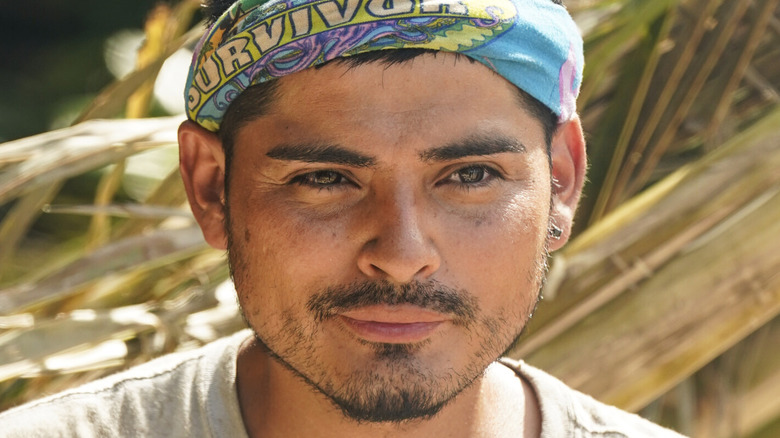 Robert Voets/CBS
With "Survivor" now in its 43rd season on CBS, fans have at this point been able to lock down what it takes to still be in the game come finale night. To get there, you need to have some, if not all, of the standard "Survivor" qualities that have been established over the years. One of those qualities is to always be on the defensive, knowing that the moment you feel comfortable with your safety in the game, you're probably going home. That misstep of comfort was proven again when contestant Geo Bustamante was voted out on the 11th day of the game.
Bustamante could have carved out a path that led further in the game the moment he became the lucky winner of the Knowledge is Power advantage. This advantage allows a contestant to straight-up ask a fellow competitor if they have an Immunity Idol in their possession, and if they do, they must hand it over, essentially passing on their safety. When Bustamante returned to his tribe after winning this advantage, his sense of safety ended up being what eventually did him in.
Bustamante strutted back into camp believing he was completely safe from his torch being snuffed out and decided to tell tribemate Karla that he had an advantage. Little did he know, that was enough to set a new plan in motion, with Bustamante cut out at the end. "I wanted to share that with Karla, just to show her like, 'Hey, trust me, I trust you. I have the Knowledge Is Power,'" he explained to Entertainment Weekly. Well, we all now know that in the game of "Survivor," a misstep like that could end it all. But Bustamante believes his expulsion came with a silver lining.
Geo Bustamante wanted to send a message to people like him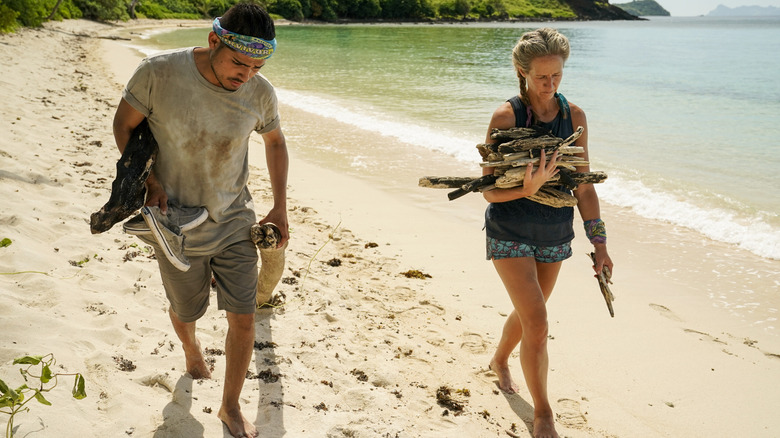 Robert Voets/CBS
When Geo Bustamante became one of the contestants fighting for the million bucks on "Survivor," he believed he could win simply because he'd spent his whole life as an actual survivor. He explained to Parade, "In life I struggled and fought hard for everything I've accomplished. I have the fire in me and the willpower to show the world that I deserve to win." Unfortunately, his life struggles didn't result in a victory; however, this experience helped him reflect on coming out as gay to his parents, and he now feels more empowered on the other side.
Earlier in the season, Bustamante explained that his conservative parents severed their relationship with him after learning of his sexuality. He explained to TVLine, "I felt like it was important for me to share that story so that other people like me who have gone through what I've gone through can see that this could be you." Bustamante succeeded in getting his message out to millions of viewers. He continued, "You're going to get what's yours and maybe someday you're going to be on 'Survivor' and have your dreams come true."
Bustamante went on to say that this message wasn't solely aimed at the LGBTQ community. The response from viewers proves that his target was not off the mark. "I've been getting so much love from people ... also straight people messaging me saying, 'My son is gay, my so-and-so is this,' and seeing people like me, I guess, opens their eyes." Although Bustamante may have let overconfidence end his game, he still scored a victory. "If I made a difference to at least one person out there, that makes me feel really happy," he said. "I'm humbled to have that experience."