CSI's Wallace Langham Loved Filming That Octopus Autopsy Scene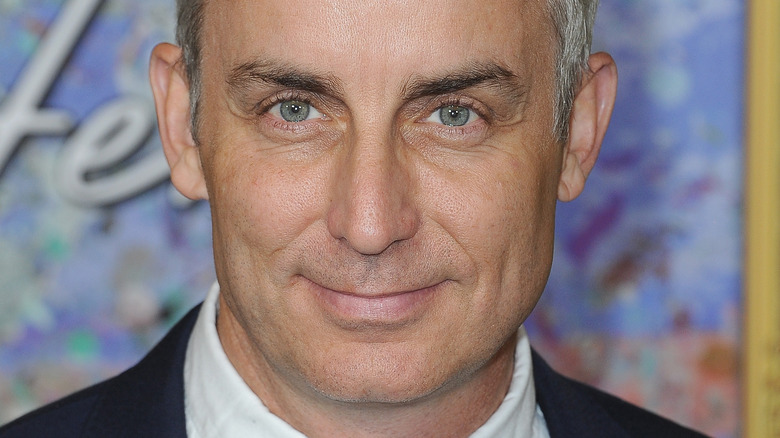 Albert L. Ortega/Getty Images
Although lab technician David Hodges (Wallace Langham) only joined the iconic CBS crime drama "CSI: Crime Scene Investigation" in its 3rd season, it's safe to say that he has gone on to become one of the most iconic and memorable characters in the entire series, so much so that he actually returned for four episodes of the spinoffs "CSI: Immortality" and "CSI: Vegas."
Despite often butting heads with his fellow CSI employees due to his arrogant nature and somewhat annoying character quirks, Hodges was a mainstay of the original "CSI" from his debut in Season 3 all the way up until its Season 15 finale — and during that time he worked on nearly every kind of crime scene or criminal investigation you can think of. Indeed, perhaps one of the oddest moments during David Hodges' tenure within the series was the time that he used his talent as a lab technician to perform an autopsy on an octopus; a moment that Langham would later say was one of his favorite scenes to film in the entire series.
Langham and his co-stars had a lot of fun filming the octopsy scene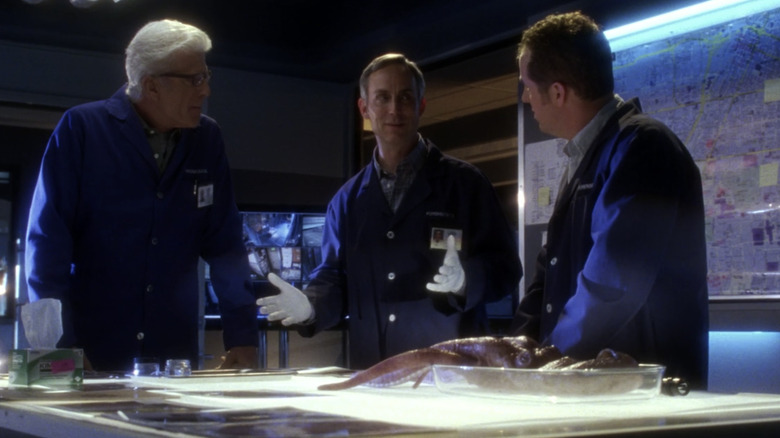 CBS
During a 2015 interview with Assignment X in which Wallace Langham and co-star David Berman (who played the coroner David Philips within "CSI") recapped the long-awaited series finale to "CSI: Crime Scene Investigation," Langham was asked which particular scenes or arcs from the last few seasons did he enjoy. Langham responded with a somewhat peculiar answer, saying one scene he really loved was the octopus autopsy scene that he shot alongside Berman and series lead Ted Danson.
"Actually, our [Langham and Berman's] first scene [with Danson] was the two of us and Ted and the octopus," explained Langham. "We called it an 'octopsy.'" Berman chimed in to agree that this comical autopsy scene was also one of his favorites, saying that he and Langham were actually upstaged in the scene by the octopus itself. The scene in question is from the Season 12 episode "73 Seconds," in which David Hodges and the team are forced to perform an autopsy on an octopus that was shot with a 9mm camera and somehow made its way onto the train tracks at Palermo station before dying.
The autopsy itself is about as absurd as it gets in "CSI," as Hodges, Philips, and D.B. Russell (Danson) discover that the octopus bit somebody before it died, and Hodges makes an absurd connection between this particular cephalopod and a "tentacle erotica" parlor – which, of course, eventually leads them to their suspect. Although this particular scene is somewhat strange, it's easy to see why this hilarious "octopsy" was one of Langham's favorite scenes from the later seasons of "CSI."