Chicago Med Showrunners Praises Star Marlyne Barrett's Work Ethic After Cancer Announcement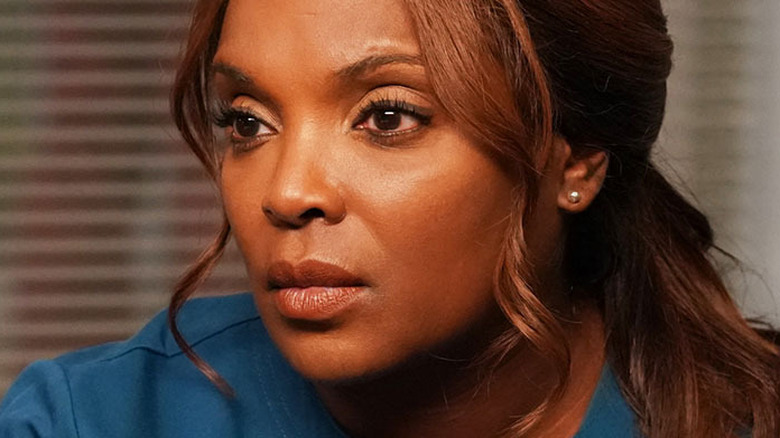 George Burns Jr/NBC
Marlyne Barrett has made a name for herself as charge nurse Maggie Lockwood in the One Chicago universe. Maggie's calm demeanor has benefitted not only the doctors working on "Chicago Med" but the firefighters of "Chicago Fire" and the grizzled cops of "Chicago P.D.," all of whom she has encountered during her time treating patients at Gaffney Chicago Medical Center. She has become such a familiar face among the One Chicago dramas that it's impossible to imagine the franchise without her.
Fortunately for viewers everywhere who are enchanted by Maggie and her ways, the show's producers seem to feel the exact same way about Barrett, who doesn't appear to be going anywhere. The show's co-showrunners have spoken up about Barrett's recent cancer diagnosis, the impact (or lack thereof) it's had on the show, and Barrett's strength and courage under fire as she continues to tell Maggie's story while undergoing treatment for her illness. 
Chicago Med's co-showrunners have nothing but praise for Barrett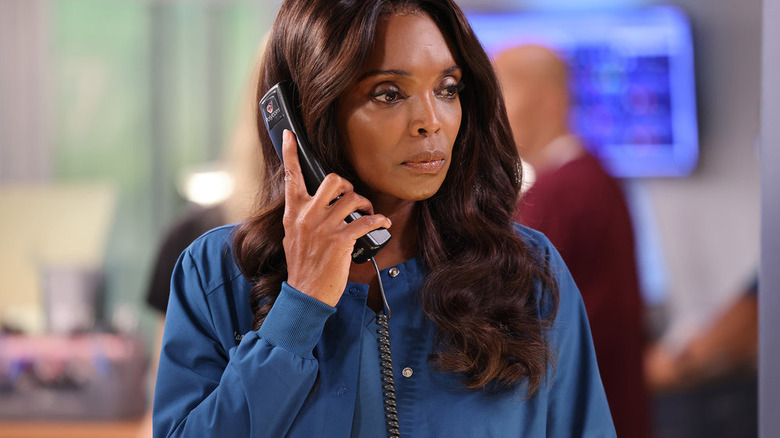 George Burns Jr/NBC
Diane Frolov and Andy Schneider, who co-showrun "Chicago Med," have nothing but kind things to say about the sticktoitiveness of Marlyne Barrett. "Marlyne is a trouper. She's inspirational," said Frolov to Entertainment Tonight. "To see a fellow human being take on this disease and function in the way that [she has], persevere, be loving and cheerful and all of that. That becomes, as I said, inspirational."
Barrett announced that she had been diagnosed with uterine and ovarian cancer through an Instagram post and a People Magazine exclusive in September of 2022. "I didn't believe them, but when they showed me the CT scan, I went, 'Oh my word.' The first questions were, 'Am I going to live?' I just fell into my husband's arms. It still takes my breath away when I think about it," Barrett said. She explained at the time that her fellow actors had been amazing and supportive during her battle.
While speaking to Entertainment Tonight, Schneider added that they are proceeding with Maggie's storyline as normal and not turning the actor's real-life medical condition into a fictional tale. Since Maggie Lockwood already survived breast cancer during Season 5 of the show, putting her through another cancer storyline may have felt like overkill to the writing team. "We're writing as if everything is fine," Schneider explained. "And she has been coming to work, doing a great job and you've never known that there was any issue behind it. She's just been fantastic."