Daisy Jones & The Six Teaser Has Fans Calling Sam Claflin An 'It Boy'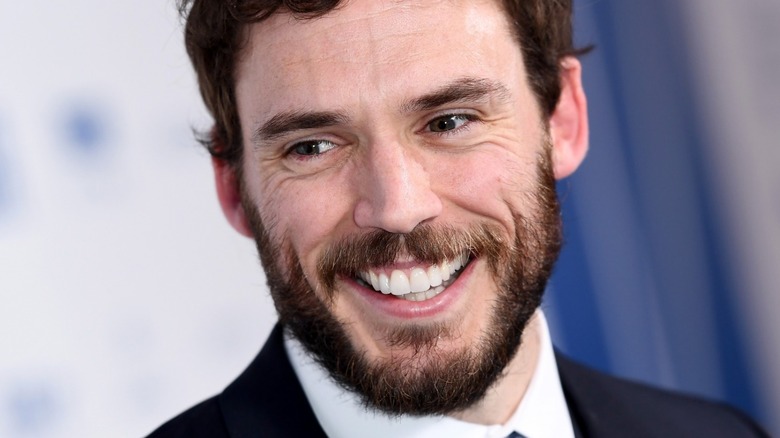 Dave J Hogan/Getty
The dynamic duo of Scott Neustadter and Michael H. Weber is among the most prolific voices in Hollywood screenwriting today. And since 2013, they've been specializing in what has proven to be particularly fertile ground for their sensibilities: literary adaptations. First, they penned the highly underrated screen version of Tim Tharp's "The Spectacular Now." Then, they gave John Green fans a charge with the one-two punch of "The Fault in Our Stars" in 2014 and "Paper Towns" in 2015. 
More recently, in 2017, the two scribes received acclaim for their adaptations of Kent Haruf's "Our Souls at Night" and Greg Sestero and Tom Bissell's "The Disaster Artist" — the latter of which earned them an Academy Award nomination for Best Adapted Screenplay (via IMDb). Now, film and literature buffs are understandably excited to see what Neustadter and Weber will bring to their first stab at long-form adaptation: "Daisy Jones & The Six."
The upcoming Amazon Prime Video miniseries, created by Neustadter and Weber and directed entirely by "Spectacular Now" helmer James Ponsoldt, will bring to screen the highly popular eponymous novel by Taylor Jenkins Reid, which tells the story of the rise and fall of a 1970s Los Angeles rock band. The first few teaser pictures and bits of footage released by Amazon already have fans of the novel in a tizzy over the series' potential. And Sam Claflin, who has a major role as Billy Dunne, has been the subject of particular buzz — for similar reasons to the show's creators.
Sam Claflin is being praised for his strong record in literary adaptations
Much like Taylor Jenkins Reid's novel, Prime Video's "Daisy Jones & The Six" will tell the story of two massive rock acts that collide in ways both productive and destructive. Daisy Jones (Riley Keough) is a rising Angeleno singer who gets brought into The Six, an established band in the L.A. music scene, becoming their lead vocalist and co-frontwoman alongside founder Billy Dunne (Sam Claflin). Billy, a troubled rock star trying to balance his dreams of musical success with his duties as a husband and father, forms a mercurial personal and professional connection with Daisy that results in some of the finest (fictional) American rock music ever recorded — as well as a significant dose of relationship anguish.
The interest of many fans on Twitter was immediately piqued by Sam Claflin's presence in both the date announcement teaser and the first-look photos released by Vanity Fair. Twitter user @hrryingreen posted a promotional still of Claflin as Billy with the caption, "sam claflin book to movie adaptation it boy like." Meanwhile, @wrathsemilia tweeted four pictures of Claflin in various book-to-screen adaptations throughout the years with the caption "if no one got me i know sam claflin in book adaptations got me 🙏🏻," prompting @LivienGee to reply, "If I see him in any book adaptation I know it's finna be good." Another viral tweet compiled pictures of Claflin's literary adaptation roles under the caption "I love you in EVERY UNIVERSE."
Claflin has been a go-to name for book character castings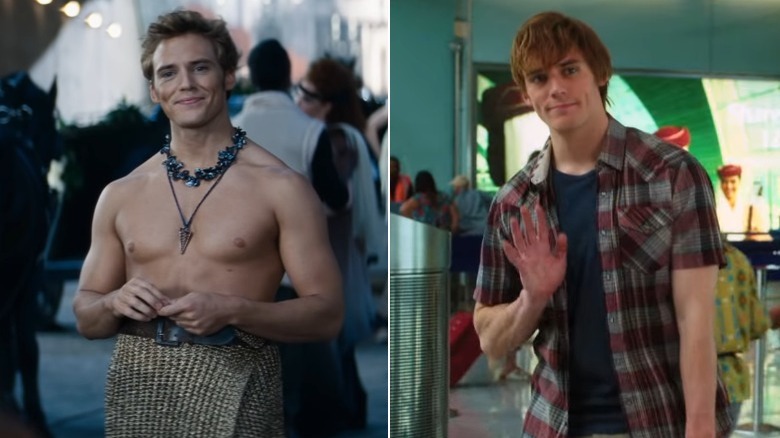 Lionsgate / Lionsgate UK / The Film Arcade
It's no wonder fans on Twitter were talking up Sam Claflin for his literary adaptation record; the man has been bringing book characters to life from the very beginning of his career. Even before Claflin got world-famous, his first major acting roles were on television adaptations of famous British novels: in 2010, he played Richard of Kingsbridge on Starz's "The Pillars of the Earth," based on the Ken Follett book, and the younger version of protagonist Logan Mountstuart on Channel 4's "Any Human Heart," based on the book by William Boyd.
Not long after, Claflin achieved international notoriety with his platonic, pitch-perfect rendition of fan-favorite character Finnick Odair in the film adaptations of Suzanne Collins' "The Hunger Games" novels, starting with 2013's "The Hunger Games: Catching Fire." And then, of course, there were his famous roles as Alex Stewart in "Love, Rosie," adapted from "Where Rainbows End" by Cecelia Ahern, and Will Traynor in the film version of Jojo Moyes' "Me Before You." 
But those were just three in a truly stunning run: Throughout the years, Claflin has played Tom Buckley in "Their Finest," Philip Ashley in "My Cousin Rachel," Richard Sharp in "Adrift," and Mycroft Holmes in "Enola Holmes," all of which were adapted from books (via his IMDb). His proclivity for taking on characters from other media even extends to play-to-film adaptations, as evidenced by "The Riot Club" and "Journey's End." Talk about an actor who likes to draw from the written word!