James McAvoy Calls Out Showtime's Shamless For Copying One Of His Scenes From The Original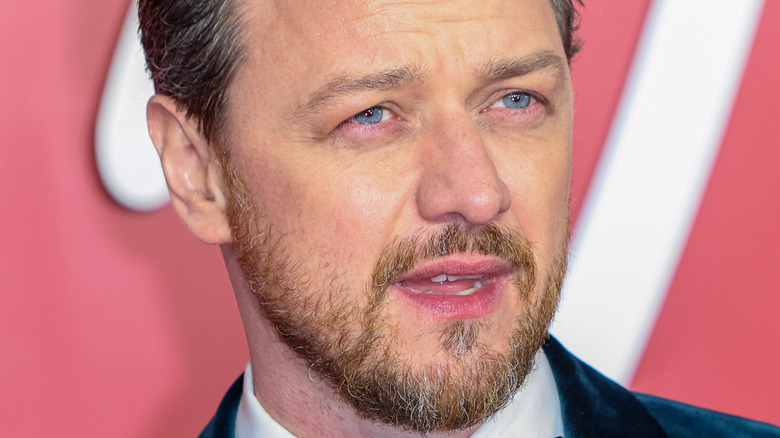 David M. Benett/Getty Images
These days, James McAvoy is widely regarded as a legit A-lister in most Hollywood circles. He's also considered by some to be one of the finest actors of his generation, earning rave reviews for his work in tentpole productions (the "X-Men" franchise and "Split," for example) and more indie-minded fare ("Atonement," "The Disappearance of Eleanor Rigby") alike. 20 years ago, however, McAvoy was just another young talent looking to make a name for himself on the U.K. entertainment scene. 
McAvoy earned arguably his biggest early break in 2004 when he booked the role of Steve McBride in the original British version of "Shameless." Though he appeared in just 13 episodes of the show, his standout work as the dodgy romantic interest of Fiona Gallagher (Anne-Marie Duff) became a calling card for the young actor. Not long after his "Shameless" run ended, McAvoy was fronting major productions like "The Chronicles of Narnia" and the Oscar-winning drama "The Last King of Scotland."
As for "Shameless," the U.K. hit scored a stateside remake in 2011. While the American version proved a hit in its own right, McAvoy has admitted he's no particular fan, recently telling Vanity Fair, "I didn't enjoy watching the U.S. remake of 'Shameless.'" McAvoy was quick to point out that his position is in no way a comment on the remake's quality. Rather, the star found it odd to watch the show copy almost exact scenes he and his co-stars had performed.
McAvoy found it bizarre to watch actors re-create moments he improvised
When discussing the "Shameless" remake with Vanity Fair, James McAvoy admitted he was particularly surprised to see Justin Chatwin (who played Steve in the U.S. version) re-enacting almost exactly a scene he'd improvised for the original series. "I'm sure that pretty quickly, like with the British office and the American office, they deviated and went off and did their own thing," McAvoy noted before adding, "But I remember watching the first episode and bits that I improvised the guy was doing and I was like 'Whoa.'"
The scene McAvoy specifically mentioned is key in the pilot episodes of both versions of "Shameless" as it depicts Steve meeting Fiona Gallagher (Anne-Marie Duff and Emmy Rossum respectively) for the first time. The fateful moment comes outside of a nightclub and eventually finds Steve mooning a bouncer as he and Fiona run off into the night. Per McAvoy, dropping his pants wasn't part of the scene as scripted, but something he improvised in the moment, and watching another actor do it was pretty weird. "There's a bit where I get my a*** out. And that was just, I just decided to do that," the star stated, continuing, "And then I'm watching the U.S. version and the guy does that and I was like, 'What?'"
As McAvoy noted in a 2011 interview with Express, both "Shameless" pilots were indeed helmed by the same director, Mark Mylod, so that may explain the almost shot-for-shot overlap. Still, McAvoy admitted seeing his improvised moment so precisely duplicated made it hard for him to watch the remake.