Chicago P.D.'s Tracy Spiridakos Has Next To Nothing In Common With Hailey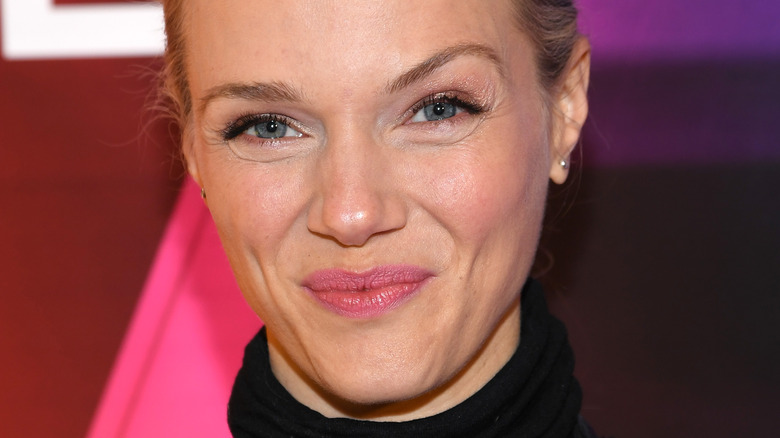 Dimitrios Kambouris/Getty Images
Before landing her role on the One Chicago franchise show "Chicago P.D.," Tracy Spiridakos had already assembled a resume chock full of impressive small-screen credits. That includes appearances in lauded shows like "Supernatural," "The L Word," "Revolution," and "Bates Motel." It's safe to say, however, that landing the role of Detective Hailey Upton on "Chicago P.D." was a legit career changer for the actor.
That casting came in 2017, during the series' third season on the air. Over the years, Spiridakos has made 116 appearances as Det. Upton on "Chicago P.D." and logged 11 more via crossovers with "Chicago Fire," "Chicago Med," and "FBI." She became half of one of the best-loved couples in the "One Chicago" universe when Upton fell in with "Chicago P.D." golden boy Det. Jay Halstead (Jesse Lee Soffer). Halstead's recent and unexpected departure from the Intelligence Unit ranks has understandably thrown Upton for a loop, and the character has indeed endured some suitably heavy times.
Spiridakos has carried on through the narrative with a fearless spirit and steadfast dedication to her character. In doing so, she's helped make Upton a bit of a late-blooming fan favorite. That's all the more impressive as Spiridakos claims she doesn't have much in common with her "Chicago P.D." counterpart.    
Spiridakos likes to keep things light on the set of Chicago P.D. even when things get heavy for Upton
Tracy Spiridakos made that claim during a recent interview with Michigan Avenue. And in the course of the conversation, the "Chicago P.D." star was quick to offer how much she enjoys playing the many facets of her character, Detective Hailey Upton. She also admitted that what makes the role so much fun is that she has little in common with the Intelligence Unit tough, stating in no uncertain terms, "There are elements I have similarities with, but, for the most part, no, we're quite different."
Myriad of differences aside, there's at least one character trait in Upton that Spiridakos might like to mimic, and that's the hard-nosed detective's "devil may care" attitude toward life and work. "I love her unapologeticness, whereas that's not who I am," the actor said, adding, "I'm always very Canadian and very apologetic about everything." As for what separates Spiridakos most from Upton, the actor claims she is nowhere near as severe as her on-screen counterpart. "I'm super bubbly and very smiley and happy all the time. When I'm playing her, as soon as they yell 'cut,' I'm smiling all over the place, and everyone always makes fun of me."
As it is, the stark contrasts between Spiridakos and Det. Hailey Upton serves as a testament to just how good the actor is in the role. And with "Chicago P.D." continuing to make waves in the primetime landscape, she'll likely be playing the role for many seasons.