Gilmore Girls' Town Hall Scenes Would Take Up To 15 Hours To Film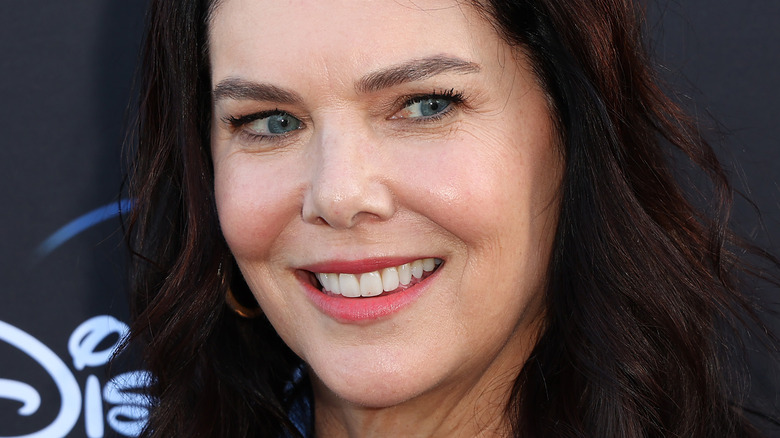 Leon Bennett/Getty Images
Fans of "Gilmore Girls" carry nostalgia for the show to this day, predominantly because of the warm-hearted community created in Amy Sherman-Palladino's dramedy. The show, beloved by critics and audiences alike (via Rotten Tomatoes), centered on the dynamic mother-daughter duo of Lorelai (Lauren Graham) and Rory Gilmore (Alexis Bledel) as they led an idyllic life in Stars Hollow, Connecticut. Replete with nosy, but loving neighbors, eccentric folks, diners populated with regulars, and town festivals, Stars Hollow was the perfect small town. It's no wonder Lorelai wanted to raise her daughter while living in Stars Hollow, where everyone feels like an extended family member, and one where a kid can attend anything from snowman-building contests, to knit-a-thons, to 24-hour dance-a-thons.
One of the most common Stars Hollow events throughout the show's duration was the notorious town hall. At the town halls, Stars Hollow residents would gather together to address and solve potential town problems and issues. Typically led by town selectman Taylor Doose (Michael Winters), you could expect town halls to typically descend into chaos as everyone would vote for or against certain proposals. Many of the show's funniest and most memorable scenes are town hall meetings.
As one might expect, based on the number of people at each town hall meeting, they took quite a while to film.
Town hall scenes would take a whole day to film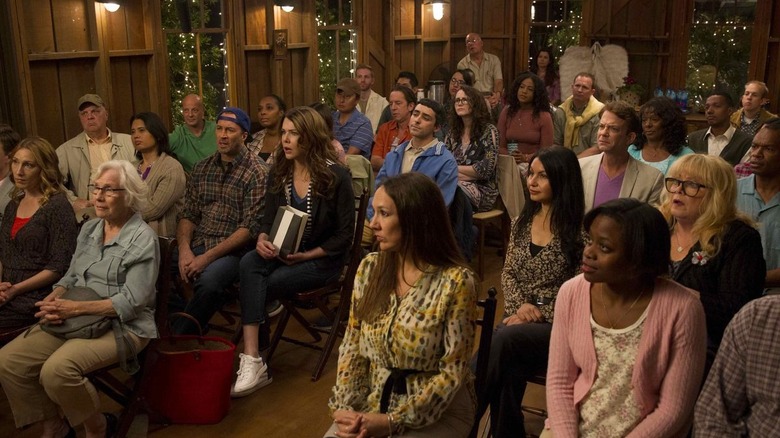 Saeed Adyani/Netflix
According to Teen Vogue's list of "Gilmore Girls" facts, town hall scenes would take the entire day to shoot. They could be shot from as early as 7 a.m. until 10 p.m. that night. That's a long day to be filming in a single room. As it turns out, the cast invented games to pass the time. Actress Sally Struthers created a game called "What's in My Purse?" which — you guessed it — involved other actors guessing the various items inside of her handbag.
Scott Patterson, who played Lorelai's love interest, Luke Danes, told Starry Mag how much he disliked the town hall scenes because of their long days. "I always dreaded when I read in a script when there was a town hall meeting because we did a couple of those a year. It is an all-day thing because it is so much coverage you have to get from all of the actors," he said.
However, he did note one of the fun parts of those scenes: the work of Michael Winters as Taylor Doose, trying to bring order to the chaos of the meetings. "The saving grace of those town hall meetings was getting to sit there and watch Michael Winters work. He had to memorize these really long speeches and it is just a joy sitting there watching him act. It is a joy watching the detail of the work he is doing," Patterson said.