Bradley Whitford Once Got Detained By Secret Service While Filming The West Wing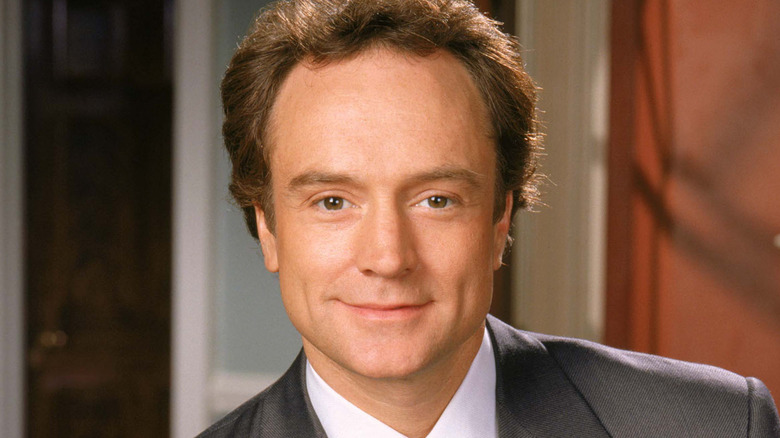 Getty Images/Getty Images
While "The West Wing" took place at the White House, it was, unsurprisingly, not shot inside the real White House. A set based on the White House was reconstructed and, according to the DVD extras, a lot of liberties were taken both for ease of shooting and also to simply make the White House look more aesthetically pleasing than it is in real life. In a different DVD featurette, Bradley Whitford (Josh Lyman) explained that, while they did shoot most of the show on a set, they did travel to Washington D.C. approximately every month and a half, leading them to have some interactions from the real White House staff. "We've gotten some feedback from John Podesta, who is the chief of staff ... who liked it a lot, but was confused because he thought everyone was too good looking, carried too many files."
Well, apparently someone didn't brief the secret service about Whitford shooting in front of the White House one time, and things got a little heated.
Bradley Whitford got taken in by Secret Service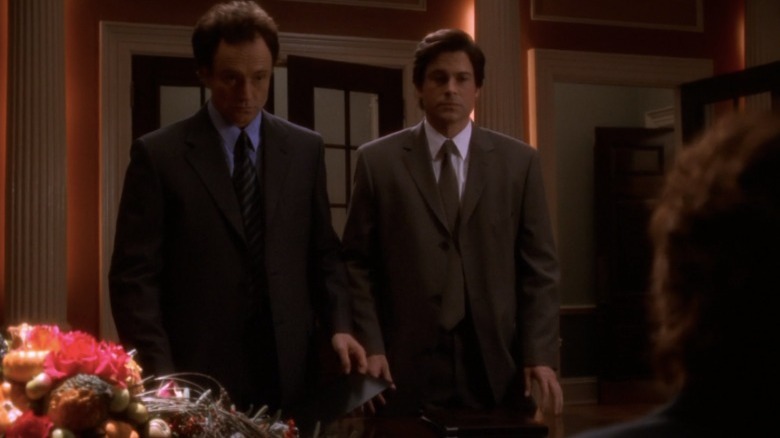 HBO Max/NBC
Jorja Fox may now be known for her role as Sara Sidle on both "CSI: Crime Scene Investigation" and "CSI: Vegas," but back in 2000, she did five episodes of "The West Wing" where she played Secret Service Agent Gina Toscano. In an appearance on "The Late Show with Stephen Colbert," Fox appeared to talk about her new show, "CSI: Vegas," but ended up telling a story about how her "West Wing" co-star, Bradley Whitford, ran afoul of the actual Secret Service. "And we were shooting very close to the White House for several days. One afternoon Bradley Whitford who's on the show, phenomenal man ... he got some late dialogue. Aaron Sorkin sometimes has great ideas at the last minute. ... [Whitford] was outside the White House and he was in his suit but he loosened his tie, took his jacket off, he was running his lines as we do sometimes. We talk to ourselves; we're emoting; we're putting in movement. And the Secret Service totally just descended on him and took him in. They thought he was a madman!" Fox went on to say that she was grateful that the Secret Service was keeping the White House safe, and that they did eventually release Whitford.
In an Actors on Actors interview for Variety with Whitford and his "West Wing" co-star, Marlee Matlin, Whitford explained that he would do "endless repetitions" of the dialogue once he memorized them so that Aaron Sorkin's notoriously wordy dialogue could actually flow more naturally. So we have Sorkin's trademark verbosity to thank for the incident.