Charlize Theron Has The Highest Praise For Her Furiosa Successor Anya Taylor-Joy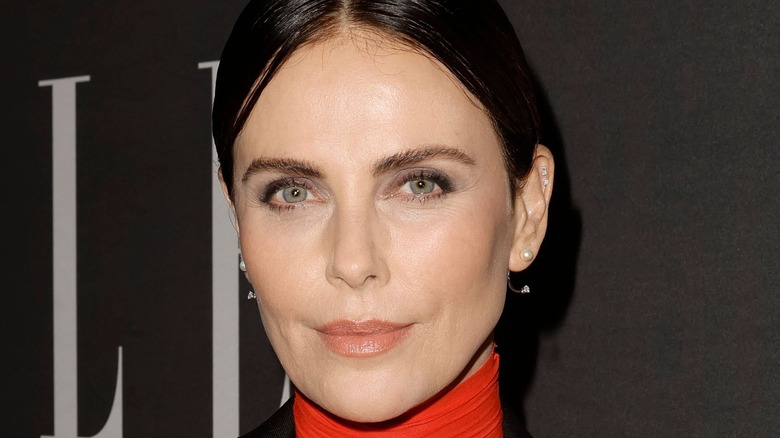 Kevin Winter/Getty Images
Charlize Theron, the Oscar-winning actress responsible for bringing countless memorable roles to life, appears to be as excited as the rest of us for George Miller's upcoming "Mad Max: Fury Road" prequel titled "Furiosa." As the original character in Miller's stunning and action-packed film, her opinion carries a certain amount of weight in anticipation of a new iteration. Therefore, it's reassuring, to say the least, that she wholeheartedly approves of Anya Taylor-Joy taking up the mantle of the fearless Furiosa. 
Taylor-Joy captivated global audiences in the lead role of the cunning chess player Beth in the Netflix series "The Queen's Gambit." She also starred in two of Robert Eggers' eerie films, "The Witch" and "The Northman." Taylor-Joy even had a dazzling role in the X-Men film "The New Mutants" as the fiery Illyana Rasputin, a.k.a. Magik. Her astonishing range as an actress tiers her up perfectly to take on the standout role of Furiosa, which comes with a grueling amount of intense production.
Recently, Theron made her Marvel Cinematic Universe (MCU) debut in "Doctor Strange in the Multiverse of Madness" as the sorceress Clea. This surprising role brings the "Mad Max" actress back into the spotlight, where she shares her thoughts on the upcoming prequel "Furiosa." With The Hollywood Reporter, she revisits her past performances while sharing her excitement for what's to come next while including kind words for her "Mad Max" successor. 
Charlize Theron explicitly expresses her enthusiasm for Anya Taylor-Joy
At THR, Charlize Theron reminisces on the long but rewarding process of shooting "Mad Max: Fury Road." This included death-defying stunts, hot desert locations, and explosive vehicle sequences. She also shares that she'd happily return as Furiosa for a sequel to Miller's thrilling film. Though she may not be featured in the prequel, she has nothing but praise for Anya Taylor-Joy as she applauds her outstanding abilities. 
When posed with the question of an eventual comeback, she responds: "Maybe. Listen, I'm not mad about [Miller doing a prequel instead of a sequel]. One of the greatest f*****g actresses [Anya Taylor-Joy] is picking up something that I only imagined." Her riveting response is refreshing as she cheers on her fellow actress in a sure-to-be unmissable performance. It also seems as if the prequel's production is as hard-won as the original film, which Taylor-Joy details with Indiewire.
"It's the dirtiest and the bloodiest I have ever been, which is saying something, genuinely saying something. Any time I get to be dirty or bloody and not perfectly prim and pretty, I'm just having a ball, that's where I feel most comfortable. So yeah, 'Furiosa' was definitely right up my street." This description is fitting for the dystopian prequel as water becomes the most scarce and precious resource. We'll find out for certain when "Furiosa" races into theaters on May 24, 2024.