Charmed Facts Only Huge Fans Will Know About The Show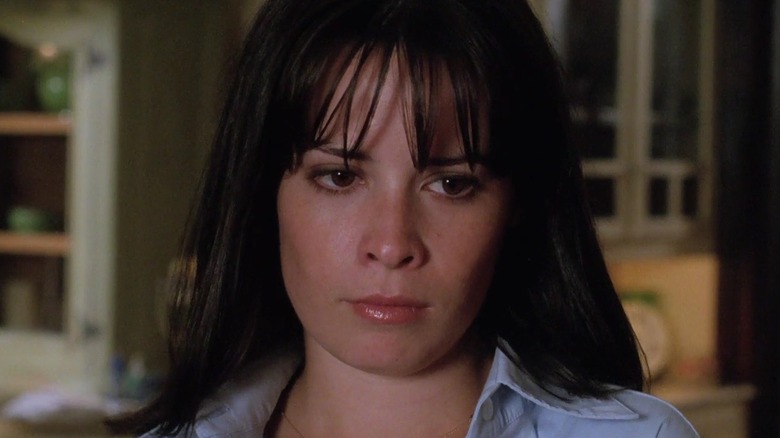 CBS
For the Halliwell sisters, returning to their grandmother's manor yields a surprising revelation hidden in a dusty attic trunk. When Phoebe unearths the ancient, enchanted Book of Shadows, the siblings learn that they are the Charmed Ones — a trio of powerful witches charged with keeping the world safe from the things that go bump in the night. But what makes "Charmed" so special goes far beyond a few spells and incantations: It's how the sisters build their lives together, drawing on their love for each other while coming into their magical abilities through the Power of Three.
As they balance their jobs and dating lives with spellcasting and vanquishing demons, the empowered sisters always make time for each other inside the warm walls of Halliwell Manor. And, just like the Book of Shadows, the story of "Charmed" holds plenty of secrets that only the truly witchy are privy to. Because there's no power like the Power of Three, let's take a closer look at these "Charmed" facts only the biggest fans know.
P3 featured some popular acts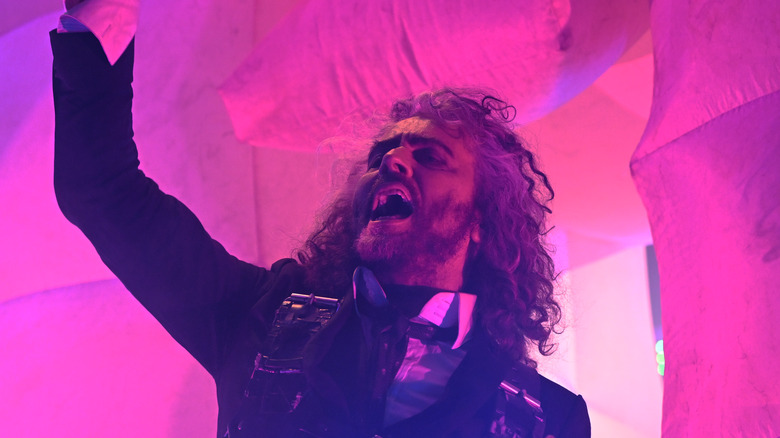 Anwar Hussein/Getty Images
The Halliwell sisters have some pretty amazing abilities that continue to grow as they dive deeper into the Book of Shadows. But, between all of that demon defying and monster-mincing mayhem, they still have to make a living. At least two of the Halliwells get just as much fulfillment from excelling in their careers as they do from mastering their other craft. It's Piper's love for the service industry that leads to her ownership of the club formerly known as The Industrial Zone. She renames it P3 as a sly nod to the sisters' magical abilities from the Power of Three.
Although the club is meant to be a stepping stone on Piper's path to restaurant ownership, P3 quickly becomes one of San Francisco's hottest night spots. This is largely down to Piper's skill at booking terrific live music acts that keep her patrons dancing all night long. And, over the years, she managed to host quite a few big-name acts. The club's first big live act was an appearance by Dishwalla, a '90s one-hit wonder known for their single "Counting Blue Cars." Other bands with big radio hits around the time include the Goo Goo Dolls, Snake River Conspiracy, and The Donnas. Some of the bigger acts to grace the P3 stage include the Flaming Lips, the Cranberries, Paula Cole, and Pat Benatar, to name a few.
Magic School is actually a floating estate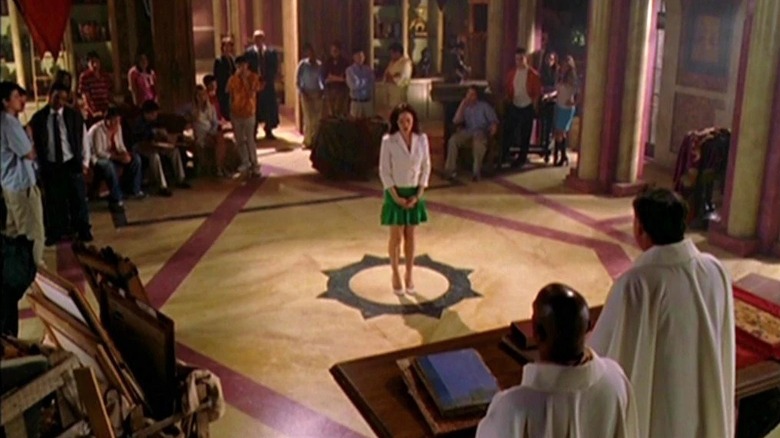 CBS
For many bookish kids, the idea of getting swooped up to attend a secret school for magic users is the ultimate childhood fantasy, which is probably why this trope keeps popping up in works of fiction. Famous examples are Hogwarts School of Witchcraft and Wizardry from the "Harry Potter" franchise, Yennefer's school Aretuza in "The Witcher," and the many magical schools of "The Worst Witch." In this grand tradition, the magically-inclined kids of the "Charmed" world end up studying at Magic School, a training academy put together by the Elders to help magicians learn their craft and prevent another tragedy like the one that sank Atlantis thousands of years ago.
Hidden inside of a magical realm and accessible via potentially countless portals across Earth, Magic School can only be reached by those given permission to pass. And because magical training can be a dangerous business, no one can die there, which makes for a very strange turn of events when the conjured Headless Horseman starts decapitating its occupants. So much of the action takes place inside its walls that the series left out one of the school's most important features: It's actually a floating grand estate. This is outlined explicitly in the "Charmed" comic "No Rest for the Wicca."
The series featured a lot of now-famous guest stars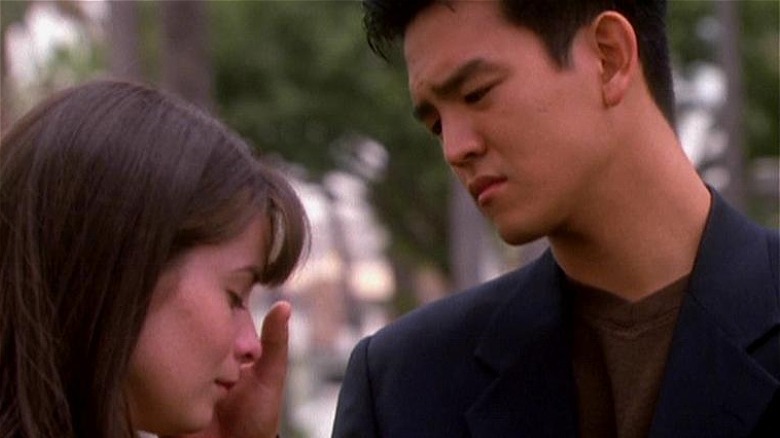 CBS
If it's been a while since you last watched "Charmed," you might notice some surprisingly familiar faces when revisiting the series. Over the years, guest appearances were made by the likes of Ron Perlman, Coolio, and horror movie legend Bruce Campbell. And, with eight seasons spanning from 1998 through 2006, the supernatural drama featured a fair number of actors appearing in minor roles who would go on to become famous.
Julian McMahon, who played Phoebe's devilishly handsome half-demon husband Cole Turner, would go on to star as the womanizing plastic surgeon Christian Troy in "Nip/Tuck." John Cho would become famous for his work in the "Harold and Kumar" movies after appearing in "Charmed" as the recently deceased Mark Chao, who would develop a ghostly romance with Piper. Even six-time Oscar nominee Amy Adams had a guest role, playing future Whitelighter Maggie Murphy in the Season 2 episode "Murphy's Luck."
Elsewhere, Daniel Dae Kim from "Lost" played Zen Master Yen Lo, Annie Wersching of "The Vampire Diaries" popped up as a Demonatrix, and Dean Norris of "Breaking Bad" appeared as a warlock doctor. The lengthy list of now-famous "Charmed" guest stars also includes "The Office" star Rainn Wilson, "Star Trek" actor Zachary Quinto, and Misha Collins of "Supernatural" fame.
Artists hid their faces in the Book of Shadows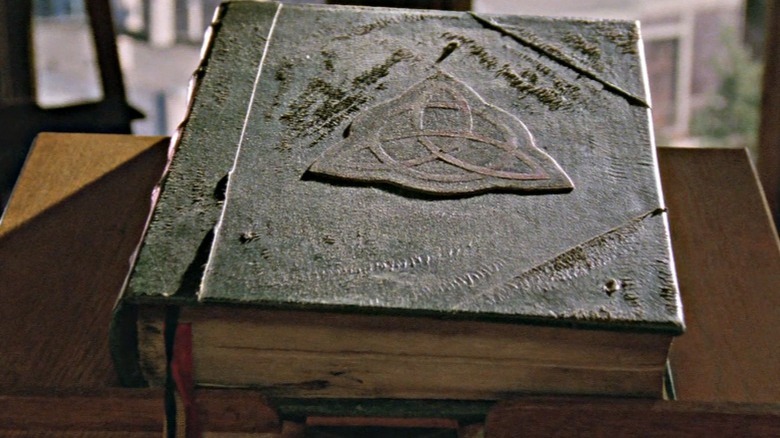 CBS
While it's easy to take them for granted when you're watching a show at home, a lot of work goes into making props look convincing, whether that be realistic-looking food or Wilson the volleyball from "Castaway." And, when it comes to beautifully-crafted props, the Charmed Ones' Book of Shadows is a genuine work of art.
Although the Halliwell Sisters derive their power from the Power of Three, they need the Book of Shadows to tap into that power. A centuries-old compendium of potions, incantations, and spells first penned by their ancestor Melinda Warren, the enchanted Book of Shadows has an almost sentient presence. In a featurette about the book, executive producer Brad Kern said that each Halliwell in the family line adds to the "ancestral magic" of the book, making it stronger with each generation. In his words, it's "a living, breathing entity."
In the same featurette, Rose McGowan (Paige) praises the tome's incredible design, calling it "just stunning." The prop itself actually grew every week as artists were brought in to illustrate the latest storyline. Assistant prop master Scott Cockrell is also interviewed, and he goes into detail about the intricate, hand-drawn artwork. According to him, the artists would often base the demon characters that didn't have an actor attached on their own faces. "Sometimes they'll draw themselves," he said. "That's happened quite a few times."
The story continues in novels and comic books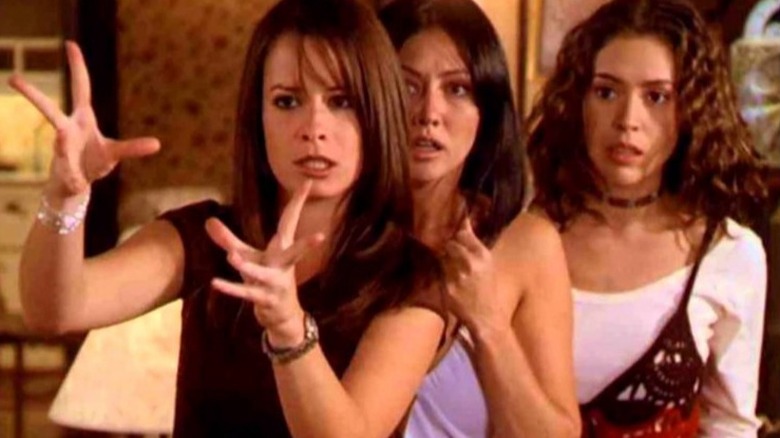 CBS
"Charmed" picked up a dedicated fan following during its run. Viewers grew to love the Halliwell family, and for many, it felt as if the adventure was just getting good when things came to a halt. But there's good news for true-blue fans who can't get enough of the Charmed Ones.
Thanks to an extensive collection of comics and official "Charmed" novels, the story continued long after the series ended, giving fans a deeper look into the lore of the world and taking them on some new adventures. Beginning in 2010, Zenoscope Entertainment released a comic series that serves as a continuation of the "Charmed" series. While most of the original characters appear, notably absent is Prue. "It was more of a negotiation thing of them not wanting to pay," actor Shannen Doherty said.
Fans can also sink their teeth into the show's two licensed novel series, which "Charmed" comic book writer Pat Shand has confirmed are canon. The first series spans the show's beginning to sometime after its finale, and the second series is set after the events of Season 9. The body of "Charmed" literature also includes two short-story anthologies, as well as an extensive collection of guidebooks.
Piper is her own great-grandmother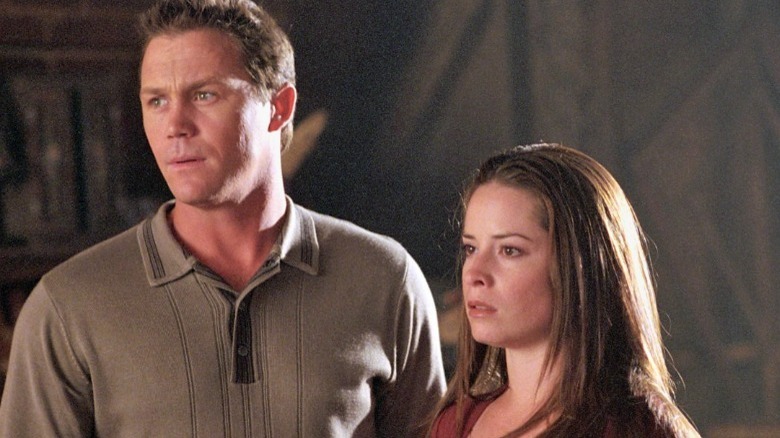 CBS
One key element of the "Charmed" lore involves the past lives of the Haliwell sisters and their ancestors. As Leo explains in "Pardon My Past," souls learn and grow through each incarnation. The souls of those who knew each other in past lives will often reconnect, drawn to each other from one life to the next. Witches are more in tune with their past lives than other mortals, often experiencing echoes of things that happened a long time ago. To make things even more complicated, a witch can be contacted by the spirit of her past self.
In "Pardon My Past," Phoebe finds herself haunted by a past life from the 1920s. She is transported into this past life, and, in this incarnation, her sisters are not her sisters, but her cousins. Named P. Russell, P. Bowen, and P. Baxter, all are still witches in Melinda Warren's line, just as they are in the present. Like the present-day club owner she turns out to be, Piper's past life runs a speakeasy. She also happens to be the grandmother of the Charmed Ones' mother Patty Halliwell, thus making Piper her own direct ancestor and, more mind-blowingly, her own great-grandmother.
The chemistry between Phoebe and Cole was real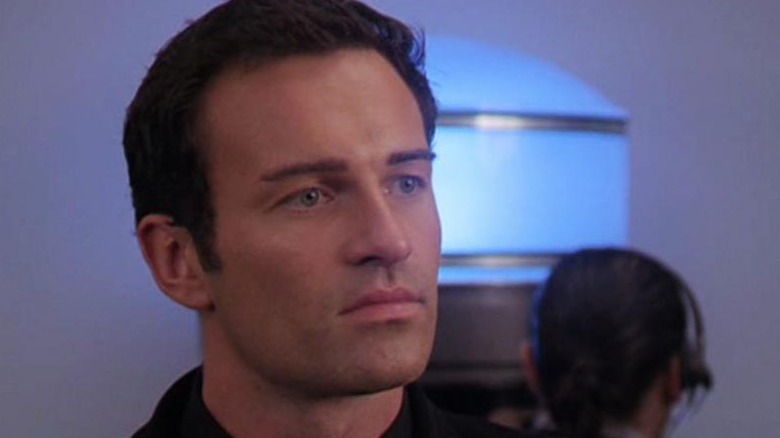 CBS
It's not always necessary for a couple that's paired together onscreen to have real-life chemistry in order to sell the relationship. Although their characters' chemistry was praised as some of the best in television at the time, reports have suggested that Nathan Fillion and Stana Katic didn't get along while making "Castle," for example. While portraying a relationship under these circumstances has to be challenging, some onscreen couples are lucky enough to hit it off. Alyssa Milano and Julian McMahon got on splendidly while playing Phoebe and Cole on "Charmed," and this shines through in their performances.
The E! behind-the-scenes special "Women of Charmed" touches upon the real-life magic that helped bring Phoebe and Cole's relationship to life. Speaking of her co-star, Milano said, "I am so happy with him. He is so delicious." She went on to say, "There's something very sort of brooding and sexy about him, but also really funny and quirky." McMahon echoed these sentiments when he appeared on the show "Revealed" on E! "Alyssa's just firstly, an extremely wonderful person and secondly, a very talented actress," he said. "To watch her is quite extraordinary."
Leo was frozen due to budget cuts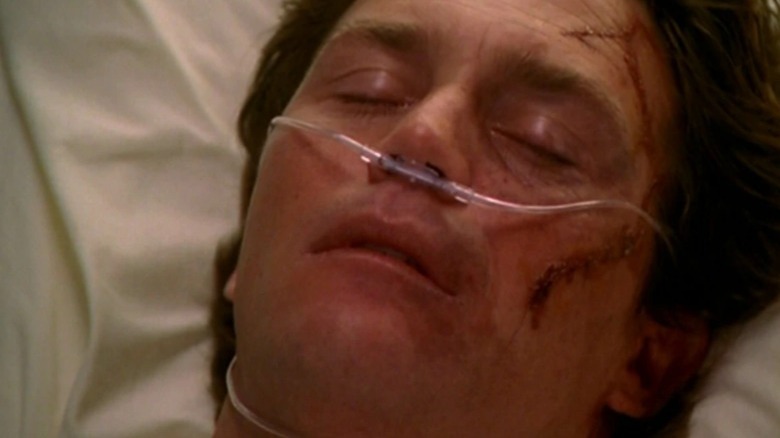 CBS
One of the most special relationships in "Charmed" is the enduring romance between Piper and her Whitelighter hubby Leo. He first shows up to watch over the Charmed Ones, but he and Piper fall madly in love and end up married with kids, despite the affair breaking more than a few of the Elders' rules. Their connection is a wholesome example of a stable and satisfying marriage — a rarity for television outside of the sitcom world — and Leo serves as a rock for the Halliwell sisters in general, supporting these three strong women without getting in their way.
This makes it all the more shocking when Leo gets the old Han Solo treatment as a last-ditch effort to save his life, with a heartbroken Piper telling him, "I have to lose you to save you." As it turns out, this was actually true for actor Brian Krause as well. Speaking to TV Line, producer Brad Kern lamented that since they couldn't afford to pay Krause for the whole season, they froze his character in the hopes that he would return for the "Charmed" finale. As Kern put it, "I was banking on the fact that he was truly a great guy, loyal to the audience, and he was."
Alyssa Milano wasn't the first Phoebe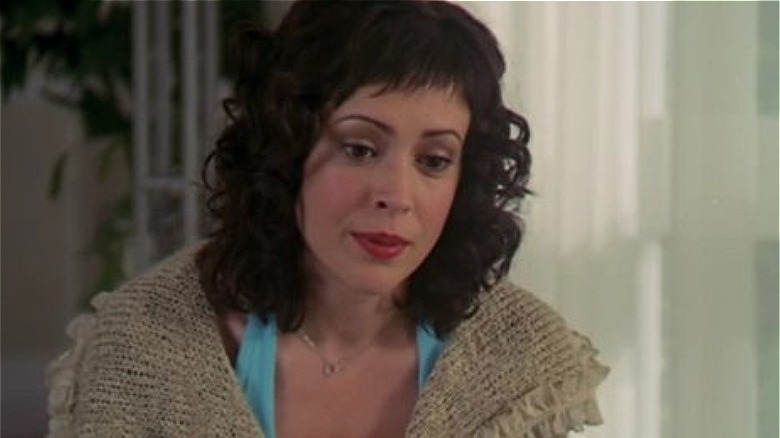 CBS
It's not uncommon for an actor to be replaced by someone else after being offered a part. "Back to the Future" teen Marty McFly was originally played by Eric Stoltz, but when he wasn't the best fit for the role, he got the boot and the part went to Michael J. Fox. The part of Wolverine was supposed to be played by Scottish actor Dougray Scott in Fox's "X-Men" movies, but he was replaced by Hugh Jackman and the rest is superhero movie history. Although it's hard to imagine anyone other than Alyssa Milano in the role of Phoebe Halliwell, the role was originally given to Lori Rom.
Rom played Phoebe in an unaired pilot episode before being replaced by Milano. In an interview that was unearthed by In Touch Weekly in 2018, "Charmed" creator Constance M. Burge revealed that Rom left the show of her own accord. She said: "My understanding is that her desire to leave was for personal reasons. She was accommodated and after that we just got so fortunate with Alyssa. It was horrid and sad for her to go, but we were fortunate that it all worked out with Alyssa." She goes on to say that while both actors did a "good job" with Phoebe, Milano brought a "sexiness to the part" that wasn't there before.
Some big names were floated for Paige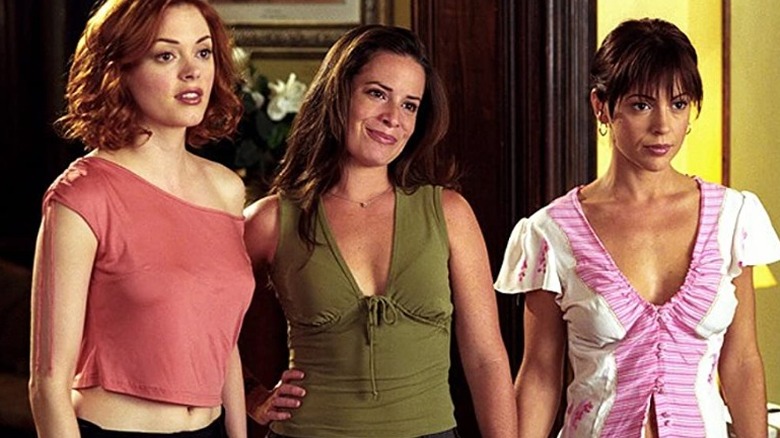 After three seasons as a Charmed One, Shannen Doherty left the series amid rumors of trouble with her co-star Alyssa Milano. In a 2001 interview, Doherty told Entertainment Tonight, "There was too much drama on the set and not enough passion for the work." When the news first broke, the status of the series was up in the air. Fortunately for "Charmed" fans, the show got around losing Prue by introducing a long lost Halliwell sibling named Paige, who just happened to cross paths with Piper and Phoebe.
Casting a replacement for Doherty was no small order, and quite a few gifted young actors were considered to step in as Paige. Aaron Spelling told Entertainment Weekly that Tiffani Thiessen of "Saved by the Bell" fame was producers' "first choice" for Paige. When Thiessen told them she had her heart set on starring in a half-hour comedy, they turned to their next choice, Jennifer Love Hewitt, who was focusing on her film career at the time. After the first couple of names didn't pan out, producer Brad Kern decided to audition Rose McGowan, and she won the part on the spot. "Rose McGowan was the only person we saw for Paige," he told TV Line. "We didn't audition anyone else."
A ball of tape became the unofficial show mascot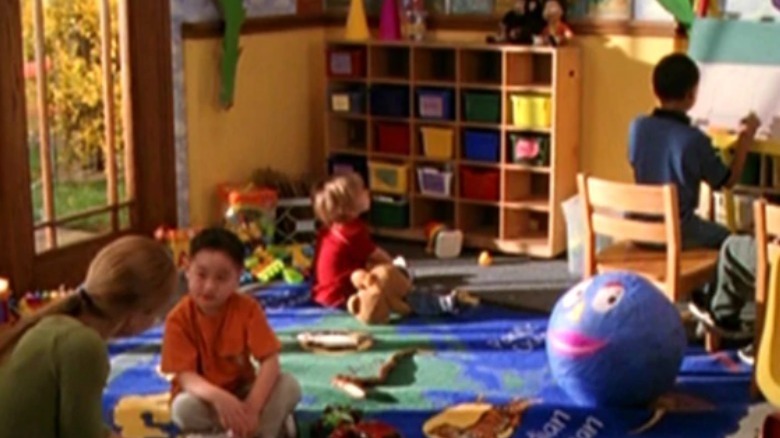 CBS
One of the tools that directors use to help block their shots is gaffer tape. It's also used for blocking out logos on items that have to be in the shot but could create a trademark issue. There's also colorful tape, which is used for identifying actors' marks on the ground. A TV show can go through a lot of tape very quickly, which is how "Charmed" ended up with their beloved Tapeball.
As profiled in Charmed Magazine #7, Tapeball was a literal ball of tape made from all the leftover tape. The mag revealed that snapping pics with Tapeball was a favorite on-set pastime for the cast and crew of the show. The blue guy even got his debut on the small screen in the Season 7 episode "Invisible Friends," appearing in a cameo on the floor of baby Wyatt's preschool classroom.
The Charmed Ones literally closed the door on every season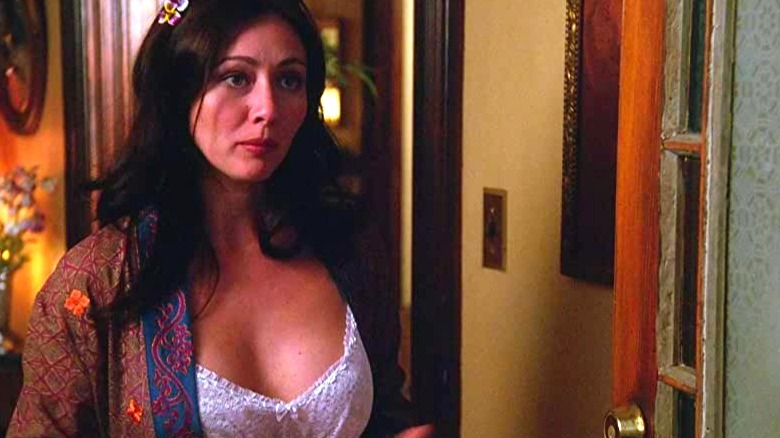 CBS
True fans of a TV series are in on all the small details that make a show special, subtle things repeated across seasons that serve as a kind of reward for viewers. For fans of "Psych," it's the pineapple hidden somewhere inside every episode. For the "Supernatural" fandom, it's the way that Sam and Dean always use the names of musicians as their aliases. Viewers who stick around long enough to finish a few seasons of "Charmed" will start to see a pattern at the end of every season. With one notable exception, every season ends with one of the Halliwells (or another entity) using magic to close the door to Halliwell manor.
For the first two seasons, the door is closed by Prue, who uses her power of telekinesis. After Prue's departure, the person closing the door seems to vary with each season. Shax shatters the manor door in Season 3, and the door is closed magically by the Angel of Destiny at the end of Season 4. Season 5 sees Chris using telekinesis to close the door, and Season 6 features Leo closing the doors in the hospital. For Season 7, the door closes on its own after Darryl's departure, which fans on Charmed Cafe take as evidence that Prue's spirit is still watching over her sisters. The series ends with Piper's granddaughter closing the door with her telekinesis, thus passing the torch to the next generation of Halliwells.