The Taken Franchise's Biggest Unanswered Questions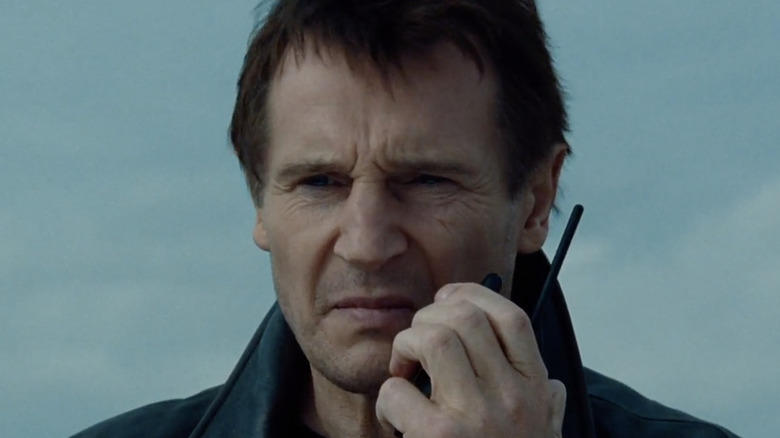 20th Century Fox
The following article includes discussions of sexual slavery and sexual assault.
Few franchises could boast to be as career-turning for its lead actor as the "Taken" franchise. Initially seen as a dramatic actor who appeared in acclaimed films such as "Schindler's List," "Michael Collins" and "Gangs of New York," Liam Neeson's career took an adrenaline-fueled turn with 2008's action-thriller "Taken," establishing the Oscar-nominated actor as an action star. The film follows Bryan Mills (Neeson), an ex-CIA agent who has 96 hours to track down and rescue his abducted daughter (Maggie Grace) before she disappears into the sex trade market. Earning over $220 million on a modest budget of $25 million, "Taken" launched a franchise that consisted of two sequels and a TV series.
Despite the trilogy's financial success (with a combined worldwide gross of over $932 million), each movie experienced a decline in critical opinion, with "Taken 3" receiving a dismal 13% Tomatometer score on Rotten Tomatoes. Admittedly, there's only so much of a franchise one can build on from the straightforward action-movie premise of the first film. Critics lambasted the latter films for their formulaic storytelling, hackneyed and unoriginal plots, and choppily edited "shaky cam" action sequences. With the intention of delivering quick thrills and frills, the series does have a tendency to disregard many established plotlines and character arcs, leaving viewers with a lot of questions that are fairly obviously ignored. So let's use our "particular set of skills" and examine some of the franchise's biggest unanswered questions.
How did everybody forget about Amanda?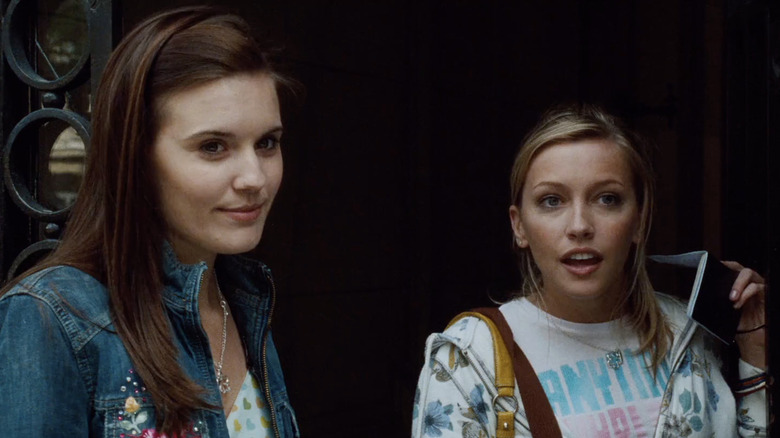 20th Century Fox
You might be scratching your head and wondering, "Who was Amanda?" Well, you're not at fault here, because by the end of the first movie, most of the main characters likewise appeared to have forgotten the character. Amanda (Katie Cassidy) was Kim's best friend who took Kim along on a tour through Europe and was shown to be a promiscuous young woman whose conversations largely revolved around sex and men (so much for passing the Bechdel test). Kim and Amanda are both kidnapped and sold into sexual slavery separately, since Kim is a virgin and Amanda isn't. Bryan finds Amanda dead, among several other corpses of sex slaves who were drugged with heroin.
From the moment the two were "taken," it appears that Bryan is only concerned about saving his daughter Kim, seeing Amanda only as a way to get closer to Kim. Amanda's death in the movie seems to have been included to raise the stakes of Bryan searching for Kim, instead of being a moment of tragedy and loss. Not to mention the rather messed-up implication that Amanda's promiscuity put her in danger and ultimately led to her death. Even after Kim is successfully rescued, Kim doesn't question Bryan about Amanda, nor does Bryan show any remorse for failing to save her. The movie swiftly ends on a happy note, with Kim beaming with delight upon meeting her popstar idol and appearing to have fully recovered from the entire horrific chain of events. This begs the question, were the two really good friends at all?
If you or anyone you know needs help with addiction issues, help is available. Visit the Substance Abuse and Mental Health Services Administration website or contact SAMHSA's National Helpline at 1-800-662-HELP (4357).
How did Bryan casually board a plane home at the end of Taken with the French government on his tail?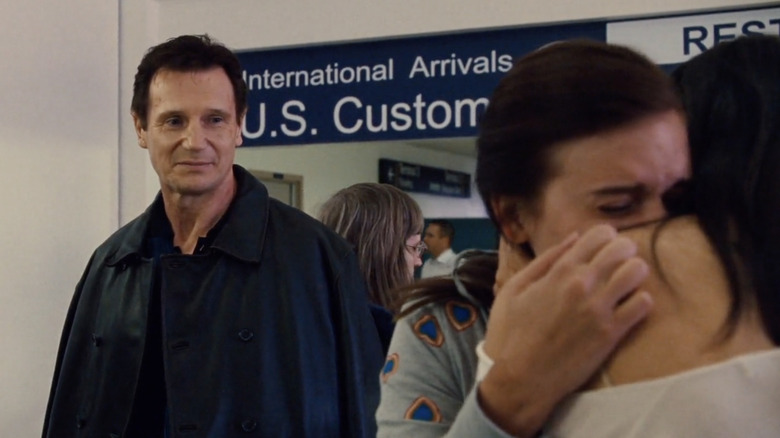 20th Century Fox
It's safe to say that Bryan's visit to Paris was neither a vacation for him nor a pleasant experience for French authorities. In the pursuit for his kidnapped daughter, Bryan laid waste to over two dozen people; caused massive property damage including an explosion at a construction yard and several vehicular collisions; and threatened an ex-DGSE agent-turned-National Police officer (Olivier Rabourdin) by shooting his wife (Camille Japy), all through the course of the movie. Bryan doesn't try to hide the lengths he will go to; instead, he tells Jean-Claude with the fierce intensity of a father trying to protect his child that he will "take down the Eiffel Tower" if necessary.
Thankfully, Bryan spares the Eiffel Tower but causes enough trouble in the city for officials to take notice. He evades Jean-Claude's attempts at arresting him, which was motivated not just by the havoc wreaked by Bryan, but also to try and cover up his own corruption and involvement with the Albanian sex trafficking ring. Their long-standing professional friendship comes to a bitter end when Bryan shoots Jean-Claude's innocent wife at his home after confronting Jean-Claude over his corruption. After all this, it goes without saying that the French authorities would double down on Bryan's tail and make sure the former CIA agent can't leave the country without getting apprehended. However, immediately after saving Kim, Bryan is shown nonchalantly returning home via the LAX airport as if he were any other civilian. It's possible that Bryan asked Sam (Leland Orser) to pull a few strings to free him from custody (like he does in "Taken 2"), but the movie's ending makes no mention of this.
Why does Kim seem so unaffected by the traumatic events from Taken?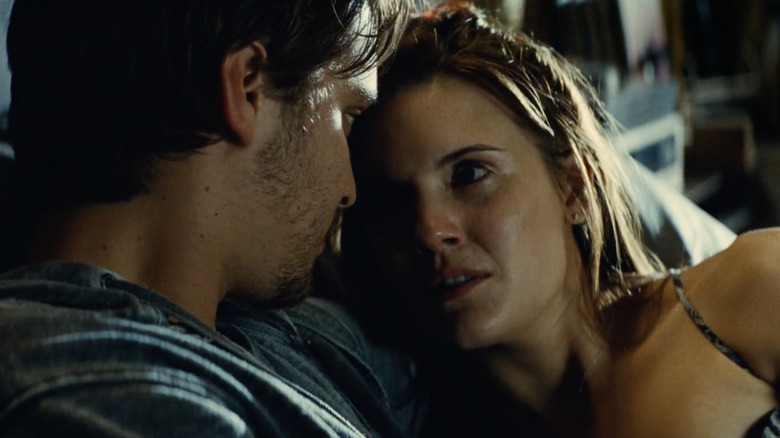 Without a doubt, Kim's trip to Paris wasn't the holiday she had hoped for. Her plans to tour Europe were derailed when she and her friend Amanda were kidnapped shortly after arriving in Paris. They were sold into sexual slavery, spent the majority of their time drugged, and were close to being sexually abused by a sheikh on the yacht at the film's end. These are undoubtedly very traumatic experiences for anyone to go through, especially for a 17-year-old girl.
However, we see in the sequel that Kim now has a boyfriend (Luke Grimes), whom she's shown to be making out with before being interrupted by her often overbearing father. While it's entirely appropriate for trauma survivors to date whenever they are ready to, it is important to note that Kim exhibits zero signs of post-traumatic stress disorder. Symptoms usually include anxiety, alertness, irritability, emotional avoidance, issues with intimacy and trust, and even flashbacks to the incident itself (per Mind).
Not to mention the fact that during the entire series, Kim never mentions her best friend Amanda by name or displays any emotion in response to learning of her drug overdose death. Honestly, did Kim ever even find out that Amanda had died?
If you or anyone you know needs help with addiction issues, help is available. Visit the Substance Abuse and Mental Health Services Administration website or contact SAMHSA's National Helpline at 1-800-662-HELP (4357).
What happened to Kim's singing aspirations?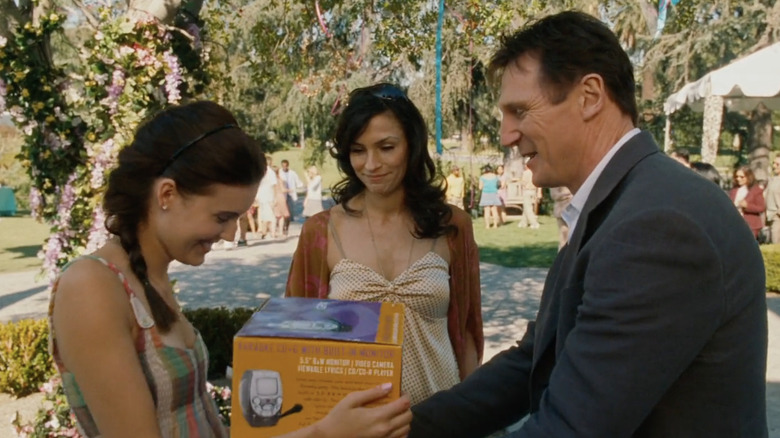 20th Century Fox
In "Taken," Bryan Mills is introduced as a loving father who can't seem to decide if a karaoke machine would be the perfect gift for his daughter's 17th birthday. He's a retired man who spends his spare time going through old family photos, desperate to reconnect with his daughter after his divorce from his ex-wife Lenore (Famke Janssen). He buys the karaoke machine hoping that it will win his daughter's affection, which unfortunately gets eclipsed by the pony that Kim's wealthy stepfather (Xander Berkeley) gifts her.
On a security job at a concert for pop star Sheerah (Holly Valance), Bryan approaches the singer for career advice for his daughter, since Kim is a big fan of Sheerah's. Bryan is initially rebuffed, but after saving her from being stabbed at the concert, the singer offers Bryan her manager's and vocal coach's numbers as a sign of gratitude. All of this serves as a setup to suggest the lengths that Bryan would go to for his daughter, especially after she gets abducted. At the end of the film, Bryan surprises Kim by introducing her to Sheerah, which suggests that Sheerah might take Kim under her wing and mentor her. Bryan, 1, soon-to-be-evil stepfather, 0.
That is, until this whole subplot is forgotten about in the sequel, replaced with a subplot focused on Kim's inability to pass a driver's ed test. What happened? Did she realize she's not as great a singer as she wanted to be? Singing was mentioned to be Kim's dream since childhood; however, the sequel makes no reference to it. Perhaps it wasn't so much a childhood fantasy as it was a clumsy attempt to give some kind of motivation to an otherwise flat character — who becomes the center of attention when she gets "taken."
Why are Istanbul authorities so nonchalant about the grenade explosions in the city?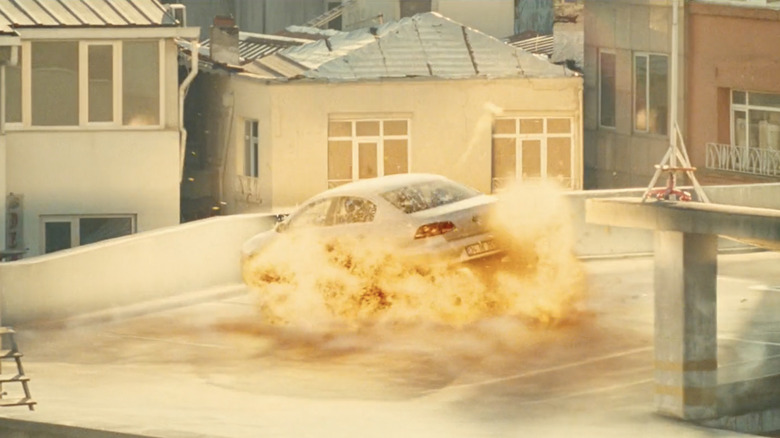 20th Century Fox
In "Taken 2," the roles have been reversed; Bryan and Lenore are now the ones who have been "taken," and Kim must save her parents. Bryan is quick to mentally record all of the sounds he hears outside the van in which he and Lenore are held hostage and transported to a hiding place as hostages, including the sounds of birds, bells, ship horns, and other vehicles, as well as each turn and speedbreaker the van goes through. Bryan calls Kim from the hideout using a phone he had hidden on his person, and Kim insists on helping Bryan in escaping captivity and rescuing Lenore. Bryan instructs her to triangulate three different locations in Istanbul where he might be detained using a map, some extra shoestrings, and some pins. Bryan directs his daughter to throw three grenades in three different directions, the sounds of which would help Bryan pinpoint his location within the city.
The logic, science, and math that Bryan employs to help his daughter locate his own whereabouts within Istanbul have raised concerns from many keen viewers, sparking several discussions on online message boards. The grenades' explosions are completely uncontrolled; one of them destroys a car parked on top of a parking structure, and another bursts open a water tank, violently splashing water on a cafe below. Despite the fact that the noises of these explosions are so loud that their echoes could be heard across the entire city, neither the police nor the fire department are shown to be looking into them. This is one unanswered question that stands out to viewers every time they rewatch the film, given the looming threat and fear of terrorist attacks in the 21st century.
How was Bryan allowed to walk away immediately after crashing the taxi into the US Embassy in Istanbul?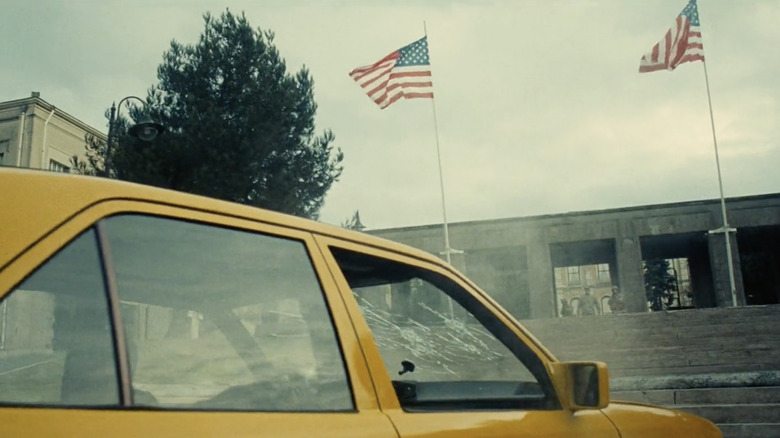 20th Century Fox
After escaping captivity, Bryan and Kim steal a taxi in order to escape the Albanian thugs who are chasing them through the streets of Istanbul. Kim, who was shown to struggle with passing a straightforward driver's ed test at the beginning of the movie, now controls the cab with the dexterity of a stunt driver, narrowly avoiding collisions and making quick evasive spins and maneuvers. How she managed that is a question for another time. The two eventually lose their tail and crash through the gates of the American Embassy, stopping the automobile on the embassy grounds while ducking to avoid being shot at by the American soldiers.
Bryan calls Sam, his tech-savvy buddy and former CIA colleague, and asks him to make some calls to ensure that no one at the embassy shoots at him or Kim. Bryan tells Kim that he's leaving her at the embassy, where she'll be safe, to go back and rescue Lenore. The scene cuts to him making his way to save Lenore, as though he'd immediately walked out of the embassy with no problem. Even if Sam was able to pull the right strings, the embassy officials surely would detain Bryan to answer for the damage wrought at the embassy gates — which itself was unnecessary since the thugs that were chasing him had long lost his tail. Better yet, why doesn't Bryan get any support or backup from the American soldiers stationed there to help him rescue his wife? Surely once he'd explained the whole situation, being a retired CIA agent and having many friends in high places, he would get help from the embassy, eager to ensure the safety of an American citizen held hostage in the city.
Why is Stuart a completely different person in Taken 3 compared to Taken 1?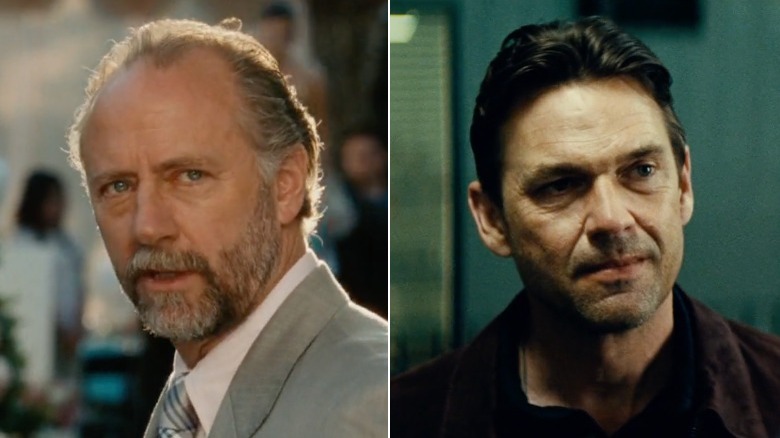 20th Century Fox
In the first "Taken" film, Stuart comes across as an affluent family man who genuinely cares about his wife Lenore and stepdaughter Kim, gifting the latter a pony for her birthday. Going against the usual evil stepparent trope, Stuart is shown to be capable of rising above the petty differences between him and his wife's ex-husband, Bryan, when the situation calls for it. When Kim is kidnapped, Stuart promptly makes arrangements for whatever it is that Bryan needs that could be covered by his deep pockets.
The Stuart we see in "Taken 3" is a complete contrast of a character. In addition to the obvious casting change — from Xander Berkeley to Dougray Scott — the character's age was reduced by several years, something that the filmmakers didn't even attempt to cover up by using makeup to match the actor from the previous movie or hiring someone who was a comparable age. The character also behaves much differently, having now adopted the evil-stepparent archetype and transformed into a crafty, Machiavellian manipulator willing to kill his wife and frame her ex-husband to further his business and make money. And it's not like the film even tries to explain how or why the character came to be this way.
Perhaps his ambition to succeed in business had gotten the better hold of him, pushing him to the point where he's forced to murder and betray his ex-family wife's against his will? Nope, the film instead gives the impression that the character has always been like way in the hopes that we will only remember the name Stuart and the fact that he was Lenore's husband from the first movie.
Is Bryan retired for good at the end of Taken 3?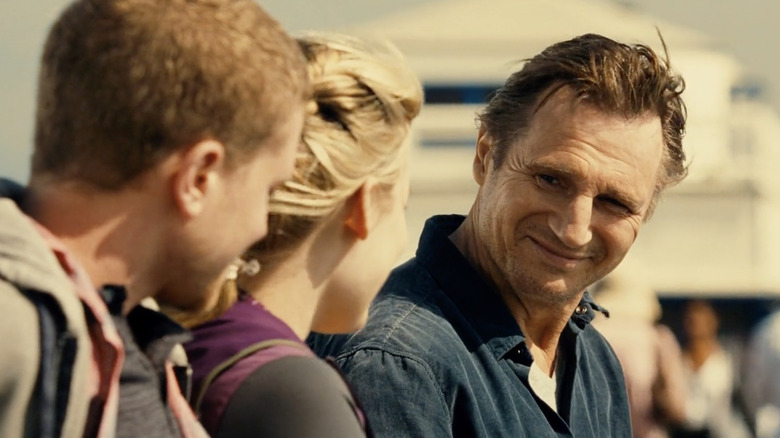 20th Century Fox
"Taken 3" was promoted as the end of the trilogy, with a promotional tagline that, as with the majority of concluding movies in other franchises, generically reads "It Ends Here." Liam Neeson only agreed to a third movie on a few conditions (one being that no one should be taken anymore, and a $20 million paycheck), and the actor made it very clear on "The Late Show with Stephen Colbert" in 2016 that there won't be a fourth installment to the franchise. "There's only so many times your daughter can be taken," Neeson said, adding a humorous comment, "Actually if we do have another it will be, 'Please, would you take my daughter?'"
Even though the third film was financially successful, raking in over $327 million worldwide, its box office take was lower than that of the second movie, which brought in over $377 million. That's typically an indicator that the franchise's fan base is losing interest, meaning that any additional sequels would only provide decreasing profits. Not to mention Neeson's hefty paycheque, which was reported to be $20 million for "Taken 3" (nearly half of the $48 million budget of the film), and would only increase for any subsequent films.
Additionally, Neeson celebrated his 70th birthday in 2022, which makes it even more unlikely that he'd be willing to return, given that the role had been quite physically demanding on him. Still, it'd be pretty cool to see a 70-year-old Bryan Mills come out of retirement to rescue another family member who gets "taken" — perhaps his grandchild, with whom Kim was pregnant in the third film?
Is the TV series canon to the movies?
A "Taken" prequel TV series was ordered by NBC in 2015, with "Taken" franchise producer Luc Besson returning (via Deadline). The show, which debuted in 2017, depicts the story of a young Bryan Mills, who is recruited by the CIA after the death of his sister. Bryan Mills is portrayed by Clive Standen in the series, joined by Jennifer Beals as Christina Hart, the Special Deputy Director of National Intelligence who takes notice of Mills' "particular set of skills." Contrary to what the premise would imply, the show doesn't follow a younger version of Liam Neeson's character set a few decades before the events of the movies. The TV series is set in the modern day (most likely to save on the costs it would take to replicate a past era), and the only similarity between Neeson's and Standen's iterations of the character is the name and his CIA profession.
With most of the "Taken" elements taken out, especially Neeson, the show consistently struggled with its declining ratings and poor critical reception. NBC had nonetheless picked up the series for a second season, drastically overhauling the ensemble cast, leaving only Standen and Beals, with a new showrunner (via TVLine). After repeated struggles with viewership ratings, NBC pulled the show from its primetime Friday 9 p.m. slot, before ultimately canceling the show midway through the season run in 2018.