Black Panther Passes $1 Billion At The Box Office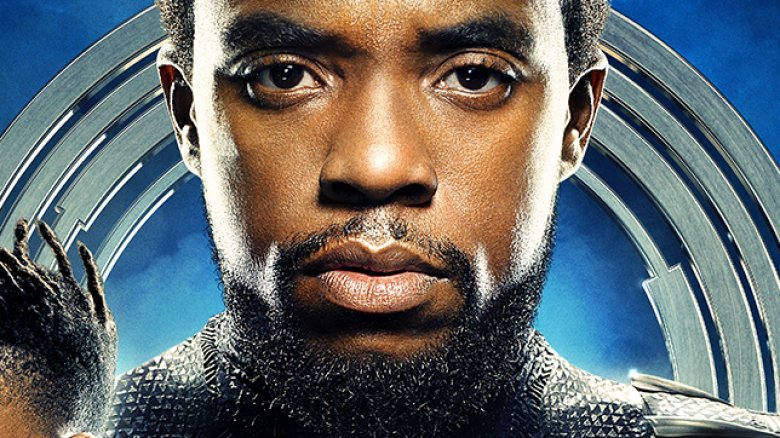 T'Challa isn't just the king of Wakanda. He's the king of the box office, too. 
Black Panther has just done what only four other Marvel Studios films have: passed $1 billion at the global box office. And it only took the film, which stars Chadwick Boseman as the titular Black Panther/T'Challa, 26 days to get there. Black Panther now joins Captain America: Civil War, Iron Man 3, The Avengers, and Avengers: Age of Ultron in the billion-dollars-earned club. It's also the 16th Walt Disney movie and 33rd film ever to take home that much cash worldwide. 
As of Saturday, March 10, Black Panther has earned $521 million stateside, making it the ninth-best release ever. The film is expected to beat out director Christopher Nolan's The Dark Knight, which grossed $534.8 million domestically and just over $1 billion internationally, and become the second highest-grossing superhero movie of all time by the end of the day on Sunday. Across the globe, Black Panther will claw its way past the $500 million mark following its Chinese release on Friday, March 9, when it opened to an estimated $22 million. 
Such a performance this weekend would grant Black Panther the third-highest fourth weekend in history, snatching the record away from The Avengers, which took in $36.7 million in its fourth weekend out. Holding the first and second place spots are Avatar ($50.3 million) and Star Wars: The Force Awakens ($42.4 million). 
Considering how well Black Panther has performed, it seems inevitable that Marvel will revisit the technologically advanced African nation of Wakanda for a sequel flick. Marvel Studios President Kevin Feige revealed earlier this week that the studio "absolutely will" make a second Black Panther and that the team already has a "solid direction" for it.
He stated, "One of the favorite pastimes at Marvel Studios is sitting around on a Part One and talking and dreaming about what we would do in a Part Two. There have been plenty of those conversations as we were putting together the first Black Panther. We have ideas and a pretty solid direction on where we want to head with the second one."
Feige then added, "As Panther has so loudly declared, [representation] can only help you, can only help you tell unique stories, can only help you do things in a new, and unique, and fresh, and exciting way. If you do that, audiences will notice it, and appreciate it, and support it."
Directed by Ryan Coogler, Black Panther stars Michael B. Jordan, Letitia Wright, Danai Gurira, Lupita Nyong'o, Angela Bassett, Daniel Kaluuya, Forest Whitaker, Winston Duke, Andy Serkis, and Martin Freeman.