What Has Andrew Burlinson Been Doing Since Parks And Recreation Ended?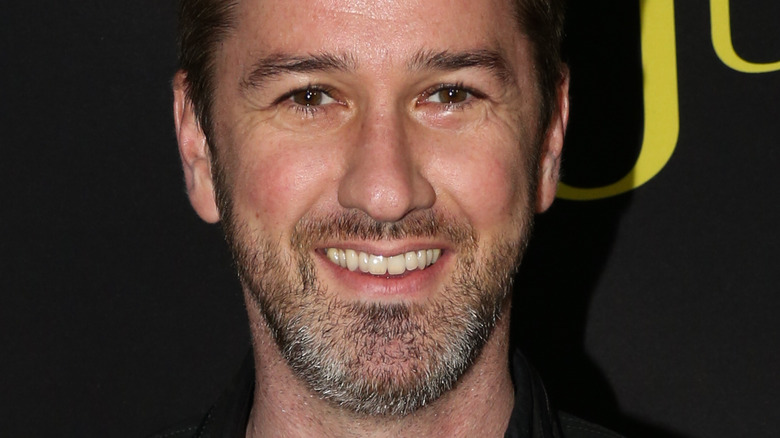 Paul Archuleta/Getty Images
During its seven-season run on NBC, the workplace comedy "Parks and Recreation" was regarded among the funniest shows on the air. An absolutely stacked collection of talent behind the camera was largely responsible for that, but there's little question the series' equally stacked ensemble cast made every knee-slapping folly, crackling one-liner, and piercing camera spike pay off in spades. 
The series is, of course, well known for helping launch the careers of current stars like Aubrey Plaza, Chris Pratt, Rashida Jones, and Adam Scott. It also fronted an incredible crew of special guest stars, as well as an impressive cast of supporting players. A regular fixture in that crew of supporting players was one Andrew Burlinson, who portrayed Mouse Rat guitarist, and Rat Mouse frontman "Burly" in 15 episodes of "Parks and Recreation" over the show's tenure. Burlinson made his first "Parks and Recreation" appearance during the show's 1st season and indeed turned up in every one of the six that followed.
Burlinson's last appearance on the show came, appropriately, alongside his Mouse Rat bandmates in the final season episode dedicated to the end of Andy Dywer's (Pratt) celebrated children's show. Here's what Andrew Burlinson has been up to since "Parks and Recreation" ended.
Burlinson has played small roles in a few major projects since his Mouse Rat days
According to Andrew Burlinson's IMDb page, he's worn many hats throughout his career and even spent a few years performing with the famed Blue Man Group. Not surprisingly, Burlinson also has a musical background, so his stint playing a would-be rock star on "Parks and Recreation" clearly wasn't too much of a stretch.
Prior to that series' ending, Burlinson made a couple of other notable small-screen appearances in lauded series "Criminal Minds" and "Silicon Valley." Not surprisingly, he's kept himself busy in front of and behind the camera since his final "Parks and Rec" appearance. In fact, in 2015 alone the multi-talented performer wrote, directed, and starred in a pair of award-winning short films titled "Knights of the Long Table" and "The Serenader." That same year, Burlinson also made a one-off appearance in Hulu's beloved, but criminally overlooked dramedy series "Casual."
Burlinson booked a recurring gig as doting dad Scott Quinn in Amazon Prime's fantasy series "Just Add Magic" in 2016, and a couple of years later, made a memorable appearance on the cult-hit comedy series "Brooklyn Nine-Nine." In 2019, Burlinson landed one of his biggest roles to date, playing a Ford Motors Executive in the star-studded Oscar-nominated drama "Ford v Ferrari." As has been the case throughout his career, Burlinson has been a regular in the commercial arena (per iSpotTv) and even shared the screen with Jason Bateman in the actor's 2019 Super Bowl ad for Hyundai.