David Eigenberg Describes The Chicago Fire Cast's Family Dynamic As A 'Ball Of Magic'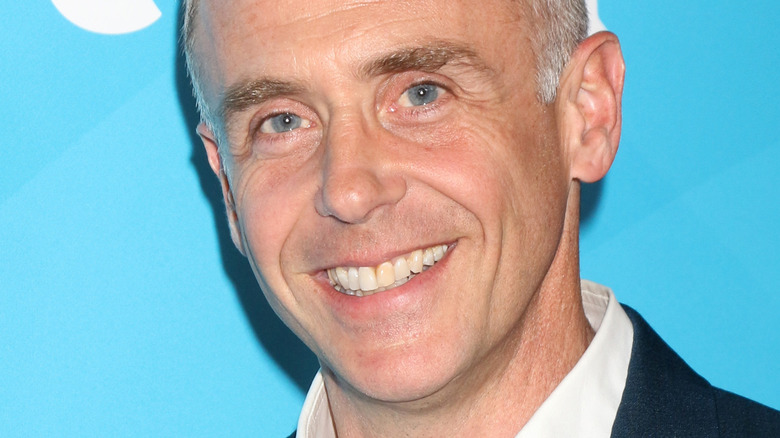 Kathy Hutchins/Shutterstock
The One Chicago founding franchise "Chicago Fire" draws loyal Chi-Hards back week after week with a time-tested formula of white-hot first responder action and addictively engaging, often emotional, drama. One character whose own individual highs and lows have figured prominently on the show over its 11-season run on NBC is veteran firefighter Christopher Herrmann, portrayed by David Eigenberg.
A fan favorite who's appeared in over 220 episodes, Eigenberg's folksy, warm-hearted Herrmann has also made the jump to "Chicago Fire" sister shows during crossover events, appearing in 14 episodes of "Chicago P.D." and 12 installments of "Chicago Med" (via IMDb). But it's on "Chicago Fire" that Eigenberg truly makes his mark with dedicated fans of all three One Chicago series, portraying Herrmann with a mix of approachable earnestness and selfless courage in the line of duty. In addition to these admirable traits, Herrmann's basic, relatable humanity is regularly on display as he shows his "serial entrepreneur" side attempting a variety of side hustles from a not-so-successful limo service to buying into co-ownership of his colleagues' go-to after-work watering hole, Molly's bar. With his long service on a series powered by the interpersonal dynamics of the show's ensemble cast, it's hardly surprising that Eigenberg has strong opinions when it comes to talking about his "Chicago Fire" family.
Eigenberg says the One Chicago marketing tagline is an on-set reality on Chicago Fire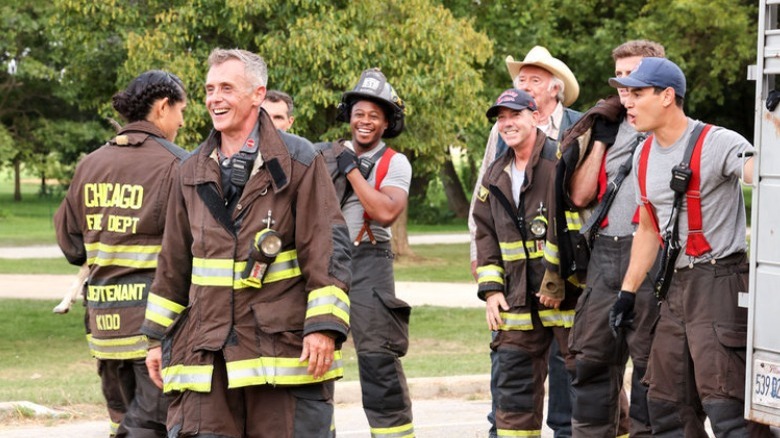 George Burns Jr/NBC
Fans of producer Dick Wolf's One Chicago-verse are likely familiar with the franchise's format for promoting upcoming seasons and episodes of "Chicago Fire," "Chicago P.D.," and "Chicago Med." Combining highlights from the One Chicago trio of shows, the series' promotional trailers conclude with the phrase: "One city. One family. One Chicago."
It's exactly this sense of connection that David Eigenberg invokes to express his feelings about the series during an interview with Stage Right Secrets, discussing the show's landmark 200th episode. "The thing about the advertising, about you know, 'One Family,' that comes from this show. That's what this show came out of," he explained. He then goes on to recall that Eamonn Walker's Battalion Chief Wallace Boden has been known to refer to the Firehouse 51 squad on "Chicago Fire" as a supportive family unit. And for Eigenberg, "That [familial] thing, it's like a ball of, like, magic, and it comes out of that, and we are very much like a family here." Like many families, the actor also notes, "We love really hard. We fight reasonably. And we've never had a better time doing 200 [episodes]."