Comedy Central Sets A Star-Studded Rotation Of Guest Hosts For The Daily Show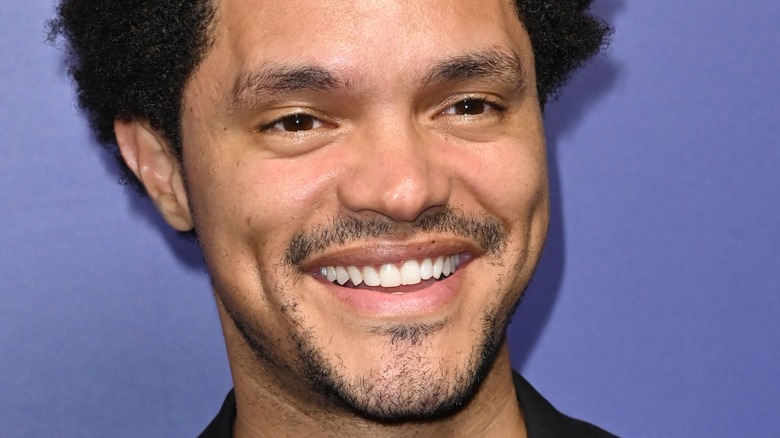 Featureflash Photo Agency/Shutterstock
Fans of "The Daily Show" have been living through a strange time right now. The long-running series is going through another change as its current host, Trevor Noah, is stepping down imminently. And fans are curious to know who might take over.
Noah announced his retirement from the show on the September 29 episode in a heartfelt speech, shocking his audience. "I realized that after the seven years, my time is up," he said, "but in the most beautiful way. Honestly, I've loved hosting the show. It's been one of my greatest challenges. It's been one of my greatest joys." Noah's final taping with the series airs Thursday, December 8.
Noah's last show will be followed by a long hiatus until January 17, 2023. Fans have been waiting to learn who will replace Noah. There had been talk of pulling from the current roster of "Daily Show" correspondents (Desi Lydic! Jordan Klepper!). And Roy Wood Jr. told The Daily Beast he'd "have to consider" it because "You can't say no to an opportunity like that." But while there has been no official announcement, it appears they'll be taking a testing approach: Comedy Central announced on December 6, per The Hollywood Reporter, that there will be a whole series of guest hosts seated in the chair come the new year.
Lots of stars will be testing out the hosting chair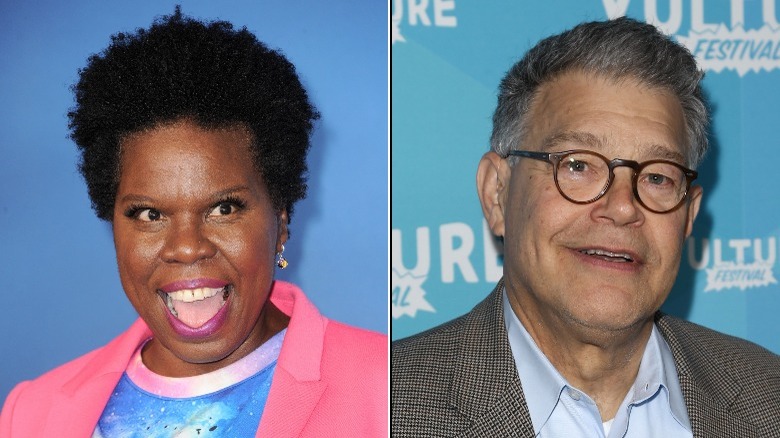 Tinseltown & Debby Wong/Shutterstock
Comedy Central has named at least 10 guest stars — so far — who will test out the hosting seat, in addition to the several regular players who currently make up "The Daily Show" correspondents. Per the Hollywood Reporter, the list of guests includes former SNL stars Al Franken (also a former senator), Sarah Silverman, and Leslie Jones; comic actors D.L. Hughley, Marlon Wayans, John Leguizamo, and Kal Penn, who also had experience with a talk show; former late-night hosts Chelsea Handler and Wanda Sykes, and a former "TDS" contributor, Hasan Minhaj, who created Netflix's "Patriot Act." Whether doing an evening or a full-week stint, all are scheduled to guest host the show in 2023, starting with Jones on January 17, 2023. The show's current correspondents and contributors will also sit at the desk, including Desi Lydic, Michael Kosta, Ronny Chieng, Roy Wood Jr., Dulcé Sloan, Lewis Black, and Jordan Klepper (who really deserves his own show again).
Though many stars were selected to sit behind the fake-news desk, they have varying degrees of interest in the job — and we're not necessarily meant to see them as new hosts. "This is an opportunity to test different models and formats," Paramount CEO Chris McCarthy told Vulture. Showrunner Jen Flanz added, "I'm excited to see people that may not ever want to sit at the desk four nights a week for years but are interested in doing it for a week and hearing their point of view." And the slate of potential guest hosts is likely to grow over the next year.
The Daily Show is not only experimenting with hosts
It's likely that we won't see a new host announcement for "The Daily Show" for some time. Not only is the show experimenting with a rotation of possible hosts, but they'll be experimenting with the format of the series itself.
"We're wide open to really any number of ideas," Paramount CEO Chris McCarthy told Vulture, considering several potential new formats. "I think it has to be creatively driven, and it has to be talent first." While the series has so far used a single-anchor format, it may not moving forward, as McCarthy and showrunner Jen Flanz — who has been with the show 24 years so far — are considering co-anchors or even several co-hosts. "Some of my favorite pieces we've ever done on this show are when the correspondents interact with each other," Flanz said. "I think there's something to be said for having a conversation rather than just one person telling you things."
They are looking to reinvent the show over the next year with input from its current correspondents and contributors. "I think each one of them has ideas about how to evolve the show, what it might look like," McCarthy said. "And we want to give them the opportunity to test out those ideas." McCarthy and Flanz expect to relaunch the show in September 2023, giving it a full year to get acclimated before the next presidential election. So fans have a long wait to find out what the post-Noah "Daily Show" will look like.