The Nightmare Before Christmas Deleted Scene That Would've Changed Oogie Boogie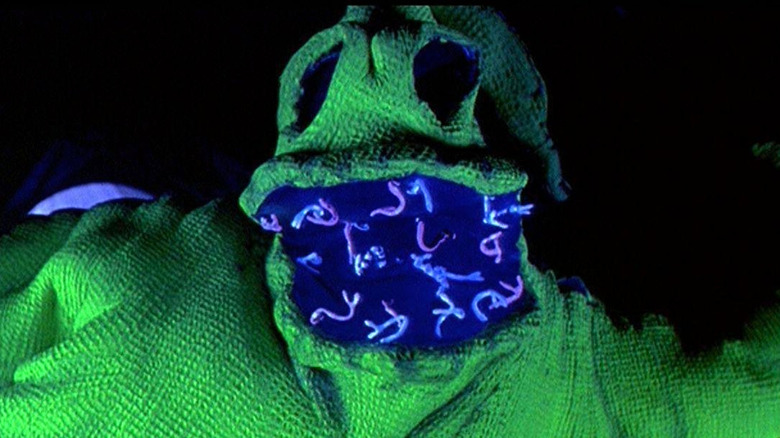 Buena Vista Pictures Distribution
For every holiday, a perfectly matched TV special or movie has become a tradition to have on the TV at home, whether it's just for a nostalgic peek or simply for background ambiance. For Halloween, it may be "Hocus Pocus" or "It's the Great Pumpkin Charlie Brown," while Christmas may inspire a watching of "Miracle on 34th Street" or "A Christmas Story." But, there's one annual movie that finds its way back onto TV screens during not only Halloween but Christmas as well. This anomaly, of course, is the 1993 Tim Burton stop-motion animated classic, "The Nightmare Before Christmas."
As evident today, the movie won the hearts of many and has become a permanent multi-holiday staple every year. The story follows the main character, Jack Skellington (Chris Saradon/Danny Elfman), the most prominent figure in Halloween Town, where its citizens' purpose, all year round, is to prepare for every October 31st. Jack's obsession with finding a different meaning in life brings him to Christmas Town before an eventual confrontation with the film's antagonist, Oogie Boogie (Ken Page). However, many fans don't know that this well-known ending almost included a twist. 
Plenty of fans are sure to know every beat to "The Nightmare Before Christmas." Still, many are unaware of the three painstaking years it took the studio to create those adored moments. And, like any other theatrical process, ideas were developed and dropped throughout the production. One of these ideas, if not turned down, would've changed the ending of the movie, specifically the fate of the burlap, bug-filled villain.
Oogie Boogie was almost another character in disguise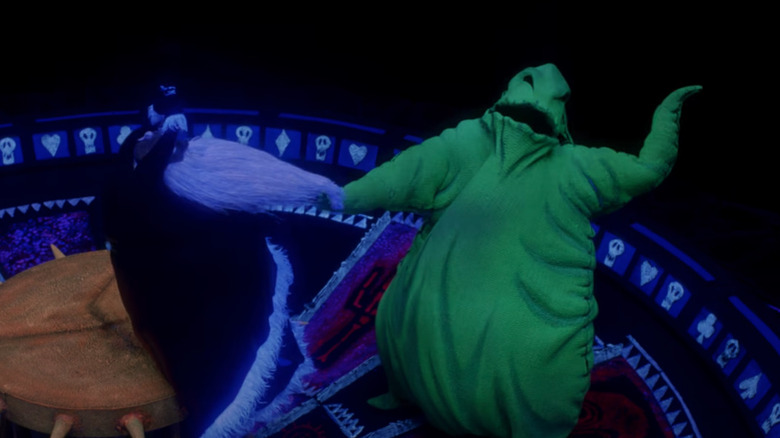 Buena Vista Pictures Distribution
At the end of Tim Burton's "The Nightmare Before Christmas," the film's villain, Oogie Boogie, holds Sally (Catherine O'Hara) hostage in his underground lair. Jack arrives to save the day, defeating Oogie Boogie by unraveling his burlap-sack body and releasing the bugs which made up his insides. However, Dread Central reports that during the Netflix special, "The Movies That Made Us," director Henry Selick explains that he wasn't fond of that ending at first, so he considered changing it. "I came up with this idea that Oogie Boogie was actually the evil scientist inside of him," he revealed. The scientist Selick is referring to Sally's creator, Dr. Finkelstein (William Hickey). 
This finale did not sit well with Burton, who stormed into the studio, entourage in tow. Selick remembers that day well. Regarding Tim's reaction to the new ending, Selick said, "Oh, he just hated it. He hated it so much!" In fact, Burton disliked the idea to the point where he actually kicked a hole in the office wall. According to Writer Caroline Thompson, Burton started yelling and even attempted to vent his frustrations on a nearby editing machine.
In the end, the alternate conclusion unravels just like Oogie Boogie did. However, the final product still plays on screens worldwide throughout multiple holiday seasons, so Burton's opinion might've been the right call after all. As for Dr. Finkelstein, he forever lives in Halloween Town, narrowly avoiding this alternate destiny.