Young Sheldon Star Iain Armitage Gifted Jim Parsons An Ant Farm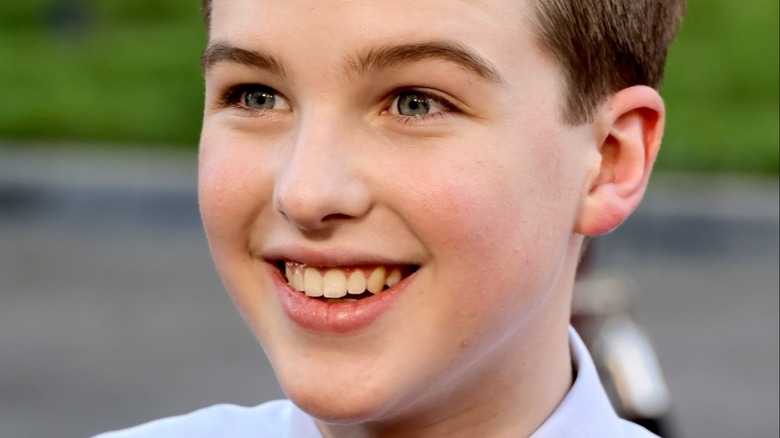 Kevin Winter/Getty Images
"Young Sheldon," a show that follows the childhood of "Big Bang Theory" character Sheldon Cooper, an intellectual prodigy growing up in a regular family, has been well received ever since its debut in 2017. While the two actors who play Sheldon Cooper (Jim Parsons in "The Big Bang Theory," Iain Armitage in "Young Sheldon") can't be in scenes together, fans have been able to see them interact in promotional content and interviews that took place before the spin-off series premiered.
In an interview with Build, Armitage discussed how helpful Jim Parsons was in helping him understand Sheldon Cooper's voice and mannerisms. The early stages of "Young Sheldon" required quite a bit of collaboration, but it's paid off. Audiences have been able to see Armitage grow further and further into the role as the years have gone on, and it wouldn't be possible without his predecessor, Parsons, to guide him in the right direction.
The chemistry between the two actors, who enjoy and respect the work the other does, can't be denied. In fact, Mister Jim, as Armitage refers to his counterpart, and Armitage spent quite a lot of time together in the beginning to promote the show. And while Armitage has thoroughly enjoyed the opportunity to work with Parsons, Parsons has likewise shared appreciation for his young co-star.
Parsons and Armitage are two peas in a pod
In an interview with James Corden on his "Late Late Show," Jim Parsons talked about Iain Armitage's personality, noting his great positivity as well as one of his stronger characteristics: "He's a big gift giver. ... I got an ant farm." Though Parsons was unsuccessful in keeping the gifted ant colony alive, he appreciated the gesture from his character's younger counterpart. An ant farm certainly is a present that Sheldon Cooper would enjoy, no?
It's amazing to see two actors come together to put so much heart and soul into one character. In fact, the pair seems to be two peas in a pod — and they certainly would have to be to emulate such an influential character as Sheldon Cooper, no matter his age — while fans love the early years of "The Big Bang Theory," they seem to appreciate Sheldon Cooper's origin story and its star just as much as Parsons.
Unfortunately, the two Sheldon actors have not been able to spend as much time together as in years past, with Jim Parsons busy with his post-"Big Bang" career. However, fans can see this sweet capture from October 2022 on Armitage's Twitter and rest assured that the two Sheldons are still as close as ever.