Thomas Lennon Got His Start With $240 Worth Of Pudding On The State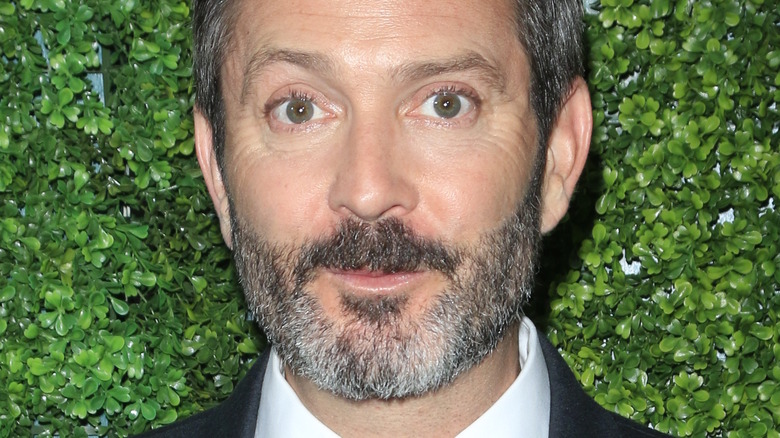 Kathy Hutchins/Shutterstock
Thomas Lennon is the comedian and character actor who fans may best recognize as Lieutenant Dangle from Comedy Central's "Reno 911." Lennon, who voices Teddy in "Night At The Museum: Kahmunrah Rises Again," first broke out as part of a comedy troupe known as "The State," which would go on to receive its own show from MTV in 1994. "The State" ran for four seasons on the network, and while initial reviews were mixed (via Entertainment Weekly), it has gone on to become a stone-cold cult classic series. It was even rated number 16 on Rolling Stone's 40 Greatest Sketch-Comedy TV Shows of All Time list.
The show helped usher in the careers of comedy legends such as Lennon, Kerri Kenney-Silver, Ken Marino, Joe Lo Truglio, Michael Showalter, David Wain, and Michael Ian Black, among others. One sketch from the series, featuring Lennon, Black, and an enormous stage full of pudding, is often fondly remembered as one of the best sketches the group brought to fruition. It helped bring their absurdist streak into pop culture and was a start for Lennon and Black on their journey to stardom.
The $240 Worth of Pudding sketch marked The State's penchant for absurdist humor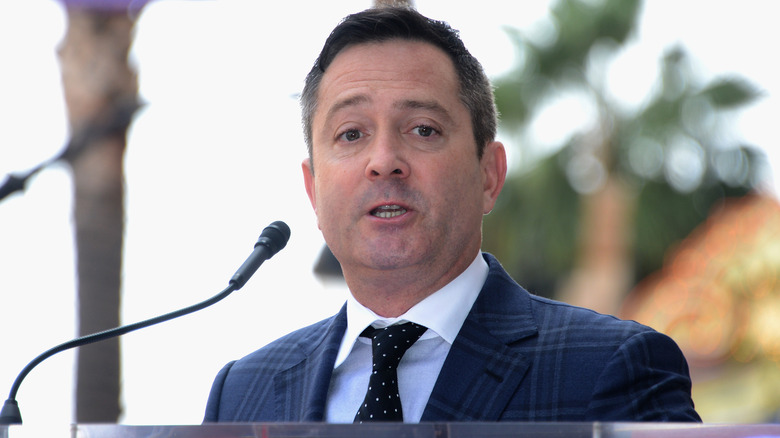 Albert L. Ortega/Getty Images
One of the most famous sketches to come out of "The State" was a two-minute sketch that featured Thomas Lennon and Michael Ian Black dancing around a massive pile of pudding. With voices like old 70s R&B singers, Lennon and Black played Barry and LeVon as they touted their "$240 Worth of Pudding" as they sat upon a disgusting mound of pudding. The simple sketch marked the group's penchant for absurdist humor, and it appeared early on in the show's history, debuting in the fourth episode of the show's first season.
According to an interview with "The State" members Michael Ian Black, Michael Showalter, and David Wain in the ArtsBeat New York Times Blog, Black said that it was Lennon who originally conceived of the sketch. He wasn't sure where the sketch was going, but once Black and Lennon started riffing together, Barry and LeVon were born. Showalter described the characters, "They're sort of like Barry White. They're sexy soul crooners, speaking an homage to this enormous pile of vanilla pudding that they have on the floor in front of them." Barry and LeVon would go on to appear in a few more sketches for the comedy troupe.
The mountain of pudding on screen was definitely worth more than $240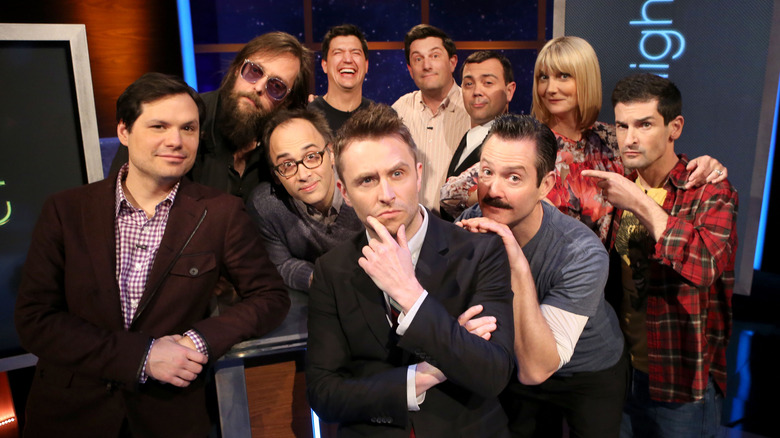 Jesse Grant/Getty Images
David Wain said that the idea Thomas Lennon and Michael Ian Black pitched to him is very close to the actual sketch that ended up being filmed. The mountain of pudding was created by covering a Styrofoam dome with pudding, which Wain claimed cost them "definitely more than $240" (via The New York Times). He went on to say the pudding monstrosity that they created was "the funniest thing we ever saw."
Black noted that they created the sketch when MTV was pushing "The State" to be more like "Saturday Night Live" and have more topical sketches. The sketch, however, turned out to be the opposite of that. Black said, "It certainly wasn't the first sketch that started taking us in a more absurdist direction, but it was the most successful. It helped open the floodgates for 'The State' to really embrace its own uniqueness in Seasons 2 and 3."
Many of the cast members of "The State" would go on to continue to work together in shows and movies like "Reno 911" and "Wet Hot American Summer," but they'll never forget that they got their start with the pioneering MTV show. The complete series of "The State" is available to watch on Apple TV+ now.