John Krasinski's Daughter Had A Hilarious Reaction To Seeing Her Father Play Jim On The Office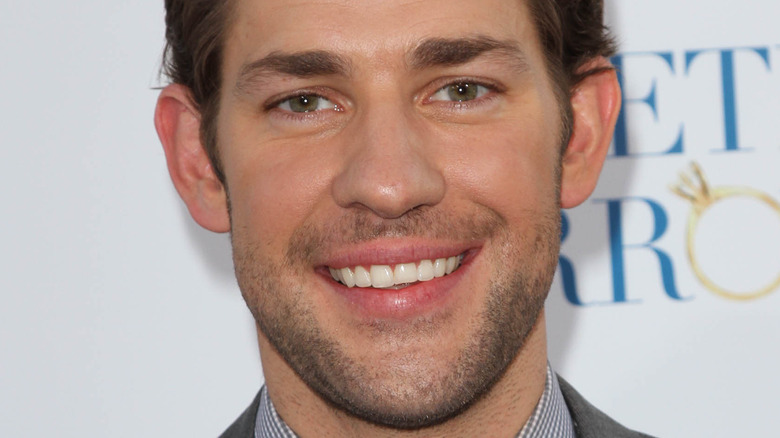 s_bukley/Shutterstock
The NBC sitcom "The Office" has yielded a number of stars from its ensemble cast over the course of its nine-season run. The show's popularity has meant that nearly all of the core performers have become instantly recognizable names, from Rainn Wilson to Mindy Kaling to Ed Helms.
One of the biggest breakout stars from the show is John Krasinski. While he still may be known best for playing Jim Halpert on the show, Krasinski went on to star in the Michael Bay film "13 Hours" and the Kathryn Bigelow film "Detroit," before taking on the titular role in the Amazon Prime series "Tom Clancy's Jack Ryan." Krasinski also developed a reputation as a horror director, thanks to his work on the film "A Quiet Place" and its sequel, "A Quiet Place Part II," both of which also starred Emily Blunt, who is married to Krasinski in real life.
The couple has two daughters together, and in a recent interview, Krasinski revealed that his younger daughter had a hilarious reaction to seeing him on "The Office."
Krasinski's daughter was adamant that he wasn't Jim
In an interview on "The Late Show with Stephen Colbert," John Krasinski was asked if his children had seen "The Office."
He responded that they had just begun watching it, after inquiring about the show unprompted. His six-year-old daughter, the younger of the two, had an amusing reaction, however, to watching Krasinski play Jim Halpert. At first, she insisted that Krasinski looked very different, but after a while, she was dismissive of the idea that Krasinski did, in fact, play Jim, saying "That's not you," when Krasinski reiterated that he was playing the character. In subsequent episodes, she conceded that Jim looked a lot like Krasinski, but maintained that it wasn't Krasinski.
Krasinski added that while his children knew their mother, Emily Blunt, is an actress, they didn't know Krasinski is also an actor. Instead, they thought he worked in an actual office. He revealed that the mix-up happened when Krasinski was approached by a fan while out with his kids, who greeted him by asking "John! From 'The Office!' " This led his daughters to ask if he works with the man, but they accused him of lying when he denied doing so, as he had said he knew Krasinski from the office.