Go Behind The Scenes Of Mission: Impossible - Fallout In These New Photos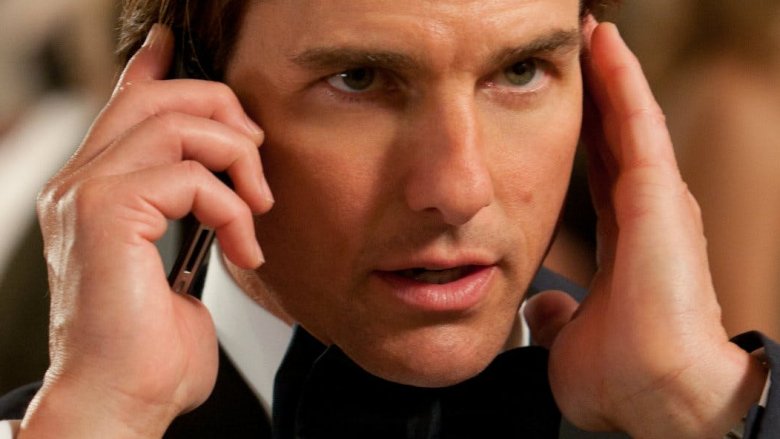 The equation "Tom Cruise plus new Mission: Impossible movie" has historically resulted in "jumping out of a plane, shooting in locations where safety is questionable at best, and defying death in wild stunts." Mission: Impossible — Fallout yields the same outcome, as further evidenced by new behind-the-scenes photos from the upcoming movie. 
Writer-director Christopher McQuarrie shared two exclusive snaps from the set of Mission: Impossible – Fallout to the film's official Twitter account on Wednesday evening. The first pic features Cruise and McQuarrie wearing chemical respirator masks, sitting in the back of a plane that's glowing with a neon red light. "Remember, kids. We are professionals. Don't try this at home," the caption from McQuarrie reads. The second reveals what exactly the filmmaker was referring to when he said "this," as it shows Cruise leaping out of the plane to the ground below. Cruise cheekily captioned that snap, "Dropping in. Summer '18."
Take a peek at both new photos below.
Joining Cruise as Ethan Hunt for Mission: Impossible – Fallout are Rebecca Ferguson as Ilsa Faust, Ving Rhames as Luther Stickell, Simon Pegg as Benjamin "Benji" Dunn, Michelle Monaghan as Julia Meade-Hunt, Alec Baldwin as Secretary Alan Hunley, Sean Harris as Solomon Lane, and Henry Cavill as August Walke. Angela Bassett, Vanessa Kirby, Sian Brooke, Frederick Schmidt, and Wes Bentley round out the cast.
Here's the official plot synopsis for the film: "The best intentions often come back to haunt you. Mission: Impossible – Fallout finds Ethan Hunt (Tom Cruise) and his IMF team (Alec Baldwin, Simon Pegg, Ving Rhames) along with some familiar allies (Rebecca Ferguson, Michelle Monaghan) in a race against time after a mission gone wrong. Henry Cavill, Angela Bassett, and Vanessa Kirby also join the dynamic cast with filmmaker Christopher McQuarrie returning to the helm."
Mission: Impossible – Fallout will fall into theaters on July 27.
"Remember, kids. We are professionals. Don't try this at home..." – @chrismcquarrie #MissionImpossible pic.twitter.com/yhH8Zbkmss

— Mission: Impossible (@MissionFilm) March 7, 2018
"Dropping in. Summer '18" – @TomCruise #MissionImpossible pic.twitter.com/ecNHflzbBD

— Mission: Impossible (@MissionFilm) March 7, 2018