Tom Cruise Reveals Official Title Of Mission: Impossible 6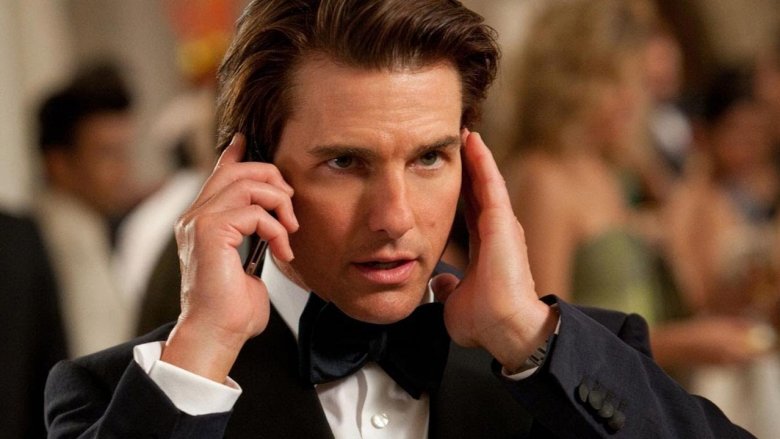 The mission has a name.
Tom Cruise, a filmmaker, 55-year-old man, and world-class sprinter, is currently hard at work destroying his body for the sake of your entertainment on the set of the sixth Mission: Impossible movie. Although the actor's multiple on-set injuries did necessitate in a two-month delay in the movie's production, we're pleased to report that everything else about the project appears to be going rather swimmingly, with the movie remaining on track for its summer release. Even better, Cruise recently took a break from all of the destructive plyometrics to share a new, important tidbit about the upcoming adventure from Paramount Pictures: its title.
Cruise took to Instagram first thing this morning to post a film slate from the movie's set to his followers, revealing the title of the new M:I movie to be Mission: Impossible — Fallout. "Get ready," the actor wrote.
Little is currently known about the plot of Mission: Impossible — Fallout. The movie is being directed by Christopher McQuarrie, who previously worked with Cruise on Jack Reacher and Mission: Impossible — Rogue Nation, making him the first director in the franchise to return to the series for a second time. 
In reporting on the title reveal, Entertainment Weekly predicted that the movie will follow up on the events of the previous film in the series, dealing with the aftermath of the emergence of the villainous Syndicate — or the fallout, hence the title. Personally, our money's on a nuclear proliferation plot. We wouldn't know anything about that, though — it's fair to say these movies are all about the setpieces, not the story. 
Oh, and about that — in addition to the title reveal, Cruise also shared an image of himself holding on to the side of an Airbus helicopter as it soars over a motion-blurred backdrop. "We've upped the ante for the sixth #MissionImpossible," he wrote in the caption. "I can't wait for you guys to see more." 
Presumably, Cruise is in character in this shot, but we don't know. This might just be how he's getting to work these days.
In addition to Cruise in the lead role of Ethan Hunt, Mission: Impossible — Fallout also stars Rebecca Ferguson, Angela Bassett, Alec Baldwin, VIng Rhames, Vanessa Kirby, and Henry Cavill, sporting the legendary mustache that helped to kill the Justice League. We can't wait to see that in action. Hopefully it was worth it.
Mission: Impossible — Fallout explodes into theaters on July 27.