DC's Upcoming Blue Beetle Movie Just Dropped Its First Poster And Release Date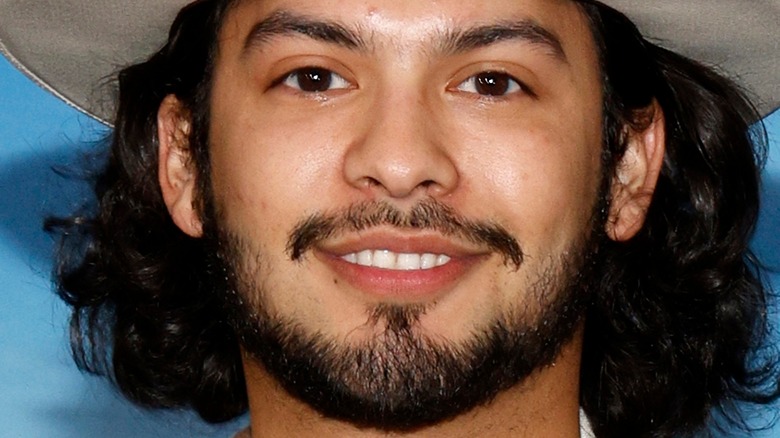 Ovidiu Hrubaru/Shutterstock
The DC Extended Universe is adding another hero to its ever-expanding roster. Word on a Blue Beetle-focused film first surfaced in 2018, with "Miss Bala" screenwriter Gareth Dunnet-Alcocer attached to pen the script (via The Wrap). Production on the film quickly ramped up, with executives hoping to tell a story that prominently represnts the Latino community. "Charm City Kings" director Angel Manuel Soto was brought on board to helm the picture, while "Cobra Kai" standout Xolo Maridueña was tapped to step into the shoes of Jaime Reyes, the third canonical Blue Beetle.
Filming wrapped up in July earlier this year (via Collider), though the film's fate seemed uncertain for a brief moment. Originally envisioned as an HBO Max exclusive in the same vein as the now-canceled "Batgirl," the film was given the theatrical greenlight in 2021. Following the bomb shell news that the Bat-focused flick would be shelved, many began to worry that "Blue Beetle" would be met with the same fate.
Anxieties should be quelled as Warner Bros. and the DC Extended Universe are committed to bringing Soto's vision of Jaime Reyes to life. In a surprising announcement on Saturday afternoon, DC dropped the first poster for the "Blue Beetle" pic, while also re-confirming the project's theatrical release date.
Blue Beetle hits cinemas in August 2023
Warner Bros. surprised attendees early today at Brazil's CCXP22 by hosting a surprise "Blue Beetle" panel (via Twitter). After bringing out lead star Xolo Maridueña, Collider's Steven Wintraub revealed that the studio had posters on hand to give out to fans in attendance. The official DC Comics Twitter account later dropped the poster for the world to see.
The one-sheet features a sharp, mechanical-looking Blue Beetle logo with a stylish and sleek neon color. The attached caption confirms that the film will release on August 18. Rumors have persisted, especially in the wake of HBO Max and Warner Bros.' "Batgirl" fiasco, that "Blue Beetle" would be delayed. The poster also reaffirms that the Angel Manuel Soto-directed flick will arrive in cinemas, further reaffirming Warner Bros.' stance to focus on theatrical projects. To make the poster debut even more exciting, "The Suicide Squad" director and newly-appointed DC Studios boss James Gunn shared the first poster on his Twitter account.
Reception for the poster has been overwhelmingly positive, with fans tweeting out their excitement for the DC project. One fan even favourably compared the neon-doused poster to a Journey album cover. While most DC fans on social media are hoping that Warner Bros. reveals more info on the film, details are ultimately slim on what Soto has in store for "Blue Beetle."