Ellen Pompeo Would Change One Thing About The Way Grey's Anatomy Tackles Social Issues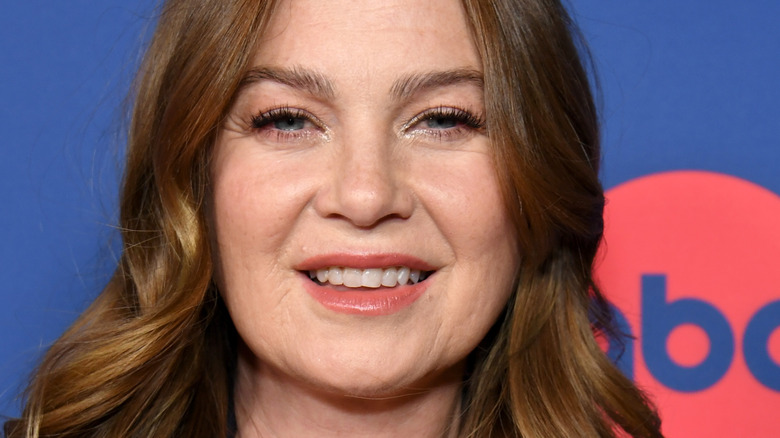 Jon Kopaloff/Getty Images
After appearing in nearly every episode of "Grey's Anatomy" over 19 seasons, Ellen Pompeo has said goodbye to her titular character Meredith Grey. Grey has been the main character of the ABC drama as the surgeon who can do it all. She's a mom, she's a loyal friend, and she's one of the best doctors Grey Sloan Memorial has to offer. Fans have watched Grey experience triumph and tragedy over and over again on the show, and it finally came to an end in 2022. 
One of the most notable aspects of Pompeo's "Grey's Anatomy" career is all of the storylines she's portrayed. It's seemed like every disaster, both natural and manmade has impacted Grey and her coworkers during their tenure on the show. The series has also become known for tackling social, political, and economic issues that have roots in current events, whether it's the COVID-19 pandemic or a racial justice reckoning. 
Grey's character has been pivotal in telling these stories on the show through her interactions and work motivations. Particularly, we know she's passionate about helping any patient regardless of insurance and sharing her wealth of knowledge with a new generation of doctors. However, looking back, Pompeo wishes that the series took a slightly different approach when it came to tackling social issues. 
Pompeo wished Grey's Anatomy took a more subtle approach
On her Tell Me with Ellen Pompeo podcast, the actress expressed her desire for the show to take a more subtle approach when it comes to social issues, and make a commitment to telling those stories beyond one "Grey's Anatomy" episode. "I think if I had any desire, honestly, it would be to be less sort of preachy in one episode about certain things," she explained (via People). 
Pompeo expanded her thought, using the example of an episode involving hate crimes against Asian Americans. While the episode was impactful and spread an important message, she believes it could have been an issue reinforced over many episodes rather than just "consistently [hitting] you over the head for just one hour." 
Pompeo definitely makes an important point when it comes to "Grey's Anatomy's" one-and-done approach to some issues. It would be beneficial for the show to continue to highlight certain major issues, such as racism or healthcare inequality, throughout the series. It's also important to note that Pompeo has undoubtedly been the biggest actress on "Grey's Anatomy." She likely could have expressed her desire to make these changes before leaving, especially when considering she's directed episodes previously (via IMDb).