The Wizard From Deadliest Catch Reaches A Staggering Weight When Pressing All Tanks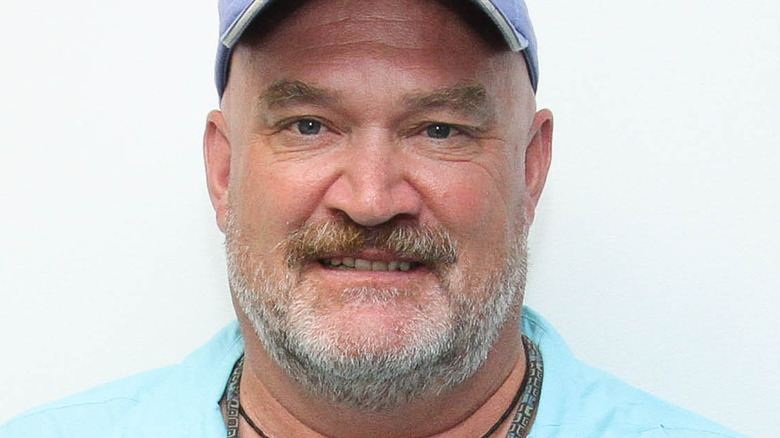 Rob Kim/Getty Images
The many crab fishing boats of "Deadliest Catch" have to brave the Bering Sea day in and day out, so the sturdier the ship, the better. That's why these ships tend to be larger than your average fishing vessel you may see on a more forgiving body water, and that's no exception for The Wizard, captained by Keith Colburn. Among the more than 250 ships that make up the crab fishing fleet on the Bering Sea, The Wizard boasts one of the largest capacities for King and Opilio crab, according to the boat's official website.
Colburn's ship is one of the biggest crab fishing boats in the fleet, and that's because The Wizard wasn't originally built for fishing, but instead was designed and developed for the United States Navy. "One of the things about The Wizard because it was built for the military and not for crab fishing is she has a propensity for going through waves and being quite ornery, as opposed to going up and over waves," Colburn said in an interview with SeattleInsider. And when her hold is at full capacity with live crabs, her weight is truly astonishing.
The Wizard is one of the largest crab fishing boat on the Bering Sea
Originally built in 1945 at the end of World War II, The Wizard was a YO-153 Class Fuel Oil Barge that was designed to refuel ships at sea. After the war ended, the ship was mothballed until the 1970s when it was first used to haul molasses and then later retrofitted into a fishing vessel in 1978, per The Wizard's website. The Wizard was originally outfitted with eight tanks for carrying oil but had two of those tanks removed, two more converted into dry storage, and the remaining four now used for holding live crabs.
"The Wizard is 155 feet long and 30 feet wide and draws 13 feet. When we press all four tanks, we're basically two million pounds of weight floating and driving through the water," Colburn added in the SeattleInsider interview. The Wizard by itself weighs 371 tons, or a little less than 750,000 pounds, so when it adds on about a million pounds of crab in its live holding tanks, it really is a beast on the water. With that weight, the boat is the second largest crab fishing vessel in the Bering Sea fleet, with only Fierce Allegiance being larger at 166 feet long and boasting an additional 100 tons of capacity.