The Time Jack Black Got Slapped In The Face On The Price Is Right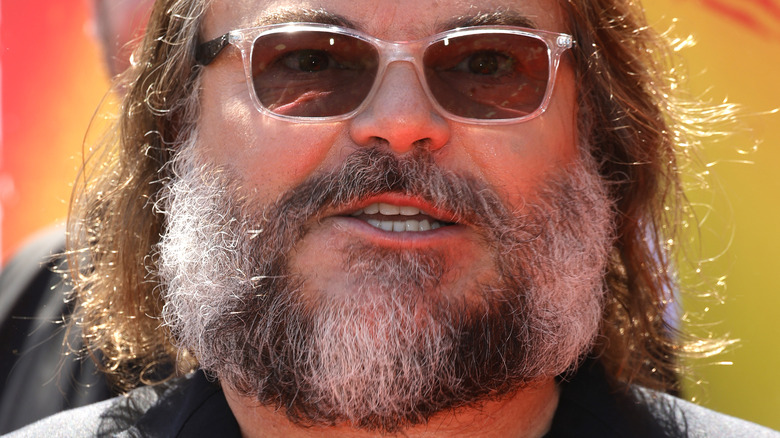 Frazer Harrison/Getty Images
Jack Black remains one of the most hardcore dudes in the entertainment industry. Whether you jam out to his rock lessons in "School of Rock," cheer him on in "Nacho Libre" or enjoy watching him crack open a can of awesomeness in the "Kung Fu Panda" franchise, it's practically impossible to resist Black's infectious energy and charm. The actor oozes a level of charm that, in the wrong hands, could come off as insatiably annoying. But Black makes it work in his favor, playing characters that have a larger-than-life personality that reflects his own so accurately. And his talents continue to shine today in such films as "Jumanji: Welcome to the Jungle" and, most recently, in "Weird: The Al Yankovic Story" and the upcoming "The Super Mario Bros. Movie." 
Jack Black's presence is certainly appreciated no matter where he goes. His YouTube channel, Jablinkski Games, has over 4 million subscribers, eager to see Black's latest adventures alongside his Grammy-winning rock duo, Tenacious D. So when trying to find a way to get viewers excited for a new episode of "The Price is Right," bringing on Jack Black in some capacity seems like an easy way to attract viewers. Not only is Black an enjoyable presence on his own, but throwing him in the middle of an energetic game show sounds should spell magic. However, little would anyone suspect, Black's appearance on the show would see him have a surprising encounter that continues to live on as a hilariously unexpected moment.
Black took the slap in stride
Jack Black appeared on "The Price is Right" in 2017 for Celebrity Charity Week. The event included actors such as Wilmer Valderrama, Jane Lynch, Chris O' Donnell and Julie Brown, all of whom appeared on the show during the week of February 20. Each celebrity had a specific charity they intended to raise money for by appearing on "The Price is Right," with Black raising funds for the Society of Women's Engineers. At one point, a contestant, Andrew Fox, would spin the wheel and after successfully landing on $0.95, went up the Black to give him a high five. Instead of their hands connecting, however, the contestant's hand connected to Black's forehead, with the "Bernie" actor yelling out a loud "ow!" in response. Black even proceeded to topple to the floor in comedic fashion, taking the blunder in stride. The night ended with joy for everyone, as Fox managed to win the showcase while Black managed to raise over $70,000 for the Society of Women's Engineers.
The fun didn't end while the commercials came on, either. While the commercial break was going on, the "The Price is Right" crew kept the cameras rolling while Black and the show's host, Drew Carey, had an entertaining conversation. During that time, Black and Carey covered a whole range of subjects from what movies fans like to yell out Black in public, praising the greatness of the video-sharing platform, NewGrounds, and discussing their unique history with polka music.