What We Know About Deadliest Catch Captain Sig Hansen's Mysterious Daughter Nina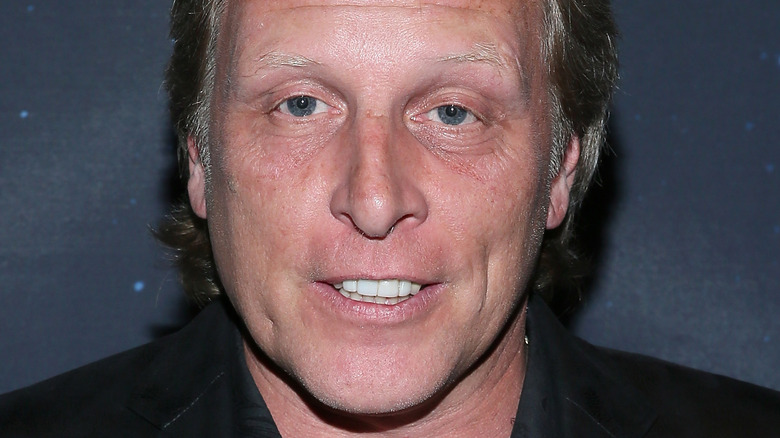 J. Countess/Getty Images
If you're a fan of Discovery Channel's "The Deadliest Catch," you've probably been watching as Mandy Hansen, Sig Hansen's youngest daughter, prepares to someday take over the F/V Northwestern. She's been positioned as Hansen's chosen successor for the fishing vessel, along with her husband Clark Pederson, although it's unclear when the star of the reality show plans to retire. 
"They are young, they got this. I got a foot out the door," he told Entertainment Weekly in 2019, just after Season 15 started. However, he also noted it's a certain personality type who becomes a crab fishing boat captain, and this makes it hard for him to quit his extremely dangerous job. "I can't stop, that's the problem. All of us are egomaniacs. You want to stop, but the ego portion won't let me stop."
Mandy Hansen has been appearing on the show since 2009, when she was on "After the Catch," Discovery's roundtable talk show mini-series with the captains of "The Deadliest Catch." She joined her father on the Northwestern as a greenhorn when she was 18. However, Mandy has a much more mysterious sister, Nina, who appears to shun the spotlight and has only appeared on one episode of "The Deadliest Catch." 
Nina is the daughter of June Hansen, whom Sig adopted when he married
Nina Hansen appeared in one season 12 episode of "The Deadliest Catch," which starts with one of the show's producers talking to Sig as he experiences the symptoms of what turns out to be a heart attack. He's airlifted to Anchorage, Alaska for treatment in "The Widowmaker, Part 2," and his wife and daughters "arrive from the 48 states" to be with him, the narrator says. 
That's compared to 63 episodes so far for Mandy Hansen in the main series, although she has also been featured in other "The Deadliest Catch" projects including the spinoff "The Bait" (2014-2019)" and "The Viking Returns," which is currently airing. June, Sig's wife, has been in about eight main series episodes, although she too has appeared in  other "The Deadliest Catch" projects, like "The Viking Returns."
The Seattle Times reports that Hansen adopted his wife June's two daughters when he married June in 2002. June developed a form of cancer in 2019 (per Country Living), but has been healthy enough to take care of baby Sailor as her husband and daughter Mandy went off to fish in Norway for a "The Deadliest Catch" spinoff, "The Viking Returns" (via Entertainment Weekly).
The paper reported that Hansen also has an estranged daughter from a previous marriage, who in 2017 filed a lawsuit. This suit said the then-28-year-old Melissa Eckstrom suffered sexual abuse from Hansen when she was a toddler during her parents' divorce around 1990.
Nina Hansen has chosen a normal suburban family life
A little sleuthing reveals a lot about Nina's life. She has a private Instagram account at @niiinaeliiisa that lists her full name as Nina Elisa Wheeler. She has appeared on her sister's Instagram, along with her son Jaxsen and partner as recently as October 2020, proving that she isn't estranged from her parents and sister and that she has her own family to take care of.
She's a bit more visible on her Facebook account, where her place of residence is shown as Shoreline, Washington. Nina appears to be a manager (according to LinkedIn) at a Kirkland, Washington clinic called Revive Low T Clinic, which specializes in low testosterone counts in men. Nina's husband, whom she married in June 2014 with her family in attendance, can also be found at the Revive Low T Clinic. He is Barry Wheeler, who is a doctor and medical director there listed as "passionate about men's health." Wheeler is a 2005 graduate of Oregon State University and a 2009 graduate of the National University of Natural Medicine (via LinkedIn).
Nina's Facebook page showcases her two young children and her Pomeranian Kita.  Her page indicates Jaxsen was born around June 2017, making him about five years old now. The younger child appears to have been a newborn in April 2020, and may be a girl. That would make Nina's second child about a year and a half older than Sailor Marie, Mandy's first daughter, who was more publicly born on November 10, 2021 (via People). Nina's pictures even get the occasional comment from "Deadliest Catch" stars.
Clearly, as a doctor's wife and a suburban mother, Nina has opted for a safer, more normal life than the one her sister and father embark upon every year during the crab-fishing season.