Aaron Paul Is Amused By The Age Difference Between Breaking Bad And Better Call Saul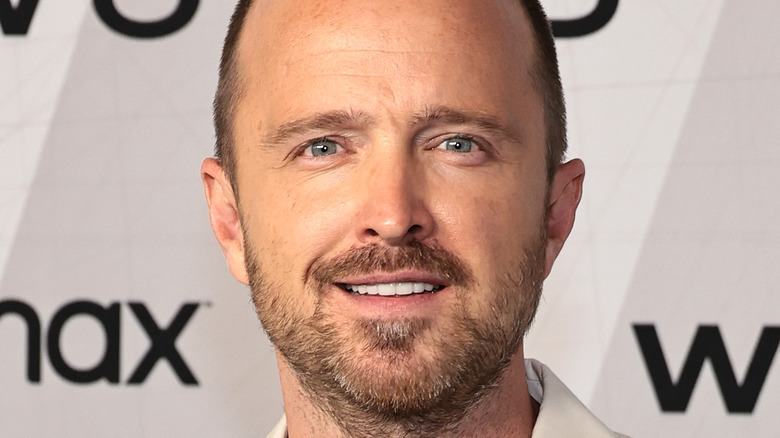 Jamie Mccarthy/Getty Images
In his breakout role, Aaron Paul played Jesse Pinkman for all five seasons of "Breaking Bad" — the acclaimed and ultra-popular AMC drama about chemistry teacher Walter White (Bryan Cranston), who becomes a meth cook — from 2008 to 2013. Paul has gone on to pursue plenty of other roles post-"Breaking Bad," but many would agree that Jesse Pinkman will likely remain his most iconic role. This is one of the reasons that it was incredibly exciting when Paul reprised his role for a couple of cameo appearances in the final season of "Better Call Saul," the "Breaking Bad" spin-off series that follows Jimmy McGill's (Bob Odenkirk) transformation into Walt and Jesse's seedy lawyer Saul Goodman.
In "Better Call Saul," Jesse first shows up in Season 6 Episode 11 (which is aptly titled) "Breaking Bad," in a flashback scene that gives viewers a longer look into the "Breaking Bad" scene in which Walt and Jesse kidnap Saul, who then talks them into becoming his clients. Then, Paul shows up once more in Season 6, Episode 12, "Waterworks." In this cameo, Jesse speaks with Kim (Rhea Seehorn), who has just finalized her divorce from Jimmy, outside Saul's office and asks if Saul is a legitimate lawyer (to which Kim responds that he was when she knew him).
They're both exciting scenes — after all, who thought that Jesse and Kim would ever have a scene together? But one can't help but notice that Paul is a bit older than Jesse is supposed to be in these flashback scenes, as is the nature of prequels. Paul, for his part, has a good sense of humor about the whole thing — here's what the actor has to say about the matter.
Aaron Paul had fun jumping back into character — despite an age difference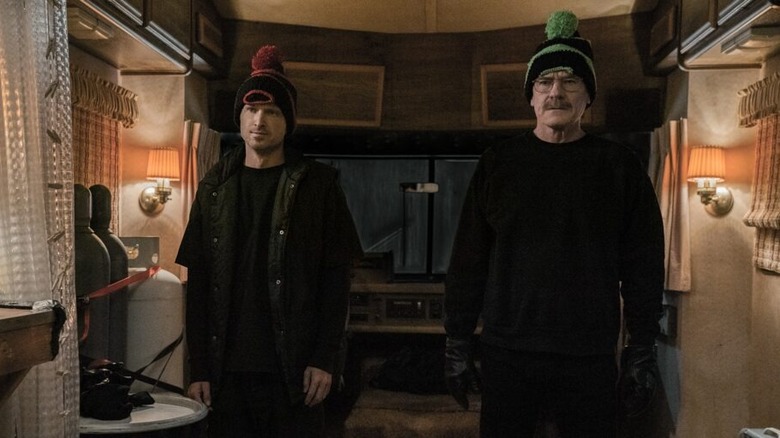 AMC
In an August 2022 interview with The Hollywood Reporter, Aaron Paul discussed returning to the character of Jesse Pinkman for the final season of "Better Call Saul." During the conversation, interviewer Brian Davids points out that in Jesse's scene with Kim, Jesse is supposed to be just shy of his 21st birthday and asks Paul how it felt to channel a much-younger character (at this time of writing, Paul is in his early 40s).
Paul began by joking, "I haven't aged a bit, let's be honest." The actor then noted that some people may have poked fun at returning to play Jesse after having aged, then continued, "Obviously, I've aged; we've all aged. But it's fun, so let that go. I had the time of my life back then, and when I jumped into his skin now, I had the time of my life again. So it was interesting to just be as playful as I could possibly be with him."
Paul then went on to point out that scene happens prior to any of the events of "Breaking Bad," meaning that Jesse has not yet faced any of the major hardships that viewers see him go through in the course of the series. Paul concluded, "So it was a beautiful challenge."
Aaron Paul says reprising the role for Better Call Saul was a goodbye to the character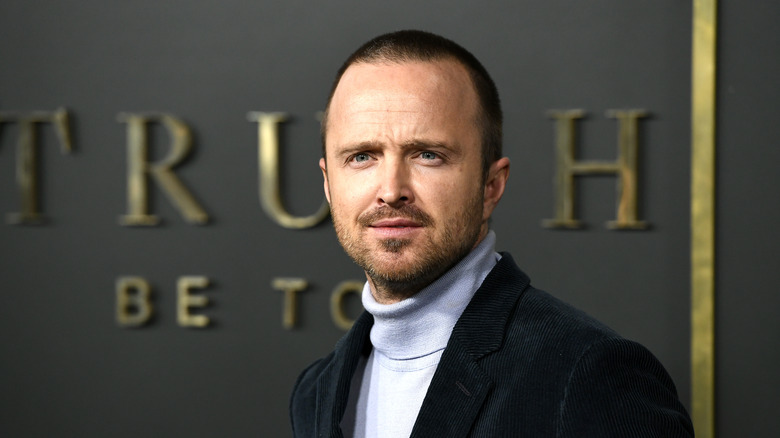 Frazer Harrison/Getty Images
Additionally, in the interview with The Hollywood Reporter, Paul discussed what his experience was like returning to the character — mainly because he says it will be the last time Jesse Pinkman shows up on TV screens.
When asked if it was easy to jump back into character, Paul responded, "It's kinda like reconnecting with a very familiar friend. You can be away from that friend for some time, but when you are back in each other's company, it's like no time has passed. We all know our characters so well having played them for years, so it felt good." He went on to express his love for the character, noting that Jesse will always be special to him. However, he says he won't be stepping back into the role again. Paul continued, "I can confidently say that ['Better Call Saul'] was the last time we're going to see Pinkman. So it was a nice farewell."
Paul also revealed that he wasn't even sure if the "Better Call Saul" writers were going to be able to make a Jesse cameo happen. So, as a self-proclaimed huge fan of the show, Paul was super excited when he finally got a call about his character being written into the final season. Paul said, "It was truly a dream to be back in this universe that Vince [Gilligan], Peter [Gould], Tom [Schnauz] and all the writers created."