Here's Where You Can Stream White Christmas This Holiday Season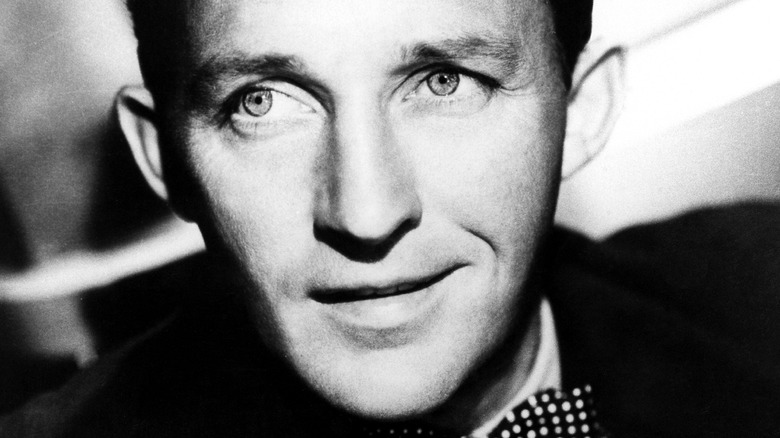 Michael Ochs Archives/Getty Images
We may receive a commission on purchases made from links.
The air is getting nippy, the lights are shining and Mariah Carrey is playing everywhere you shop. It can only mean one thing — the holiday season is here. Between all the gift wrapping, cookie baking and tree decorating, there's no better time of year to kick back in your fuzzy socks and watch some classic holiday movies. And frankly, it doesn't get more classic than the 1954 musical "White Christmas." Starring the likes of Bing Crosby, Danny Kaye, Rosemary Clooney and Vera Ellen, the film follows a pair of ex-GIs who become a song-and-dance duo and fall in love with a sister act. Together, the team works to save a struggling inn. The film would be the last musical directed by Michael Curtiz, best known for helming the best picture-winning classic, "Casablanca." It would feature music from Russian-American composer and songwriter Irving Berlin, who wrote the song "White Christmas" for the 1942 film "Holiday Inn," for which he won an Academy Award for best original song (via IMDb). The song, originally sung by Crosby, remains the best selling single of all time (via Guinness World Records).
Just as its song became a major success, the "White Christmas" film was similarly a hit amongst release. "White Christmas" would become the highest grossing film of 1954, earning $30 million worldwide (via The Numbers) and was nominated for an Academy Award for the song, "Count Your Blessings Instead of Sheep." Thankfully, it's easier than ever to view this indelible holiday classic today.
White Christmas can be streamed on Netflix
Netflix
"White Christmas" is available to stream on Netflix. Previously, the film could be found on various home media platforms, including a VHS released in 1997, a DVD and Blu-Ray released in 2010 and, most recently, a 4-Disc anniversary edition Blu-Ray released in 2014. Additionally, the film can be rented on various digital platforms including YouTube, Amazon Prime, and Apple TV, amongst others. 
As beloved as the film is, it took some time to get it off the ground. Originally intended as a sequel to 1942's "Holiday Inn," where the "White Christmas" song originated, Paramount Pictures hoped to reunite the dynamic duo of Bing Crosby and Fred Astaire. However, Crosby would part ways with the studio. Donald O' Connor was intended to replace Astaire, but came down with an illness. With that, Danny Kaye was brought on board to be Crosby's co-star (via LA Phil). The final cast not only provided plenty of holiday memories for generations to come, but came to appreciate the time they had with one another. Rosemary Clooney, who plays Betty Haynes, one half of the sister act in the film, would recall her fondest memory while making the film in a special featurette interview. "My fondest memory is just being able to deepen the friendship I had with Bing [Crosby]," she says. "That's the thing that came out of the picture that I was left with for the rest of Bing's life. That was very important to me."